I have already listed Greasemonkey scripts for Google search and for SEOs. This time I am reviewing a few scripts that social media marketers will find useful: they allow either to easily bookmark posts or search and analyze social networks (please install Greasemonkey extension to use them).
Digg scripts:
Note: please be careful with Digg scripts as users report you can be banned from Digg even for using absolutely "innocent" scripts (I mean those that are not meant for spamming in any way). I am not sure if that's true (as I've been using them safely so far) but see the discussion in the comments for more details.
Advanced Search Options on Digg (as you might have guessed) adds advanced search ability to the Digg home page – this can turn out to be really useful for those who frequently search Digg in quest for link bait inspiration.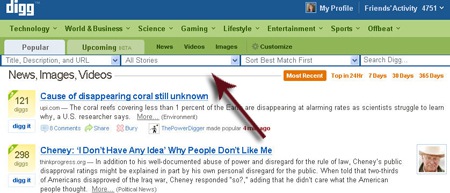 OR: search Digg using Google
Digg to Reddit allows to easily submit things you Digg to Reddit;
Digg.licio.us allows to easily add Digg submissions to Delicious:

Digg Comment Colorizer adds color to Digg submission comments to differentiate between different comments;
DiggRatingExtender shows extended Digg submission and comment history: up and down diggs as well as the total rating. This might be really interesting to see how many people liked / disliked the comment: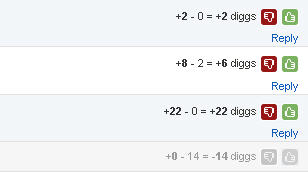 Digg User Topics Cloud adds a tag cloud to each user's profile based on his recent submissions (useful for evaluating if the person is worth a follow):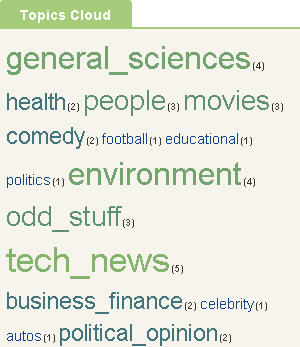 Twitter scripts:
Twitter Display Popular Trends – allows to see what's hot on Twitter while you're on the Twitter Home above the Following friend icon section: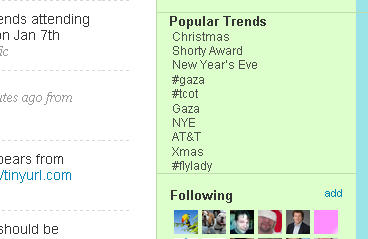 Now Shoosh! – hides any of your friends' tweets from your view (in case you followed someone back because you felt you had to but didn't really want to hear anything from him);
Twitter Friends Bio at a Glance – shows bio text, following count and web link for all friends and followers on the Twitter follow or friends list.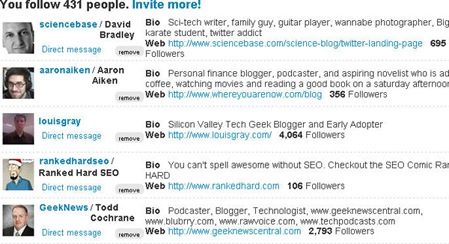 Twitter and FriendFeed Short URL Expander: shows you the full URL shortened by snipr, tinyurl.com, is.gd, zz.gd and bit.ly.
Retweet This – adds a retweet button to the end of each twitter entry. The button opens in a new tab with the full retweeted message;
StumbleUpon scripts:
SU2Bookmarks (found under "You can also" section in the sidebar) scans your favorites and generates a bookmarks.html file. You may import this file into any web browser as a list of bookmarks. Favorites will be sorted in folders by their SU topic.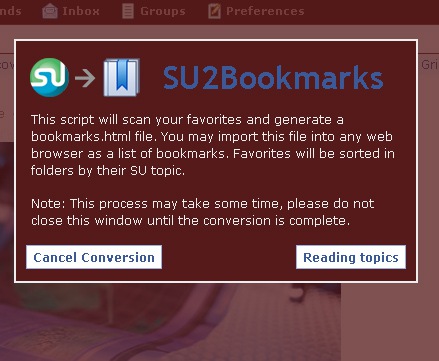 Reddit scripts:
Reddit Filter Plus: now you can use any color to highlight submissions using any keywords or belonging to any domain. The script is easily managed right from your Reddit "Preferences" page.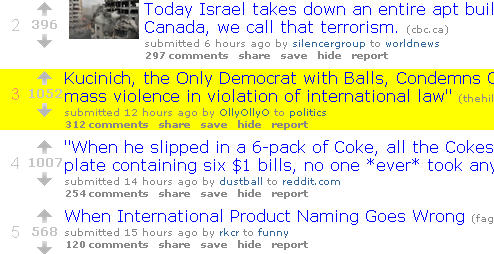 Reddit – remove redirect: turns redirected links to direct ones (for you to copy them with ease);
Reddit – Undeletion: recovers deleted comments and users on reddit.

All
Universal Post Bar adds a sidebar (which hides under P-o-s-t note on the right) to each page allowing you easier access to popular social voting and bookmarking sites (Digg, Reddit, Delicious, etc):