Google has released its annual year in review of the top trending searches and stories of 2016. The report is broken down by category and country, so you can see what was trending worldwide or narrow it down to a specific geographic region.
Here are Google's top 10 worldwide searches of 2016:
Pokémon Go
iPhone 7
Donald Trump
Prince
Powerball
David Bowie
Deadpool
Olympics
Slither.io
Suicide Squad
This list only differs slightly from the top 10 US searches of 2016. In the US, the top Google search was "Powerball", up from the 5th position worldwide. Probably because Powerball can only be played in the US. The second most searched for term worldwide, "iPhone 7", did not make the top 10 list of US searches at all.
Here is the list of Google's top 10 US searches in full:
Powerball
Prince
Hurricane Matthew
Pokeman Go
Slither.io
Olympics
David Bowie
Trump
Election
Hillary Clinton
Top global news stories include the US election, Olympics, Brexit, Orlando shooting, and Zika virus — in that order. This is the exact same as the top 5 news stories in the US, just in slightly different order.
In the tech world, searchers were most interested in smartphones and the new Nintendo video game console coming out next year. Here is the full list of top 10 consumer tech searches worldwide:
iPhone 7
Freedom 251
iPhone SE
iPhone 6S
Google Pixel
Samsung Galaxy S7
iPhone 7 Plus
Note 7
Nintendo Switch
Samsung J7
In the US, tech searchers were more interested in the iPhone SE than the iPhone 7, and the Nintendo Switch was much more highly searched for.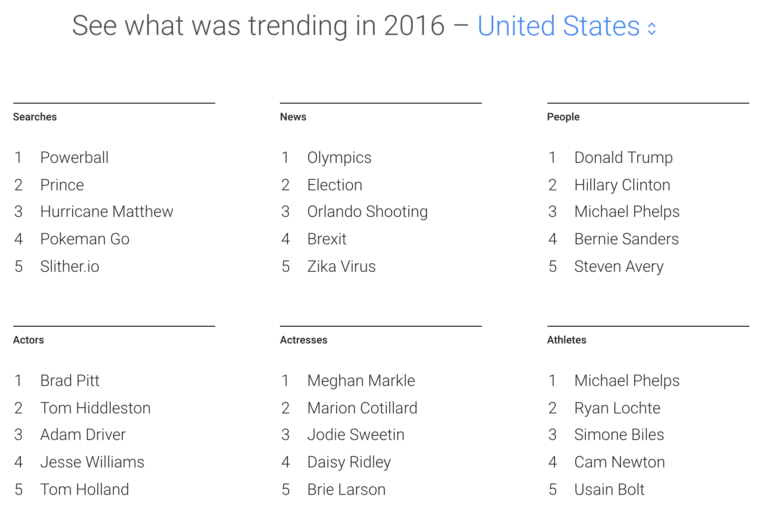 It's always interesting to look at Google's annual lists of top searches and it seems as though Google has added more categories this year compared to previous years. Now you can track the top searches for everything from beer, dog questions, Oscar red carpet dresses, and more.
View all of Google's top searches of 2016 here.