The search engine results page has evolved dramatically over the last few years, and now includes media items, quick-info widgets, local listings, and a variety of different formats for websites. One feature on Google is known as "sitelinks." For those unfamiliar with the term, sitelinks are the navigation links nested under the top entry of the search page. Google has just announced a dramatic expansion of the sitelinks feature.
The New Sitelinks
Here's what the new sitelinks look like: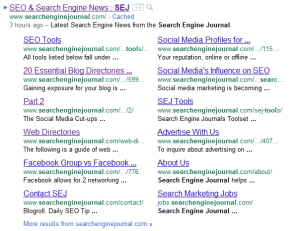 This format takes up about 8 times as much pixel space, pushing non-sitelink results further down the page. The additional space is taken up by expanded versions of the meta title for pages, the destination URL for each page, and a snippet of the page's text or meta description. Additionally, on some pages, Google is experimenting with a search widget that lets people quickly search within the site.
Google will only display the expanded sitelinks if you enter a query that very specifically targets a single website; for example, you can see SEJ's sitelinks with the query "SEJ" or "Search Engine Journal," but a hunt for "search engine news" doesn't give any one outlet a larger chunk of real estate. Google will also sometimes provide a smaller selection of sitelinks, providing only 4 to 10 instead of the default 12 if they are "less certain" you want a specific site.
What You Need to Change
The expanded sitelink means that users who are heading to your site through Google will have easy access to a variety of target pages. To ensure that you make the most of this, you need to:
Take a look at your current sitelinks for major issues.
Improve the meta title and description to give an enticing pitch as quickly as possible.
Refine and re-optimize the pages that are sitelinked for user experience.
If Google is giving you sitelinks, it's a sure bet that users will be heading to your site. By optimizing your sitelinks, you can ensure that your visitors make it to the right page and that your page performs as well as is possible.