When it comes to the translation of web pages, or making your website easily available in other languages, 'Google Translate' is a very useful tool.
You may not even realize it exists, which would be because it doesn't on the dot com Google. Rather, it's available through Google UK, but has all the functionality you need. Simply visit Google UK and use the 'more' dropdown to find it.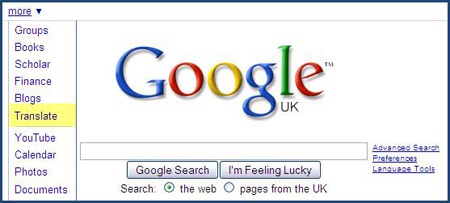 Here are a few of the features you'll find with 'Google Translate':
1. Translate individual text or any webpage.

2. Translated Search: Search in your native language and find pages written in the foreign language of your choice, translated back to your native language.

Make your webpage easily accessible in other languages by adding the Google Translate gadget.

Aside from the useful options above, you can also get 1-click translations from your browser's toolbar or check out the Google Translator Toolkit (currently in beta but available).
Is this a tool you are familiar with? Do you know of more useful translation tips, or do you work on sites with multiple languages? Please share your thoughts in the 'Comments' below.
Matt Leonard currently directs SEO, SEM and Revenue Management for Cruise Critic, the world's largest cruise site and part of the Trip Advisor Media Group. You can follow Matt Leonard on Twitter to keep up with his updates.