Google has rolled out two new features of its Google Toolbar for the IE browser. These include the Quick Search Box and New Tab Page. The Quick Search Box extend the toolbar's search functionality by putting a quick access search box on your Windows taskbar.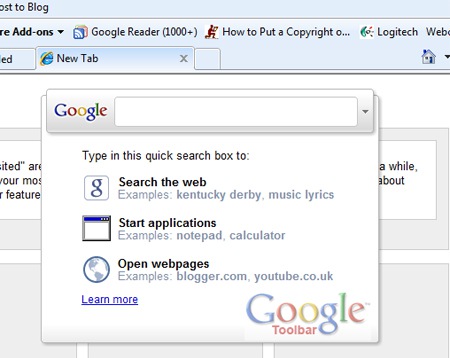 After installing Google Toolbar on your IE, the Google logo would appear on the taskbar. Clicking on it will launch a new quick search box. This QSB has auto-suggest functionality and also allows you to launch an application directly from the QSB.
The QSB also adjust to your search patterns, hence giving you quicker auto-suggestion features. Take note, the Quick Search Box culls search results pages from Google SERPS and would include sponsored links which are highlighted in green.
The other new feature of the Google Toolbar for IE is similar to the new tab page functionality it introduced recently for Firefox and a default functionality of Google Chrome. If you open a new tab, the Google Toolbar will bring your most viewed sites, recently closed tabs and bookmarked pages.
Now, if only for these functionalities, Google is giving us a headache as to what browser to use then. I love this new tab feature in my Firefox installation but I still prefer using Google Chrome. I seldom used IE since I started using Firefox. But when Google Chrome came out, I seldom use Firefox anymore, and very seldom used IE. But when IE 8 came out, I'm starting to like it again, especially when I'm on a fast Internet connection.
So many browsers, very few differences.