Google is testing a new feature that would allow more information to be shown in search results pages. The new feature displays an overlay with additional information about the website when a user clicks on the site name.
Here is an example: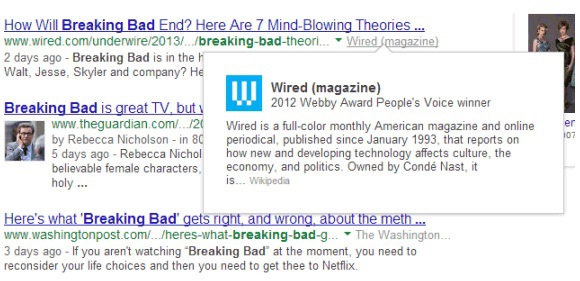 The information in the snippet is pulled from Wikipedia and other third-party sources, rather than from the website itself. Further examples can be seen here.
At this time a site would need to have a Wikipedia article for one of these snippets to be displayed, but one can only assume that would change if this becomes a standard feature.
Add this to the list of new features Google has been testing as of late. Last week we reported on their new quick answers feature, and this new snippet overlay feature is right in line with their efforts to make search results more useful.
This sounds like Google's Knowledge Graph, but no word yet on whether they're directly connected. More details to be reported on this new feature as they become available. What are your thoughts on it so far?