Editor's Note :
To access all (but one) Google services listed here while not online you will need to install Gears FireFox addon which lets web applications interact naturally with your desktop and stores web data locally in a fully-searchable database.
Here's a quick overview of which Google services are available in the offline mode and what exactly you'll be able to do:
| | | | |
| --- | --- | --- | --- |
| | Read | Search | Create new |
| Gmail | + | + | + |
| Google Docs | + | + | – |
| Google Calendar | + | – | – |
| Google Reader | + | – | – |
Gmail
I am sure numerous people have been praying for this feature. The ability to search your mail archive and even compose new messages while traveling is awesome. The feature is accessed via Gmail labs: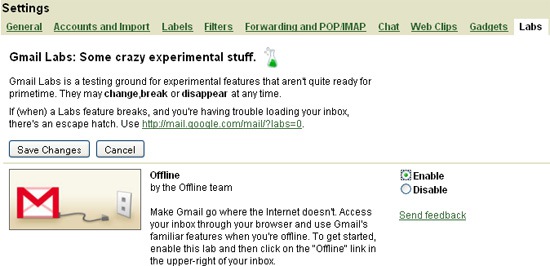 Once you turn on this feature, Gmail uses Gears to download a local cache of your mail. As long as you're connected to the network, that cache is synchronized with Gmail's servers. When you lose your connection, Gmail automatically switches to offline mode, and uses the data stored on your computer's hard drive instead of the information sent across the network. You can customize offline behavior via offline mode settings (available via Settings):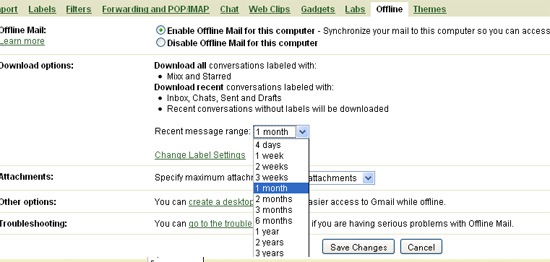 You can read messages, star and label them, and do all of the things you're used to do while reading your web mail online. Any messages you send while offline mode are placed in your outbox and automatically sent the next time Gmail detects a connection. And if you're on an unreliable or slow connection, you can choose to use "flaky connection mode," which is somewhere in between: it uses the local cache as if you were disconnected, but still synchronizes your mail with the server in the background.
Here's also cool tip on searching through your Gmail offline with Google desktop search.
Google Docs
If you want to start using Google docs offline feature, you will need to click "Offline" in the top right corner and allow Gears addon to create a desktop shortcut for this site: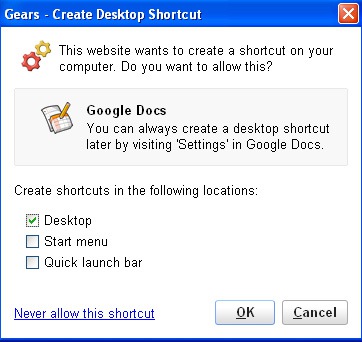 Here's an overview of which functions you can do in Google Docs while you're offline (the '+' means the function is available).
| | | | | |
| --- | --- | --- | --- | --- |
| | Documents | Spreadsheets | Presentations | Google Apps** |
| View offline | + | + | + | |
| Edit while offline | + | | | |
| Create new doc | | | | |
And here's a quick video on when this feature may turn useful:
Google Calendar
With offline access enabled, you can view event details for calendars which you've selected to be available offline (Your primary calendar will be synchronized by default, but you must select which secondary calendars you'd like to view offline in your Offline settings).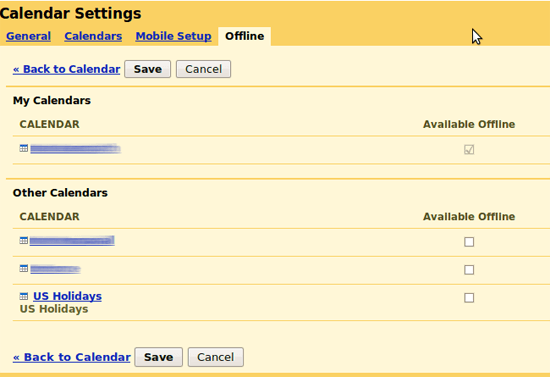 While offline, Calendar is read-only – it will not be possible to create, edit, or delete events. Please note that calendars containing web-content events will not display correctly while offline.
Google Reader
With offline mode enabled, visit Google Reader whenever you want and simply click the green online icon
next to the Settings link in the upper right of the page to download the most recent articles. Synchronization should be quick; once it's done, you're free to disconnect from the Internet.

At this point, the status icon will change to
to indicate that you're offline. While you're offline, you can close your Reader window and re-open it later to pick up where you left off.
Bonus One: Google Maps
This is the only one in the list that isn't implemented via Gears addon. To take Google maps offline, you'll need to download desktop tools:
Google Map Buddy doesn't require any installation, just extract the zip file and run the executable. Here's how it works:
Use the tool interface to browse to the Google Maps and navigate to the location you want to save;
Zoom in or out to select the desired area;
Click the draw button and draw a line to select what you want to save;
Specify the zoom to get a more detailed final map.
Offline maps (Windows only)
Download tiles to a folder on your computer of a given zoomfactor along a path
Draw a path on the map and save that path to a file
Receive data from a GPS device and position the map at the points received from the device