I have already looked at most important factors to take into account when analyzing search engine results page; this week I am taking a bit more practical approach reviewing (and comparing) tools that will help you to analyze SERPs.
They all work as FireFox addons (so you will hardly be able to install all of them because we need to be very selective when it comes to browser plugins to allow our FireFox to work fast), so I suggest reading through the post to decide which one(s) of them you feel like trying:
Tool
Major features
Most outstanding features
Drawbacks / bugs
SEOquake
Lots of SEO-relevant information for each listing in Google search results
Sort Google results by any of the parameters, export search results, create your own parameters
May insert its own ads above the search results; got some problems with updating it
SEO for FireFox
Quick and easy to use, minimum bugs
–
Search Cloudlet
Most frequently ranked domains within one search results page
–
SERPs Analyzer
Estimated number of clicks and PPC revenue per month; Google PR, Yahoo backlinks. etc
SERPs stats
Beta mode (buggy, non-customizable)
Inserts lots of data under each listing in Google SERPs:
Google pagerank, Google index, Google cache date;
Yahoo! index, Yahoo! linkdomain, Yahoo! link;
Bing index;
Dmoz listing;
Webarchive age;
Alexa rank;
Delicious bookmarks;
Technorati index;
Digg index;
Domain IP;
Link to Robots.txt, Sitemap and Page source;
SEMrush info (traffic, traffic value, rank);
Compete Rank,
More!
Moreover, you can sort results by any of the parameters and export all the results along with the retrieved data.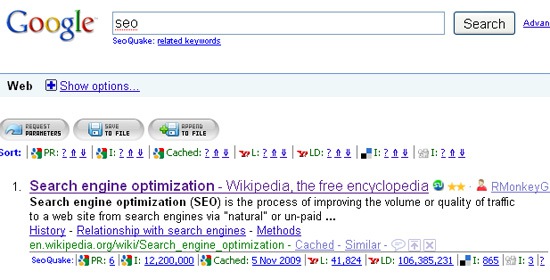 This is the most customizable addon I am aware of: not only it allows to hide any of the data item but it also enables you to create new parameters by using the following variables: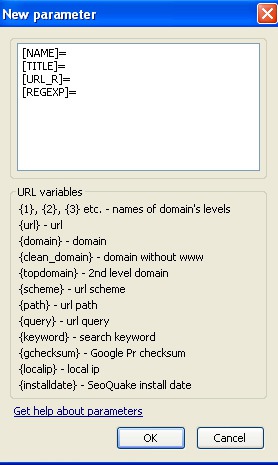 For each Google listing see the following data:

Google PR;
Google Cache Date;
Traffic Value (pre SEMrush);
Age (Archive.org);
Del.icio.us bookmarks;
Diggs (as well as Digg's Popular Stories);
Stumbleupon popularity (doesn't appear to work);
Twitter search results;
Yahoo! Links: as well as Yahoo! .edu links, Yahoo! .gov Links and Yahoo! page links);
Technorati results;
Alexa traffic;
Compete.com rank and compete.com uniques;
Google trends link;
Number of pages cached;
Dmoz mentions;
More!
Moreover, you can customize the way each data set is retrieved: on-demand, automatic or hidden:
The tool that I have mentioned quite a few times in the past turns really useful for both identifying domains that were lucky enough to get several listings in top 100 (or whatever you choose) Google positions. Install the addon and run a Google search. You'll be able to see the Cloudlet menus on top of the results where you can:
See the SERPs tag cloud (of the words used in Google search results listings);
See the domains returned in Google SERPs (the bigger the font, the more times the domain was ranked within one SERPs);
See most powerful top level domains;
Turn the tool off: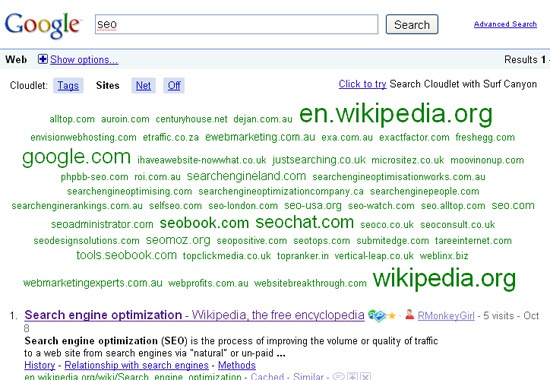 This one works as a FireFox search plugin (which is always better / lighter than an addon) but redirects to the search on its own domain (which may be not really reliable). For each listing in SERPs it shows the following information:
Number of clicks the listing generates per month (no idea how the data is obtained);
PPC cost equivalent per month;
Yahoo! links and linkdomain;
Domain Quancast rank;
Webarchive age;
More (after the click).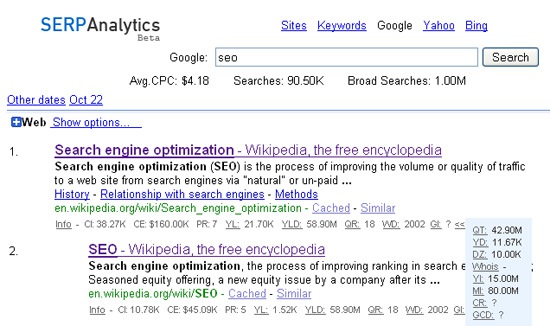 What I actually liked about the tool was SERPs stats block displaying number of unique domains, max. and average Google PR, as well as other interesting data: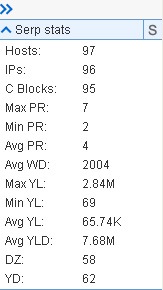 I haven't tried the tool long enough to judge about its quality and haven't checked its advanced features (like SERPs tracking) but I did find a few bugs. For example, setting Google results per page in preferences didn't work. I only managed to get more results by directly editing the query URL string (serp_results_per_page=100).