Search Cloudlet is a FireFox addon that inserts a related tag cloud into Google and Yahoo interfaces. Developed by the Russian company INTSPEI, the addon got very positive reviews on very powerful blogs and resources (check a couple of them: LifeHacker and Wired for example):
Working behind the scenes, Search Cloudlet injects a tag cloud of related words in to both Google and Yahoo search results pages. Then you can use the tag links to quickly and easily filter and refine your searches.
Search Cloudlet is reported to "work by looking at the words, sources, locations and other data in the search results to create a weighted tag cloud — the bigger the term the more frequently it pops up in the results".
Most useful (SEO) functionality of the Search Cloudlet:
Tag cloud that gives you a quicker understanding of SERPs for any search term. The tag cloud might be not the most useful navigation tool but it is great for creating immediate associations with the topic. Tip: set Google to display 100 results per page and your tag cloud will get larger and more meaningful by analyzing the larger amount of data.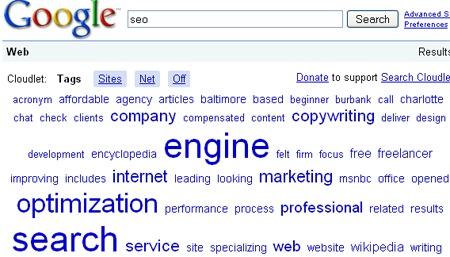 Source and Location tab (news search) or Authors tab (blog search):
For a news search there are Source Cloud and Location Cloud. These clouds can help you determine country, region or state of the found news and their publishers. For a blog search there is also the Author Cloud view.
Sites filter (instantly see the domains listed in the SERPs). If a domain was repeated a few times throughout the SERP, it will be displayed in a larger font.