Google has issued an AdSense policy change which involves the restriction on placing 300×250 sized ads above the fold.
Effective immediately, Google has removed this restriction and is now allowing 300×250 sized ads to be placed above the fold.
Google's reasoning for this is because it believes 300×250 sized ads can be placed above the fold in a way that doesn't hurt the user experience.
"After careful review, we've determined that when 300×250 ads are implemented above the fold in a user-friendly way, the ads do not annoy, distract, or result in ad performance issues."
The company reminds users, even though these ad types are now allowed above the fold, make sure the ads do not cause content to be pushed down the page. Not only does this hurt the user experience, but it could lead to accidental clicks from users trying to scroll through the page.
"To ensure a good user experience, we still recommend the site content should be clear and accessible above the fold."
Here's an example of unacceptable use of these larger sized ads from Google's AdSense ad placement policies: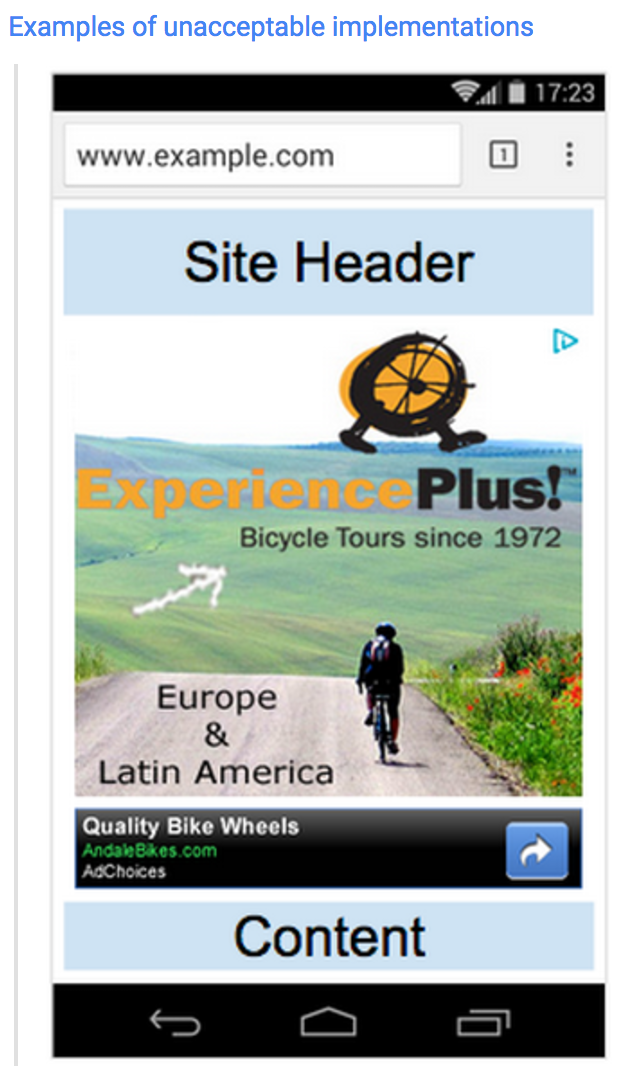 Google did not provide any examples of acceptable uses of the 300×250 ad unit above the fold, which is something I would be curious to see. Unless you're using a large screen phone it's tough to imagine those ad units getting in the way of the content. We'll have to wait and see how site owners implement them.