Mike Blumenthal has reported Google has been displaying customer reviews in the Knowledge Graph panel off and on for several months, and have recently been showing them more regularly. Mike reports that most, but not all, local listings are being shown with customer reviews in the Knowledge Graph panel.
The customer review snippets include a brief quote from the review, along with the customer's profile picture (if they have one). This new feature looks very similar to the Knowledge Graph listings we're already used to seeing from local businesses, but with snippets like this included: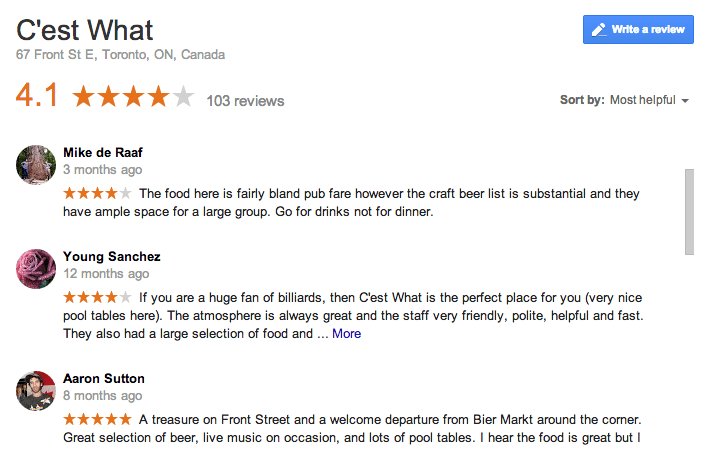 Included in the quote are sections of bold text that represent statements frequently repeated throughout a majority of customer reviews. For example, if a number of customers write that a restaurant has great prices and quick service, a snippet from a review would have those words bolded.
Mike reports that it's not exactly clear why some listings show the reviews and others do not. If two restaurants have the same number of reviews, one might have snippets shown in the Knowledge Graph and the other wouldn't, with no clear reason why.
Mike speculates that this may have to do with how current the reviews are. According to his tests, restaurants that received Google+ reviews more recently had reviews displayed in the Knowledge Graph snippet, while restaurants that hadn't received Google+ reviews for several months did not have customer reviews in their Knowledge Graph snippet.
These do not seem to showing on any searches in Europe, Canada or Australia yet, Mike says. Since I live in Canada I was not able to produce any searches that show this new feature, so unfortunately I cannot show any screenshots. However, Mike has plenty of screenshots in his post, which I encourage you to check out.
Have you been noticing these reviews pop up in the Knowledge Graph for local searches? Been noticing any trends as to why some show up over others? If so, please let me know in the comments section.