While Google+'s user-base has continued to expand, having now reached over 25 million registered users, Google's social site itself is seeing a decline in the number of daily visits.
The Explosive Growth to 25 Million
From day one, Google+ had an intense amount of interest and a big surge in the number of registered users. As Google continued to roll out their "by invitation only" beta, users lined up around the block. We were astonished at 10 million, then – in mid-July – 20 million, and now 25 million. (Note, however, that these are estimates based on unique visitors. Google has yet to release official numbers.)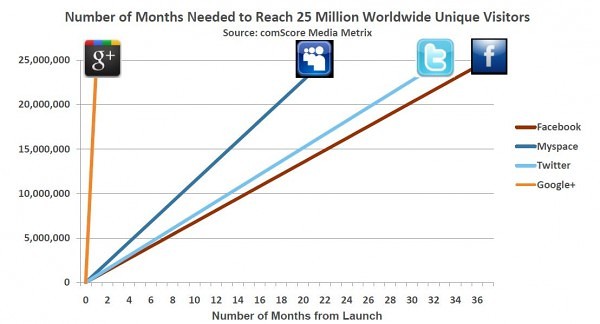 As tracked by comScore and noted by Search Engine Land, this one month timeline for 25 million users means that Google has reached that benchmark 20 times faster than any other social site. (The next fastest was MySpace, which reached 25 million users in 20 months; Facebook took 36 months.)
U.S. adoption was also tracked by comScore. There was a burst around July 10th that last roughly a week, but then subsided. While commentators are wondering at why this might be the case, those who kept track of the invitation waves know that this timing correlates with the largest wave of Google+ invites and the brief user-to-user invite opening.
Users Still Coming In, but Visting Less
While the continued growth in the number of registered users is fascinating and, for Google fans, exciting, the actual amount of traffic is less so. According to a Chitika study, traffic peaked on the 21st of July and has been declining since. This is most likely due to the end of the initial rush of excitement.
Does it mean that Google+ is in jeopardy? Certainly not yet, it doesn't. If the decline continues for several more weeks without leveling out, it could well mean that Google+ just isn't sticking for users. However, the more likely scenario is that the visits will stabilize after a while (days, maybe weeks) and then start a more gradual climb.
[Sources include: Chitika, comScore, & Search Engine Land]