It's expensive going to the movies these days. With movie tickets costing around $10 per ticket for late night shows, and theaters charging top dollar for popcorn, soda, and candy, you can easily drop nearly $40 on a movie date for two. Sadly, that doesn't even include going out to dinner. As movie expenses continue to climb with the release of 3D technology coming to theaters, people are resorting to downloading movies from torrent sites to save a buck.
Why pay a pretty penny for that new action movie when you can just download it and watch it at home?
Yo-ho, Yo-ho, A Pirate's Life For Me
In case you haven't heard, The Digital Millennium Copyright Act (DMCA) isn't in the game of giving out free movies online. And it just so happens that Google has been catching some heat over the media-pirating epidemic. Originally launched in 2012, Google's Pirate Update was unveiled as an attempt to reduce online piracy. Copyright removal requests were at an all-time high, with 4.3 million requests reported in just one month at the time. There were reportedly over 34 million removal requests submitted to Google in October 2014.
Photo credit Google.com
So, What Exactly is The Google Pirate Update?
Not to be confused with Google Pirate, a sub search engine of Google geared toward pirates with a specialized searrrch (see for yourself), the Google Pirate Update was introduced in August 2012 to filter copyright infringement reports and penalize torrent websites. The websites reported for copyright infringement are penalized with lower search rankings. At least, that's the idea behind the Pirate Update. Judging by accusations and long-term conflicts, there are entertainment entities that beg to differ on Google's anti-piracy attempts. It's a penalty-based update that works similar to Panda and Penguin.
Media and Hollywood Hang Ups With Google
There have been numerous complaints from production companies and studios over the years with illegal downloading of movies, with several pinning the problem on Google. An incident occurring in 2012 involved the Recording Industry Association of America (RIAA) bashing Google's Transparency Report. RIAA pointed out that Google needs to understand the seriousness of websites directing users to illegal music downloads, and generic terms such as mp3 can turn up copyright infringement material in search results.
In September 2013, Google released a report entitled "How Google Fights Piracy," which highlighted the steps Google takes to discourage illegal downloads. This included giving users legal alternatives with the option to buy movies and implementing additional anti-pirating solutions. The use of Google Play was mentioned as a source for legal downloading, and disabling ads that encouraged users to visit torrent websites. The report also emphasized the importance of submitting copyright removal notices, saying that they remove 4 million pages each week that are sources of illegal media downloads.
Just a week after Google released the study, the Motion Picture Association of America took matters into their own hands and researched the results of Google's algorithm yielding pirated links to illegally downloadable movies. Google became MPAA's main target of indirectly promoting online piracy, saying that the search giant's best practices are not strong enough to effectively protect against illegal downloading. MPAA's independent study found that 82% of search referrals to websites relating to pirated movies come directly from Google.
Most recently, Google was completely called out by News Corp Chief Executive Robert Thompson, saying that the search engine is an "egregious aggregator and a platform of piracy."
With all the uproar from the entertainment industry, it's a wonder if Google will ever get the pirate situation under control. When is enough, enough?
What Has Google Pirate Update Accomplished Since Its Launch?
Although MPAA and RIAA seem to believe the Pirate Update has accomplished a whole lot of nothing, there has been a considerable amount of progress made in terms of reducing accessibility to torrent websites through Google. By the end of 2012, Google removed 50 million URLs that linked to websites containing to illegal downloads. According to Search Engine Land, over 7 million of those requests were submitted by RIAA.
In 2013, Torrentfreak reported that Google deleted 200 million search results relating to pirate terms. As 2014 is coming to a close, it's reported that Google receives 30 million requests per month, but there's no reported data on how many requests convert to URL removals.
Overall, it's safe to say that Google has removed 300 million illegal download URLs, at the very least, over the past two years. While this appears as an astronomical number, it has yet to satisfy either MPAA or RIAA.
However, reports documenting the Pirate Update rolled out on the week of October 20 might be indicating that better penalties are hitting torrent websites.
The Impact of The Most Recent Pirate Update
A week has gone by since Google rolled out the newest Pirate Update, and there are some big torrent players who reportedly walked the plank. Pirate Bay, one of the major torrent websites for illegal media downloads, lost roughly 48 percent of its Google visibility, according to an early analysis generated by Search Metrics. However, Torrentfreaks is reporting this major drop does not phase Pirate Bay, claiming that they do not receive much traffic from Google. Pirate Bay relies more on direct traffic from people who are searching for torrents; for the most part, their target audience is already aware that they exist.
Other hard-hit torrent website in Search Metrics' analysis includes free-tv-video.me, move4k.to, mp3skull.com, myfreemp3.cc and kickass.to. There are a total of 30 websites included in the list, with keywords ranging from movie downloads to watch movies free. As of now, these 30 websites have essentially fallen from Google's virtual cliff. This all sounds great, and if these reports are actually the case, Google is on the right track.
Exploring Google's Redefined Search Queries for Piracy
Let's examine Google's efforts for removing copyright infringement materials and penalizing big-time torrent websites. A recent movie that came to theaters is Dracula Untold. When you start a search inquiry to watch Dracula Untold for free, this is what pops up:

Interestingly enough, Google's auto search phrases still fill in variations of watching Dracula Untold for free. Furthermore, it basically assumes that you are looking for a free version of the movie floating around on the Internet somewhere. Here's what happens when you move forward with the search: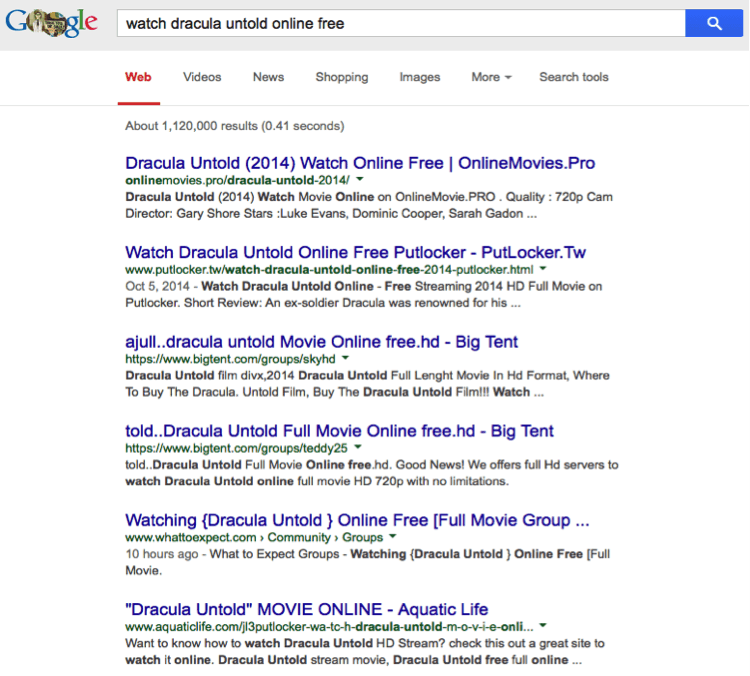 As you can see, large torrent website such as Pirate Bay and Kickass Torrent are nowhere to be found. However, smaller-scale websites are popping up with titles that indicate the free version of the movie is available on their website. The next step is finding out if the movie is readily available to view on the page, or is there outbound links that lead you to another source — perhaps more popular torrent websites? For argument's sake, let's click the first link: onlinemoviesforforee.pro.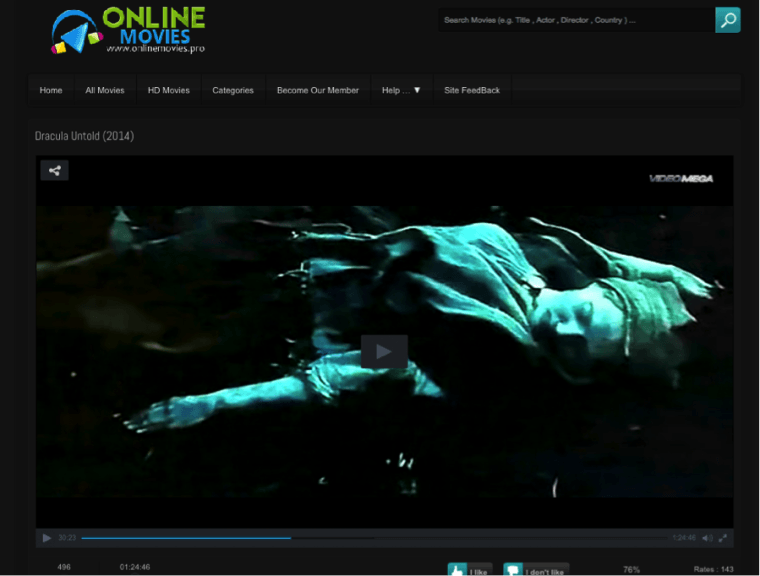 Well, this isn't exactly looking so great for Google. After only clicking the very first search result for "watch Dracula Untold online for free," I found a low quality cam version completely by chance. However, IMDB says that the movie is 92 minutes long, and this cam is 84 minutes. This indicates that the cam probably isn't the entire movie. Coming in at 8 minutes short, you're still virtually getting the complete movie online, be it low quality, for free.
Not exactly discouraging to online pirates, eh?
Another Movie Analysis: Gone Girl
Gone Girl is another movie that released to theaters within the last month. This movie was slightly more popular at the box office than Dracula Untold, so maybe the search results will be more encouraging than those of Dracula Untold.
This time, there is only one auto fill that suggests watching gone girl online for free. The watch gone girl movie suggestion can go either way, I suppose, but at least the trailer is a legitimate (and legal) inquiry. Let's see what the SERP brings us.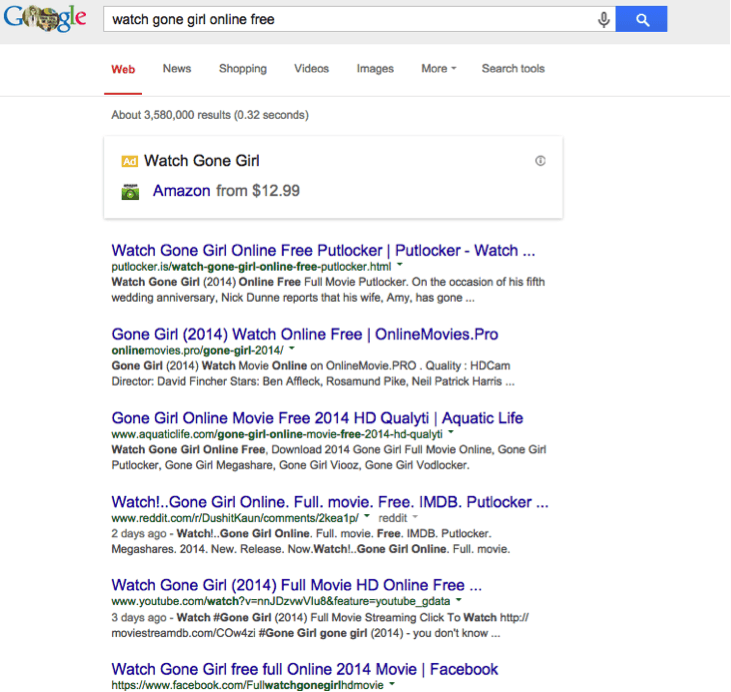 On this particular query, Google is offering a legal option to potential pirates. The first result that pops up is the option to watch Gone Girl on Amazon for $12.99. That's probably a higher price than what a pirate is willing to pay.
Scanning the search results for "watch gone girl online free", I noticed the onlinemovies.pro website is listed, which is where I found the low quality cam for Dracula Untold. Will onlinemovies.pro yield the same result for Gone Girl?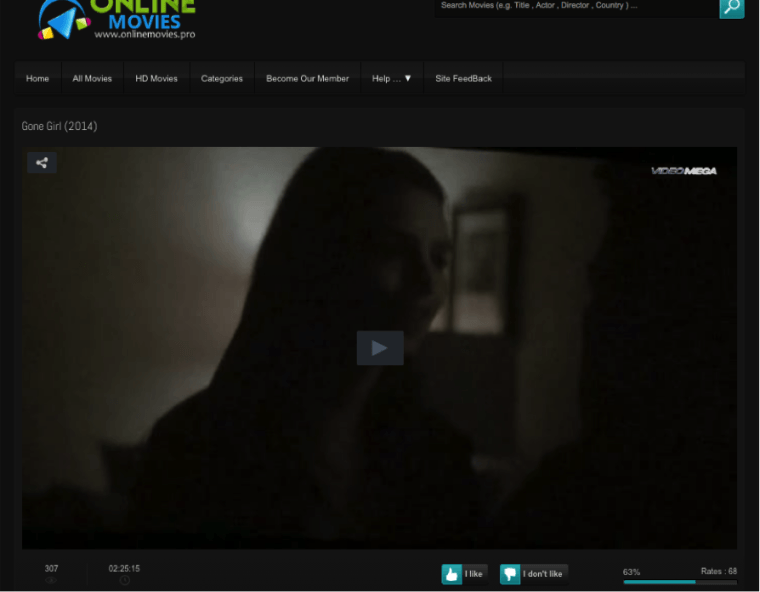 Sure enough, onlinemovies.pro saves the day for pirates looking for a free copy of Gone Girl. Once again, there's a low quality cam version coming in at 2 hours 25 minutes. According to IMDB, the actual length of Gone Girl is 2 hours 48 minutes. It's a bit short, but it's still an easily accessible (and free) version of a large portion of the movie; and it took all of 10 seconds to find it on Google.
I don't know much of anything about pirating movies; so if I can find a free copy, pretty much anyone can. Something is telling me that MPAA is still not going to be happy with Google's recent Pirate Update.
Google's Pirate Update: Trading Apples for Apples?
Based on the couple of search queries that I investigated, it appears that Google was successful at removing large torrent websites like the aforementioned Pirate Bay and Kickass Torrent. With that said, as of right now, the smaller torrent sites are raising to the top. Certainly this wasn't Google's intention, and they may still be working on rolling out the update as we speak.
At this point in the game, Google has essentially traded apples for apples. Yes, the big guys are down and out; but demoting these websites really isn't fixing the problem if lesser-known torrent sources are just going to take over the SERPS. Hopefully Google has a game plan in mind to wipe these little guys off the map, so copyright infringement and the problem of online piracy can start coming to a close.
Is it Realistic to Eliminate All Torrent Websites From The Internet?
With some 300 million illegal torrent and copyright infringement links deleted from Google since 2012, it's unfortunate to say that a lot of progress still needs to be made. Google can remove torrent websites one by one, but what's to stop online pirates from creating new websites just as fast as they are removed?
Not only that, placing most of the blame for online pirating on Google isn't exactly fair. Yes, Google is the world's biggest search engine, which opens it to thousands of daily illegal download search queries by default. However, many of these torrent websites such as Pirate Bay have been around for several years. By now, word has gotten out about the contents, and users are likely surfing to the website directly. Removing popular torrent websites from the search engine results prevents new users from discovering the content, but how do you stop users who have accessed the websites for years?
The only true way to eliminate online pirating is physically deleting the torrent domains. Google does not have authority over this, which boils down to the responsibility of the website's host. Unfortunately, owners of torrent websites are normally a step ahead and using their own personal hosting to store these illegal downloads. With no rules or regulations on using a personal server, there is no way you can really report these websites directly to the host. If these websites were hosted on places such as Godaddy, it'd be much easier to take action and get to the root of the problem.
Not In The Future: Online Piracy
Online piracy is not going away in the foreseeable future. Conquering the issue is an uphill battle for everyone involved. Google and the entire entertainment industry are up against a ban of strong-willed pirates who loot and don't give a hoot. As digital copyright protection continues to evolve and Google becomes more powerful with eliminating torrents, online pirates will have their heyday with free movies and tunes one way or another — at least for now.
Image Credits
Featured Image: Noam Armonn via Shutterstock
All screenshots taken November 2014