With Google's announcement that the Performance Max campaign would receive a broader rollout, there have been a lot of questions about what Performance Max is, how it compares to other campaigns, and how it performs. The aim of this post is to answer those frequently asked questions and to help advertisers prepare.
What is Performance Max?
The primary difference between Performance Max and other campaigns is that Google automates the targeting and delivery of the campaign based upon the information that the advertiser provides.
Performance Max is an automated campaign type, reminiscent of (but still slightly different than) a Smart campaign.
Google will automate ad creation but only based upon the assets provided, similar to the way that responsive display ads work.
You could also find some likenesses between Performance Max and social campaigns in the sense that it runs across multiple placements using dynamic ad formats and in the fact that performance reporting by audience and placement is limited.
What Network Does Performance Max Run On?
Performance Max campaigns are eligible to run across all of Google's inventory, which is a big differentiator from Google's other campaign types. Performance Max campaigns can serve in any of the placements filled by Search, Display, YouTube, Gmail, and Discovery campaigns.
What Options and Controls Do I have With Performance Max?
When you set up a Performance Max campaign, you choose your objective. Depending on your goals, it is possible to connect product feeds and store locations.
Budget and Bidding
You'll then set your budget and choose how your bidding strategy. Note that the bidding strategy options include max conversions and max value but you can also set a max CPA or a target value/conversion, allowing you to leverage Target CPA and Target ROAS strategies.
Location, Language, Ad Scheduling
Next, you'll choose your locations. Currently, Performance Max is not supported by Google Ads editor, so setting up the targeting is more tedious than most campaigns. If you have a lot of locations to include, you can choose "enter another location", which will then expand to include a blank space and an "advanced search" link. Click the "advanced search" link for the option to bulk import locations.
You can then choose languages, your ad schedule, your campaign run dates,
Advanced URL Options
The URL options are important. By default, Google will define its own final URLs unless you toggle that option off. If you allow Google to send traffic to whatever links it sees fit, you do have the option to exclude links, as well.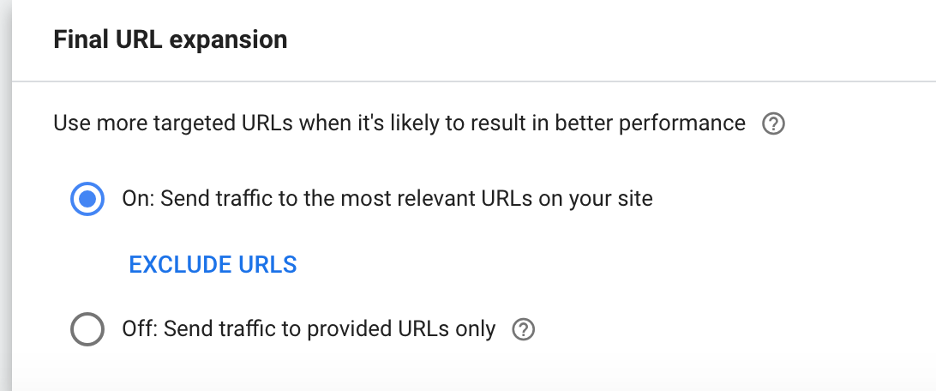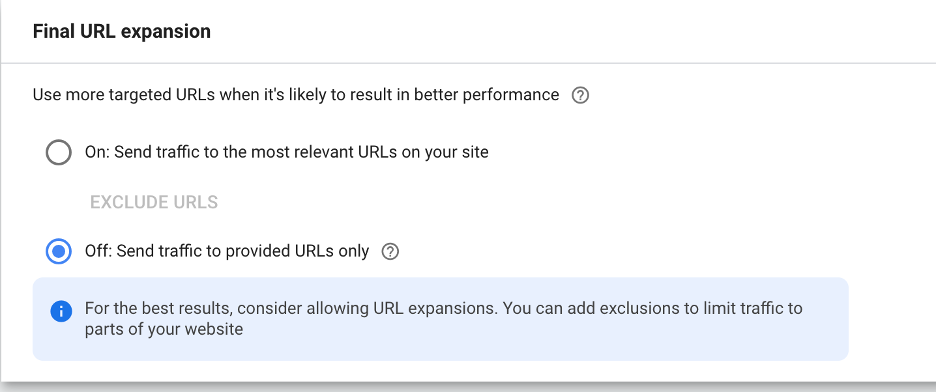 You can also add tracking templates, as well.
Setting up "Asset Groups" AKA Ads
You'll then be directed to set up an "asset group", which is effectively an ad, which will be similar to a responsive display asset. This "asset group" is called an asset group because it acts as an asset to all platforms. Advertisers can create multiple "asset groups".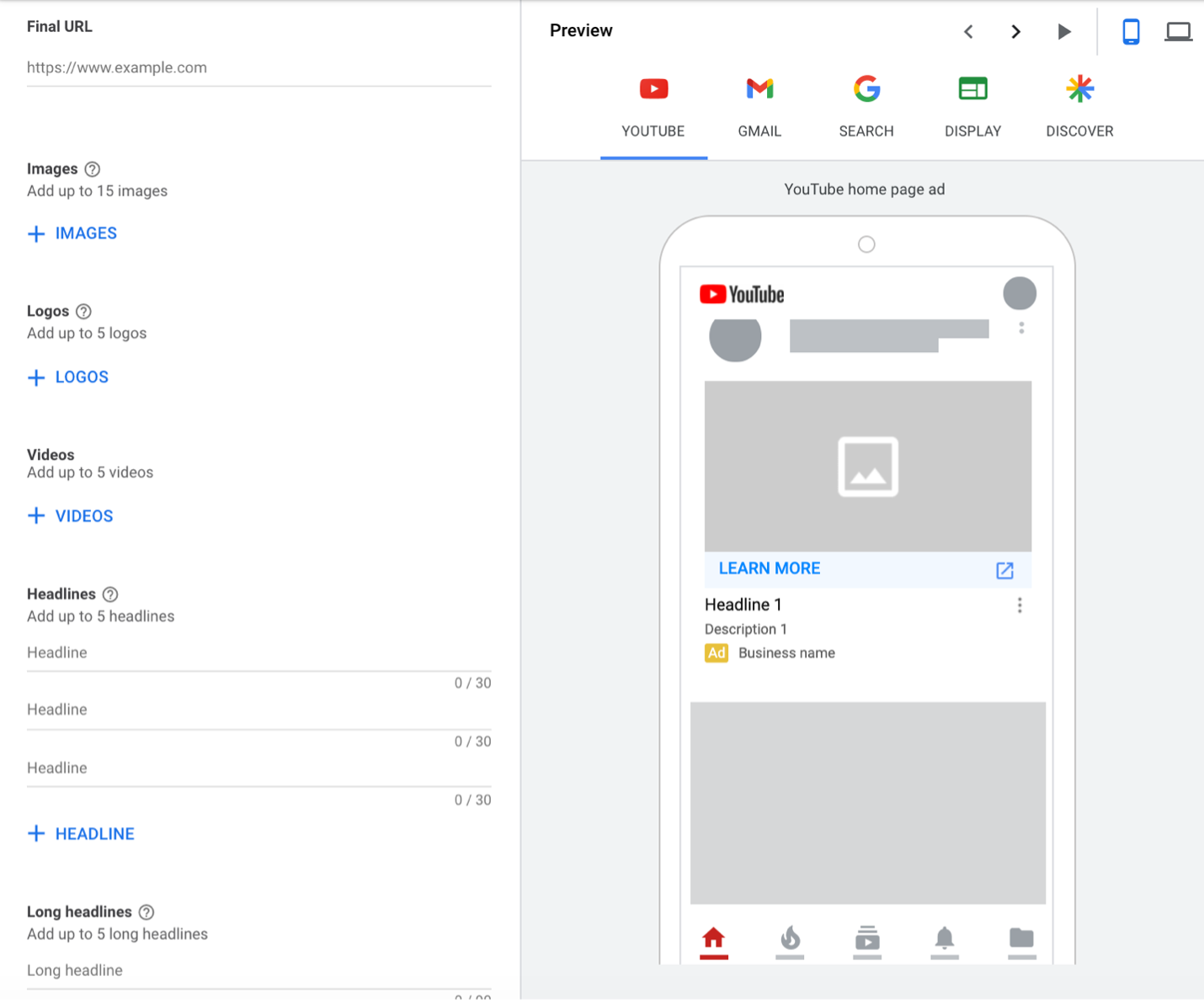 Informing the Automated Targeting
Each campaign only has one set of targeting (so no ad groups). You can select audiences to help give insight into who Google should target. Google notes, "Your ads will automatically be shown to people who are most likely to convert for your goals. You can speed up optimization by providing audience signals." What this means is that your campaigns may not only be delivered to those audiences. Rather, Google is looking at the audiences you provide for signals. They'll use that data to identify similar consumers that are likely to exhibit the same behaviors and interests.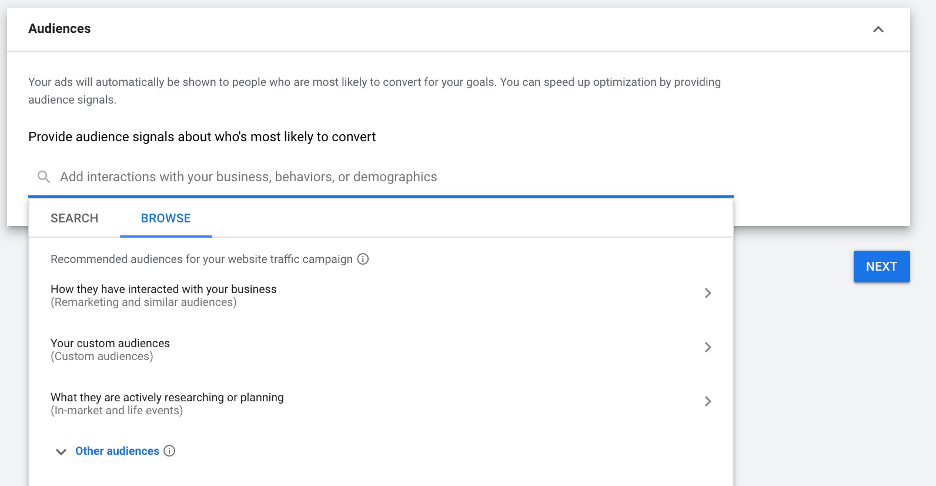 Setting Up Ad Extensions
Lastly, you add your extensions. You can opt to use existing account-level sitelink extensions or select and create specific sitelinks for the Performance Max campaigns. The campaign will suggest extension formats based on your goals. For instance, if your primary goal includes lead generation, the campaign will suggest creating a lead form extension. You can also add structured snippets, price extensions, promotion extensions, callouts, and call extensions.
What Do Performance Max Reports Include?
Performance reporting has been acknowledged as a shortfall. At the Google Marketing Livestream, it was announced that advertiser feedback had been heard regarding reporting transparency and that Google would be taking steps to improve transparency within Google Max campaigns.
It's not clear exactly what reporting will look like in the future, so I'll share my experience with reporting in its current format.
Reporting in its current form is limited. Advertisers can report on campaign performance as a whole, the same as any other campaign. The breakdowns are where it loses transparency.
First, the things you can do:
Advertisers can report on top-level campaign performance
Advertisers can report on location performance (and if advertising a chain, the store report is available based upon location extensions)
Advertisers can report on performance by hour-of-day, day-of-week, and day and hour combined.
Now for the things you can't report on.
Though you can add multiple asset groups (ads), it's not possible to report on performance by asset group. So for instance, currently in display, you can report on performance by responsive display ad but you can't break down that performance by individual asset in a meaningful way. With Performance Max, you can't even take the first step of breaking down performance by asset group (ad).
There's also no information given on targeting. Remember that the targeting parameters that are provided are used as indicators to identify other potential consumers in-market, so those audiences provided won't necessarily be used as targets but rather used as a means of identifying qualifiers and indicators to help find other likely prospects. At the end of the day, there's no way to tell who saw your ad – no audience reporting, no keyword reporting, no demographic reporting, etc. This also means that it isn't possible to add exclusions for these things.
Advertisers cannot report on device performance or make exclusions.
Since I did not connect a product feed, I'm not able to comment on performance reporting at the product level.
How Does Performance Max Perform?
Let me preface by saying that I've been one of the beta testers for Performance Max, so I'll share insights from my own experience. Mileage may vary.
In my experience, the Performance Max campaigns maintained a CPL 21.4% less than our non-brand search campaigns, which were completely maxed out with budgets uncapped. The CPL was also about 22% less than display, which tends to perform really well for this particular account. We ultimately increased their total month's conversions by about 5% using Performance Max and that was with capped budgets, so there's still some room to push more volume.
It has not appeared to cannibalize search but neither the Performance Max nor Display campaigns were maxed out so I don't have a good feel for how inventory was shifting between those two channels.
I would qualify those results by saying that this is an account that drives a lot of volume. Automation performs really well here, presumably because of the volume of data coming through. Still, performance seems ultimately positive.
Because it takes a while for leads to close for this account, we're still waiting to see how the lead quality compares to other channels.
Beyond the results of my own accounts, Google shared a case study from MoneyMe on ThinkWithGoogle, in which they cited a 22% increase in conversions, more than $800K in revenue from newly funded loans, and a 20% reduction in overall CPA across the account.