Google's John Mueller provided new information about the new Mobile First Index. The big news is that desktop only sites will be completely dropped from the index, gone. Additionally, there are bugs related to m-dot sites and affirmed that the date for switching over to a mobile index is firm and not likely to change.
John Mueller Said Google Mobile First Index Will Exclude All Desktop Content
Full Mobile Index Scheduled for March 2021
John announced a firm date of March 2021 for switching the new mobile index. He said it was a huge internal undertaking that has resulted in some bugs that will not be fixed.
The most important takeaway is his statement that desktop only sites will be dropped from the index. Not only that, but any images or other assets that are in a desktop version of a site will also be dropped from Google's index.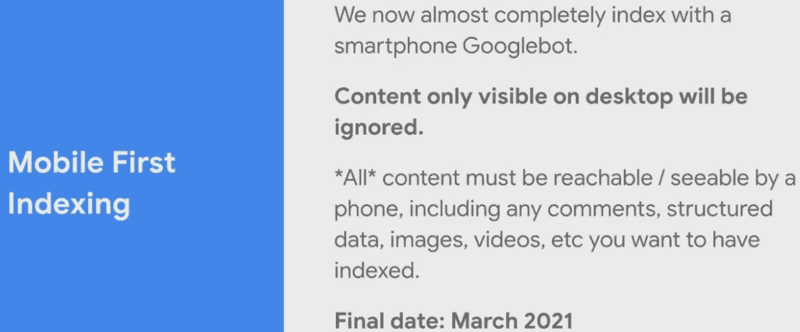 What Mueller said:
"…we're now almost completely indexing the web using a smart phone Googlebot, which matches a lot more what users would actually see when they search.

And one of the things that we noticed that people are still often confused about is with regards to, like if I only have something on desktop, surely Google will still see that and it will also take into account the mobile content.

But actually, it is the case that we will only index the mobile content in the future.

So when a site is shifted over to mobile first indexing, we will drop everything that's only on the desktop site. We will essentially ignore that.

…anything that you want to have indexed, it needs to be on the mobile site.

And the final deadline we've come up with is March 2021."
M-Dot Mobile Index Bug
Of special interest are the performance of mobile sites that are set up as a separate m-dot separate version. M-dot are sites that are hosted on a separate subdomain like m.example.com.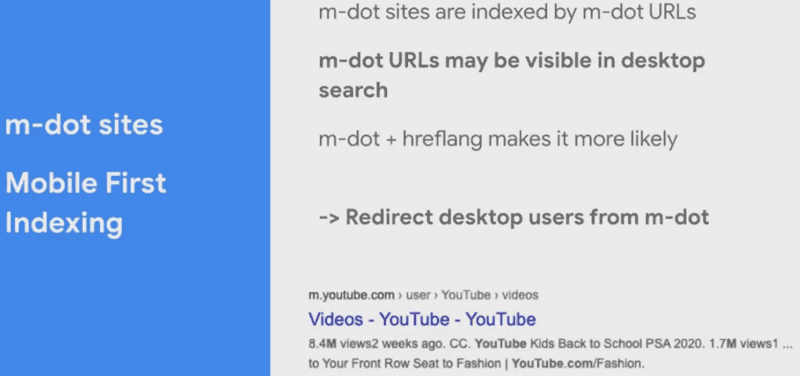 Mueller said that for some cases, particularly m-dot sites that use hreflang attributes, that Google may not be able to send desktop users from the search engine results pages (SERPs) to the desktop version. In those cases, Google will end up sending desktop users to the m-dot mobile version.
Mueller didn't specify why Google would have a difficult time with redirecting desktop users to the desktop versions of m-dot sites. He only commented that he didn't see this situation changing anytime soon.
Mueller's comments on m-dot site bug:
"One of the things around mobile first indexing that sometimes pops up, especially if you're working on larger or older sites that have kind of the the m-dot setup…

When it comes to mobile-first indexing, this makes things a lot trickier. So we can process these but what will happen is we will only index the m-dot version of the site and it can happen that we show the m-dot version of the site in the desktop search results.

Usually we try to show the appropriate version, desktop or mobile version, in the search results, the URL at least. The indexed content is… only the mobile version.

But with m-dot sites it can sometimes happen that we just have the m-dot version where we didn't actually pick up that there's a connection to a desktop version here. This is a lot more likely if you have a m-dot version and use an hreflang.

The only solution there is essentially to make sure that you redirect your users from the m-dot version to the desktop version when they use a desktop browser.

And I don't see us changing this in the near future or probably at all."
Final Takeaways
March 2021 is a firm date where if sites that are desktop only will completely drop out of Google's index.
M-dot sites might experience having desktop browser users sent to the mobile version of the site from Google's SERPs. If this is you, it's recommended to detect desktop browsers and redirect them to the correct desktop version.
Only the content that exists on the mobile version of a website will be indexed and ranked.
Be sure that the mobile version of your site accurately represents the content that you want to have ranked in Google.
Desktop content will be completely ignored.
Citation