Google Assistant will soon be capable of delivering a personalized audio news feed after users say "OK Google, play the news."
This new feature is a collaborative effort with publishers around the world, which brings the artificial intelligence of Google News to the voice context of Assistant.
Google Assistant will be able to assemble an audio news playlist on demand when users issue the appropriate voice command.
News feeds will be created based on what the individual user cares about. Similar to what happens when opening the Google News app.
If the feature is used throughout the day then Assistant will update the user on stories they heard about previously.
Users can also ask Assistant to skip stories, go back, or stop at any time while listening to the news.
Google has developed a set of content guidelines for news organizations who would like to participate in this feature.
Google Assistant's audio news relies on single-topic stories—segmented out from newscasts or shows—to contribute to the audio news feed.
"Audio journalism requires new capabilities and workflows for both print publishers and broadcasters, whether it's adding a sound booth or segmenting larger broadcasts into shorter stories."
See below for the current list of participating news partners: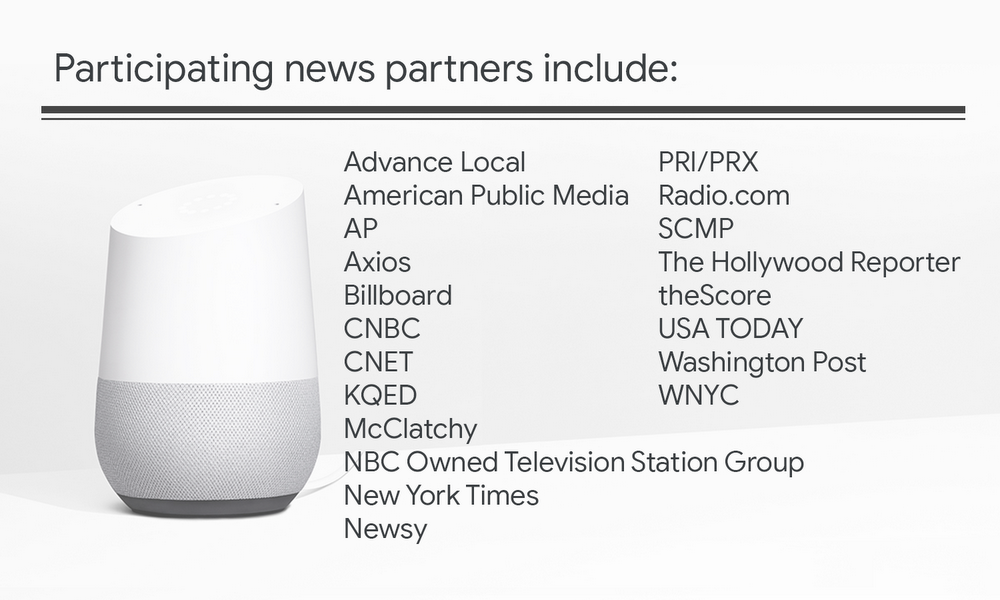 This feature will first roll out to a limited number of users in the US in English.
Publishers from around the world are welcome to submit their audio news feeds to Google Assistant here.