Google announced today they will be rolling out the ability for users to have popular topics from Google Trends and Hot Searches delivered via email.
This new feature will work in a very similar way to how Google Alerts currently works. You will be able to subscribe to a particular topic and receive a notification if there is an increase in search volume around that topic.
Currently, Google allows you to subscribe to any search topic, Hot Searches for any country, or any U.S. monthly Top Chart.
You will also be able to subscribe to notifications about trending topics by location. For example, if you want to stay up to date about trends and popular searches in your local area, you can set up an email notification to tell you about the "hottest" Hot Searches in the location of your choice and get occasional emails about major local trends.
To set up an email subscription, simply visit the Subscriptions section within Google Trends and click on Add subscription.

From there, select the topic and country of your choice and indicate how often you would like to receive notifications. Then click the Subscribe button.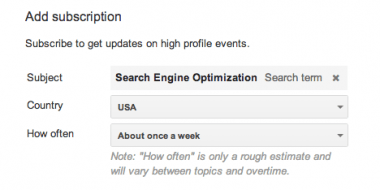 That's all it takes to keep your finger on the pulse of trending topics and popular search terms. This is an incredibly useful feature for all the busy professionals out there who don't have time to manually sift through blogs and websites every day to stay current. Now the information can be sent directly to you.