Lightweight browser 'Google Go' received an update this week which will allow it to read any web page out loud.
Google Go was introduced last year as a web browsing solution for people in areas with slower internet connections. In an announcement, Google says the Go browser now has millions of users.
As the name suggests, it's primarily designed for people on the go. There's arguably a no more convenient way to consume content on the go than in audio form.
That's why Google is updating the browser with the ability to read web pages in a natural sounding voice across 28 languages.
"Despite the rapid growth of audio and video content online, the web is still predominantly made up of lengthy, text-based pages which aren't always easy to read on the go. So it's not surprising we've received consistent requests for Google Go to make it more convenient to access web content."
In addition, the feature will utilize AI in order to determine which parts of a page to read and which to leave out. So the listener will get only the most important parts of an article.
Staying true to its original purpose, Google Go promises to be able to read web pages on connections as slow as 2G.
Regardless of the connection, Google says this feature will use minimal cellular data.
Users can listen to web pages in audio form alone, or follow along with the content on the screen as each word is highlighted while it's read.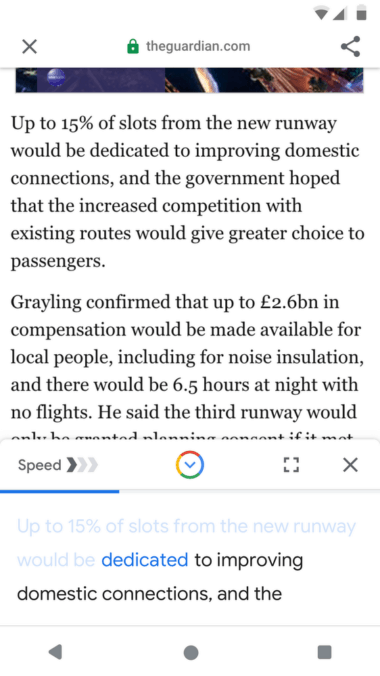 Google hopes to bring this technology to more of its products in the future.
Google Go is available exclusively for Android from the Google Play Store.