If you're a site owner there's a good chance you have used Google Webmaster Tools, and you may have even encountered Safe Browsing notifications before.
Safe Browsing is a feature built into Webmaster Tools that alerts you if Google detects something on your site that could cause problems for other users, like if your site has been hacked and began infecting visitors with malware, for example.
Today Google announced it has extended these safe browsing protections to Google Analytics users. So users who only have Analytics set up for their site, and not Webmaster Tools, won't miss out on any notifications about harmful content on their site. The alerts will be delivered using the already establishing Google Analytics Notifications.
Here's an example of what one of the notifications looks like: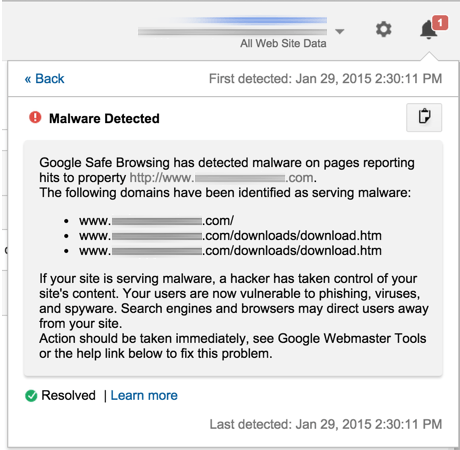 This marks another of one of Google's recent efforts to protect Internet users. Just last week the company announced it would start issuing warnings before people visit sites that prompt unwanted downloads. A couple of weeks before that Google revised its documentation on hacked sites with more detailed information how to deal with those kids of issues.
Google clearly is dedicated to making the web a safer place, and I expect we'll see further enhancements like this one in the near future. If you have received a Safe Browsing notification from Google, or suspect for some other reason there's problematic content on your site, I suggest reading about Google's best practices for dealing with website hacks.