Google recently announced that it's going to start warning users before visiting sites that prompt unwanted software downloads.
Google Search will now be able to identify sites that have automatic software downloads, and present a warning like the one below before you visit it: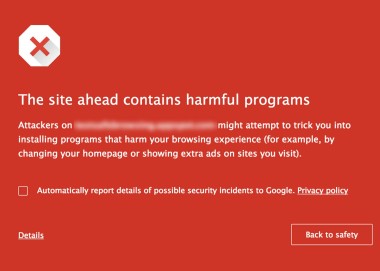 In addition, these new SafeBrowsing features will be incorporated into Google's Chrome browser, which means you'll be protected against against harmful sites accessed from all over the web. The company has also said it will disable all ads leading to sites with unwanted downloads.
Just to be sure your site isn't leading people to download unwanted software, which could happen if your site has been hacked or you're unknowingly linking out to such a site, Google reminds users to make sure their site is registered with Google Webmaster Tools.
When your site is registered with Webmaster Tools, Google will alert you if it detects anything on your site that leads people to download unwanted software, along with tips on how to fix the issue.