Google's Home Services ad product is now available to a wider variety of business types in more US markets.
Back in May, SEJ contributor Ryan Clutter reported Google was reaching out to select businesses in Philadelphia inviting them to become Home Services Ads customers.
All businesses in select categories within Philadelphia are now able to apply for Home Services ads, provided they pass an extensive screening process.
The complete list of cities eligible to apply for Home Services Ads includes:
San Francisco Bay Area
Sacramento
Stockton
San Diego
Los Angeles
Philadelphia
With several new business categories being eligible to apply for Home Services ads, the complete list now includes:
Plumber
House Cleaner
Locksmith
Handyman
Contractor
Electrician
General Contractor
Painter
Garage Door Pro
Heating, Ventilation and Air Conditioning (HVAC)
Roadside assistance service
Auto glass service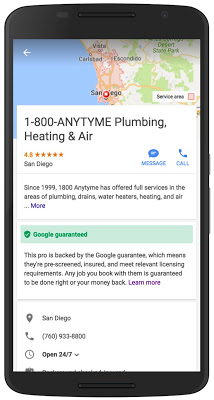 As a Home Services Ads customer, not only is there the possibility of having ads featured prominently at the top of the SERPs, but it comes with a sense of prestige.
Due to the strict qualifying criteria advertisers need to meet in order to publish Home Services Ads, they're also a badge of trust.
Home Services Ads send a message to searchers that Google considers a business to be a credible service provider.
To start the process of becoming a Home Services Ads customer, fill out the short form here.