Google Home Service Ads, currently available only in select California markets, is expanding to the East Coast. The first market is confirmed to be Philadelphia.
Google is in the process of reaching out to local companies to begin the vetting process. The expansion to Philadelphia came to light as a client of 1SEO.com Digital Agency (disclosure: the agency I work for) was contacted by a Google representative inquiring about an opportunity to become a potential Home Service Ads customer.
To get started in Philadelphia, Google is only onboarding plumbing professionals. Currently in the stage of reaching out to businesses, around 30-40 plumbing companies will be contacted as Google is looking to launch their partners and Home Service Ads by mid-June.
All partners that have passed a rigorous background check and vetting process will be included in a local ad carousel where a Google guaranteed tag is placed on the listing. The tag lets customers know the job will be done correctly or their money back as part of Google's guarantee.
When onboarding a company and before the vetting process is able to begin, Google requires:
Business name
Business phone number
Business address
Google registered email address
Website
Contractor's license number
Service area (cities or radius)
Hours of operation
Year founded
Amount of general liability insurance coverage
Customers that are searching on Google for plumbing companies can see reviews and get in direct contact with businesses straight from search results. Users can send a request for service or directly call the business.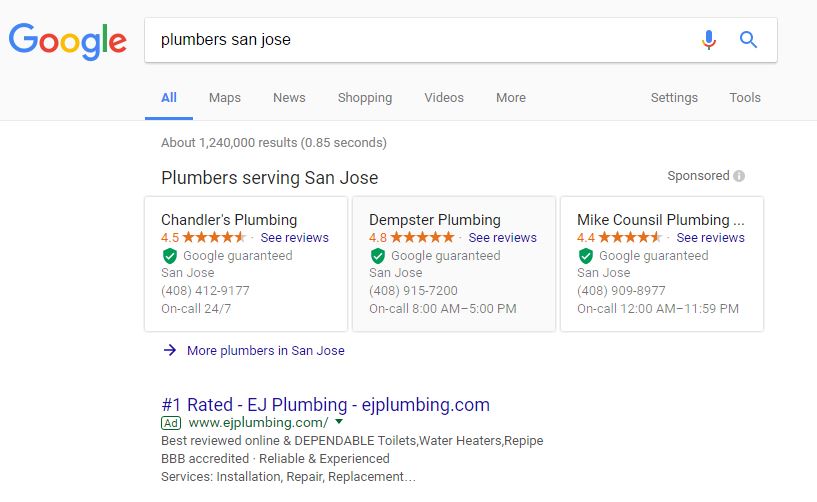 Since August 2015, users in certain California markets conducting local searches for plumbers, electricians, locksmiths, handymen, and other home service providers have seen a carousel format of ads. Read more about the Home Service feature from Google.
Now, users in the Philadelphia market will see local plumbing professionals become Google partners in mid to late June. Expect more home service industries to be included at a future date.
Image Credits
Featured Image: Image by Gabrielle Frake. Used with permission.
Screen Shot: 10 May 2017 / Ryan Clutter