Google has announced it's bringing the power of generative AI to developers and businesses through its Google Cloud and MakerSuite and introducing new AI-powered features in Google Workspace.
In a blog post, Google notes its investments in AI span many years. The company is committed to making AI accessible to everyone, whether it's through publishing research or building helpful products.
New Generative AI Features In Workspace
Google is making writing easier for users by introducing new AI-powered features in Google Workspace.
If you want to write about a topic in Gmail or Google Docs, you can type it in, and a draft will be created quickly.
You can then edit it by making changes, shortening it, or adjusting the tone to be more professional.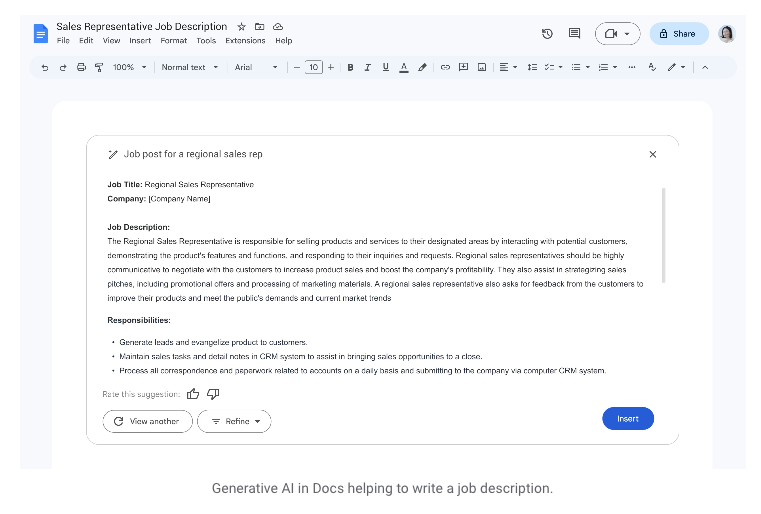 The PaLM API & MakerSuite
Google is introducing the PaLM API as a safe and easy way for developers to build on top of its best language models.
The API includes the MakerSuite tool, allowing developers to prototype their ideas quickly.
Over time, MakerSuite will offer synthetic data generation, custom-model tuning, and prompt engineering features supported by robust safety tools.
Bringing Generative AI Capabilities To Google Cloud
Developers who want to build and customize their own models and apps using generative AI can access Google's AI models, including PaLM, on Google Cloud.
Google is introducing generative AI capabilities to its Cloud AI portfolio to help developers and organizations access enterprise-level safety, security, and privacy.
New AI Partnerships & Programs
Google is expanding its AI ecosystem and specialized programs for technology partners, AI-focused software providers, and startups.
Trusted testers can access Vertex AI with Generative AI support and the Generative AI App Builder starting today.
In Summary
Google's new generative AI capabilities in Google Cloud, the PaLM API and MakerSuite, and the new AI-powered features in Google Workspace provide a new way to explore and prototype generative AI applications.
These features save time and effort, streamlining the writing process and making AI accessible to everyone.
The expansion of Google's AI ecosystem and specialized programs further demonstrates Google's commitment to making AI more accessible.
---
Featured Image: JRdes/Shutterstock
Source: Google