One of Google's biggest-impact algorithm updates was implemented for the sake of local search results, and local businesses typically saw the effects of the update in their website's analytics data.
Google users certainly saw the impact, too, and that typically meant a different, and eventually better, search experience in terms of local businesses and the information pertaining to those businesses.
Believed to have launched on or around July 24, 2014 — and deemed the "Pigeon" update soon after by Search Engine Land — this Google search algorithm update aimed to offer better local search results by rewarding local businesses that have a strong organic presence with better visibility in traditional search, similar to the visibility a business may have seen previously in Google Maps.
The idea that small businesses with locally relevant brick-and-mortar locations (think "mom and pop stores") deserve to show up in search just as much as other businesses in the area, regardless of size or brand popularity, makes total sense assuming the business ranking well in the results provides what the search query suggests.
What Exactly Changed with the Pigeon Update
To ultimately improve its local search capabilities, Google enhanced hundreds of ranking signals for both Google Search and Google Maps. This also meant Google's location and distance ranking parameters were also improved to better provide local, relevant results to users based on proximity.
And it did, for the most part, especially for the long term.
Local search has improved drastically since July 2014, when the initial Pigeon launch took place, but it is also widely believed that a series of Pigeon updates have been employed since then, too. And that would explain some of the hiccups in the beginning of the algorithm update launch that were eventually corrected.
One popular example from just after the initial Pigeon launch was when the hotel-booking website Expedia showed up in the hotel carousel as if it were a regular New York City hotel welcoming guests. There were also glitches with spammy properties using exact-match keywords to trick the local algorithm into ranking their pages higher in the results, including in the Google "local pack" (more on that later).
There were a number of other noticeable glitches as a result of Pigeon's first launch, but they, too, were soon corrected. The first Pigeon update to the initial launch appeared to take place around August 1, 2014 and remedied some of the issues.
And that's why it is not farfetched to think that several Pigeon updates have launched since the initial July 2014 deployment. It's common for a major algorithm change to be followed up by a series of refreshes.
Pigeon was widely cited as the most impactful local algorithm update ever, and definitely the most impactful one since the Google Venice update in 2012.
What Google Had to Say About Pigeon
Google is mum on most updates. Pigeon was no different.
After making some general comments on the initial Pigeon launch and what specifically (sort of) was updated, it had nothing to say about any of the updates that most likely followed.
After it said that the Pigeon update was rooted deeper into Google's overall web search capabilities, including the many ranking signals it uses in web search and other important features that have improved the overall search experience (Knowledge Graph, spelling corrections, synonyms, variations, etc.), it didn't say much else.
Google told Barry Schwartz that it would not confirm or deny any of the Pigeon updates after the initial launch and that it "probably won't detail all the changes to local search algorithms as we go."
So, it's almost guaranteed that there was an update, and it's also pretty likely that there have been more than one update to the Pigeon algorithm over the last few years.
Pigeon Changes on the Google SERPs
Before Pigeon, the search results on Maps were noticeably different than those of traditional search. The user experience was considerably different, too.
Now search results and the aesthetics of the SERP (search engine results page) for both Google Search and Google Maps search have a more uniform appearance and functionality (see below).
Traditional search: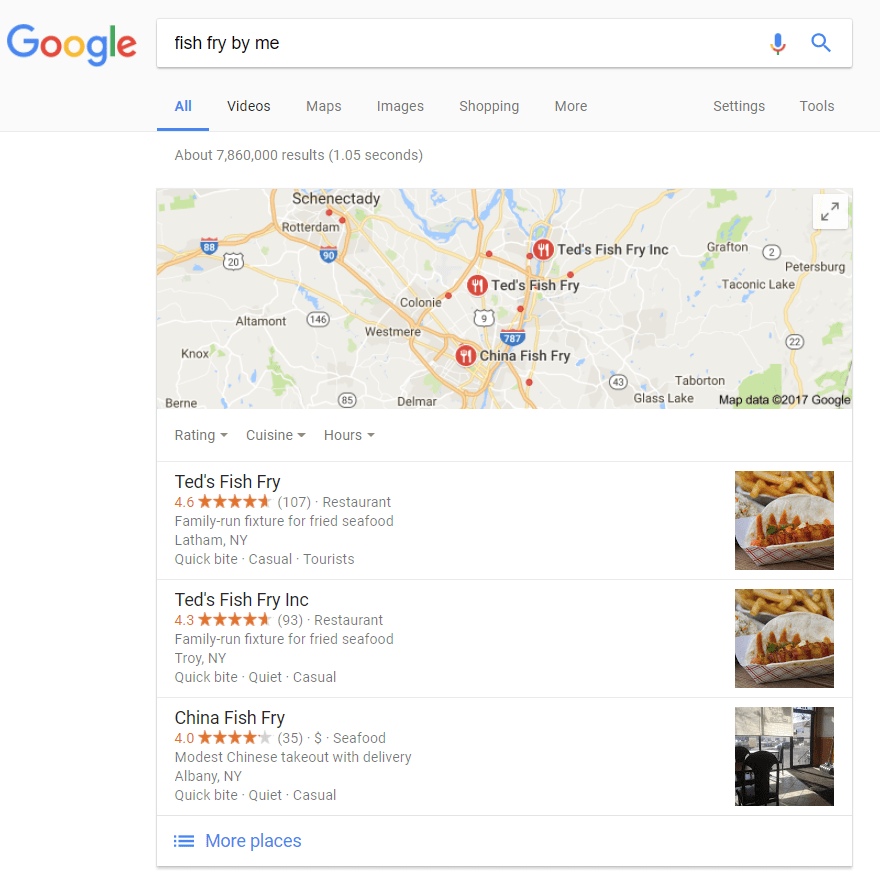 Google Maps:
In addition to improved integration between local ranking signals, Google also updated how it treats consumer-driven local "directories," like Yelp, Home Advisor, and more.
Prior to Pigeon's launch, there was an internal presentation at Yelp that was leaked, then published, detailing how Yelp felt Google was mistreating the major review site and favoring its own content in search. Yelp claimed it was being outranked by Google reviews even when a user specifically includes "yelp" in their search queries, which clearly wouldn't make sense as an unbiased search.
After Pigeon launched, Yelp and other local directories driven by user content and customer reviews were treated more favorably, and ranked higher in search, as they should have.
Pigeon Changes to the Local Pack
One of the most noticeable differences for users searching on Google for local businesses in the results was the change in the local pack.
Before Pigeon, the local pack would include 10 or seven businesses in the special breakout in traditional search, offering more opportunities for business to rank well and show up on Page 1 of the SERP.
Within a year of Pigeon launching, the local pack number shrunk to what it is now in 2017, the 3-pack (shown below).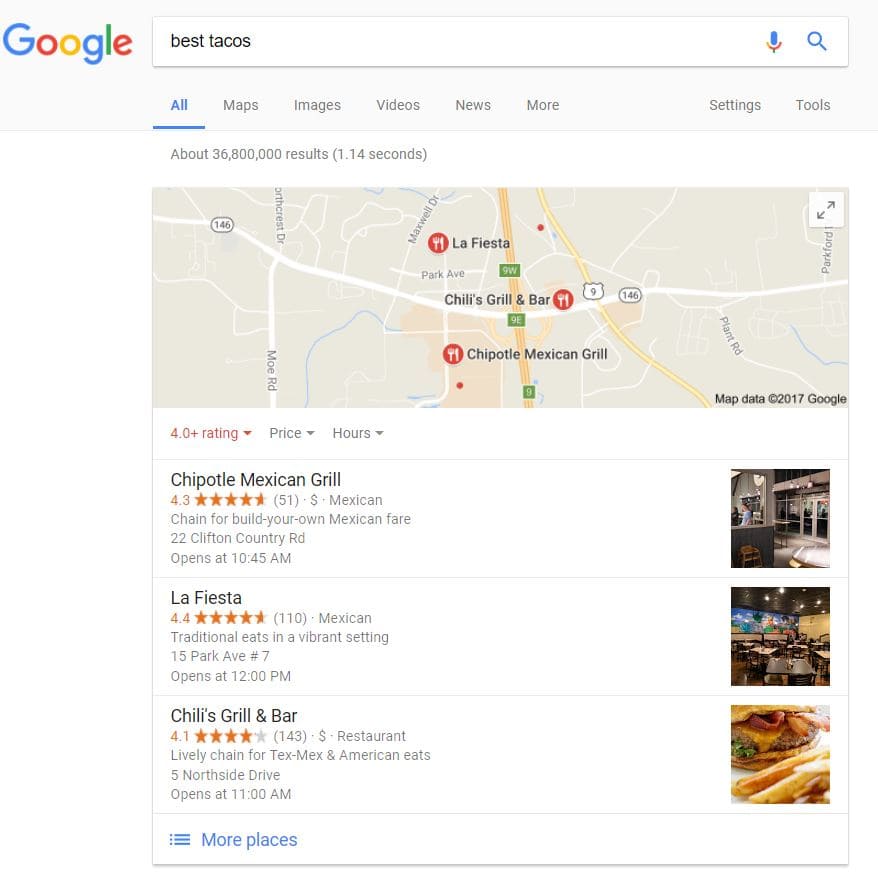 The goal of Pigeon, which Google confirmed, was to let local search resemble traditional organic search as much as possible, while also behaving in a similar way.
The immediate effects local businesses may have experienced depended on how they were positioned before Pigeon, and how they may have benefited or been hurt from the shake-up in local rankings.
The more permanent effects may have been an increase or decrease in web referral visits, as well an increase or decrease in KPIs like leads and conversions (like "Get Directions" or "Call Now").
Not only did Google change the way many businesses ranked and how visible they were, it also aimed to give users the information they wanted in even fewer steps. Pigeon's intent was to serve the most relevant and useful results to users in a local setting by favoring those within a certain radius and relevancy of a user's search.
Basically, Google could now supply users directly with sought-after information about a specific local business quicker and easier than ever before. But those users may never make it to your site if Google offers critical information (phone number, address, hours, etc.) to the user, no longer forcing them to look any further.
Google "helped" users by offering the information they needed in fewer clicks, but it often came at the expense of those websites' traffic.
There's no doubt those types of changes will continue – not just in a local setting – where Google essentially scrapes brands' content and serves it directly to users on the Google SERP. This is where search has been headed for years.
If your brand is still ranking well, and customers are still finding your business and the pertinent information tied to it, is it still a marketing win?
At this point, it seems like our only choice.
---
Image Credits
Featured Image: Shutterstock, modified by Danny Goodwin
Screenshots taken by author