The EMD, or Exact Match Domain update, was a 2012 Google algorithm update that targeted exactly what it is named: exact match domain names.
The intent behind this update was not to target exact match domain names exclusively, but to target sites with the following combination of spammy tactics: exact match domains that were also poor quality sites with thin content.
There were really no other nicknames for this update. It went by the EMD update, or Exact Match Domain update.
The major weakness that these websites had was the fact that SEOs would buy domains with exact match keyword phrases, build a site out, but have extremely thin content with little to no value on them. It was extremely easy to do. So easy, in fact, that it was almost like taking candy from a baby in terms of easy SEO wins.
Before the update happened, Google's Matt Cutts warned the industry that this was going to be a focus of a future update in a webmaster video published on March 7, 2011.
Dr. Pete Meyers at Moz published an article just prior to the release of the EMD update, asking whether EMDs were in decline. His accompanying data showed a sharp decrease in the influence that exact match domains had on actual rankings.
The end conclusion after the update occurred is that overall, non-dot-com domains experienced a more severe punishment than their .com counterparts, which were stronger contenders and survived the update better.
Cutts announced the EMD update on Twitter on September 28, 2012: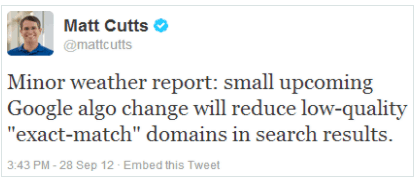 Industry Reactions & Discussions
Here are some industry reactions (for more, check out this thread on WebmasterWorld.
martinibuster 9:13 pm on Sep 28, 2012 (gmt 0)
Matt tweeted [twitter.com]:
small upcoming Google algo change will reduce low-quality "exact-match" domains in search results.

incrediBILL 10:30 pm on Sept 28, 2012 (gmt 0)
This will definitely put a dark cloud over the domainers portfolio.

zeus 10:35 pm on Sept 28, 2012 (gmt 0)
I think one of my sites got hit by this one, it looks like this 1widget.tld, the site is of almost no interest to me, but it could have got hit.

crobb305 10:43 pm on Sept 28, 2012 (gmt 0)
If this algorithm change has already occurred, it didn't do much. What I see: exact match subdomains moving up, an EMD in my sector with thousands and thousands of foreign backlinks moved down exactly two spots, another that expired 2 months ago moved up.

Edit: I spoke too soon. One of those sites is disappearing right before my eyes, term by term.
[edited by: crobb305 at 10:49 pm (utc) on Sep 28, 2012]

Color7 10:57 pm on Sept 28, 2012 (gmt 0)
Yep, I just lost one. "cityname"Hotels.net. It wasn't even low quality. It had good backlinks and content.

<sarcasm>
On a positive note, it was replaced with www.google.com/hotelfinder. </sarcasm>

ember 11:16 pm on Sept 28, 2012 (gmt 0)
Just lost two. They were both #1 for their keywords and are now gone. Good thing they weren't counted on for income.

WebPixie 12:16 am on Sept 29, 2012 (gmt 0)
Two of our sites just got hit hard. Both from the 2-5 range to not in the top 100.

-The first is a three word exact match with dashes(keyword-keyword-keyword.com) that was purchased by us in 2003.

It has been page one for 6-7 years and number one a decent part of that stretch of time. Bounce rate is low, page views and time on site is high. Tons of natural links, Facebook likes, tweets, pins, etc. It offers more quality content than any other site in the niche as well as free downloads for which almost everyone else charges(millions of free downloads over the years).

It makes me wonder what they mean by "Low Quality".

-The second is not a quality site but not terrible. It is a two word keyword phrase .org without dashes. I could see it not being on page one based on it's content, but there is no reason for it to be outside of the top 100. It is not that bad.

textex 12:18 am on Sept 29, 2012 (gmt 0)
We got slammed. Site is adjectivekeywordkeyword.com. Over 300 pages of unique content. Lots of good links. What in the world is low quality to them?

nethead 12:40 am on Sept 29, 2012 (gmt 0)
Couple of sites I manage got hit about 3 to 4 hours ago. Results are a mess in couple of the niches I follow.
The EMD Update Was to be Run Periodically
Danny Sullivan at SearchEngineLand wrote that Google confirmed that the EMD algorithm is going to be run periodically, so that those that have been hit stay filtered or have a chance to escape the filter. This is also in place so that Google can catch what they may have missed during the last update.
Spammy Sites & Thin Content Were Big Hits
The goal of this update was to target spammy sites and sites with significant amounts of thin content providing little value beyond exact match words in the domain. Sites with stronger brand recognition and high quality content were less likely to be hit.
What If You Were Hit By the EMD Update?
If you were hit by the update, and you wanted to recover, the general consensus of the proper plan of attack was very similar to Panda:
You would want to get rid of and/or improve the poor quality content. Please note: Google has officially recommended that improving poor quality content is mostly the best solution, as opposed to removing low quality pages entirely.
A link profile audit would be beneficial to identify spammy inbound links that had low trust signals, and engage in a link remediation/removal campaign to remove them.
Then, revising your routine to add new custom, amazing content to your site every day.
And finally: engage in an SEO link acquisition campaign to increase your website's trust and authority. After the removal of the bad links, continued acquisition would be necessary.
Was There a Pattern to Sites Hit By This Update?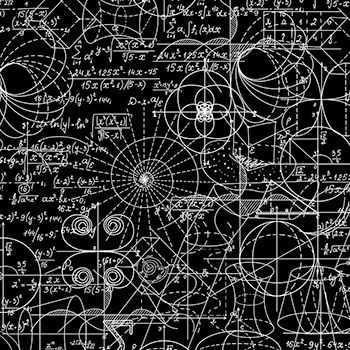 Dr. Pete at Moz released a detailed study on this update. Based on his measurements of who got hit, approximately 41 EMDs fell out of the top 10, with a net change of about 36 domains after 5 new EMDs entered the top 10). One example site that fell out of the top 10 had an exact match domain. While it wasn't exactly a spammy site, it was a fairly decent site whose only crime was choosing a keyword rich domain over the branded domain.
The majority of sites in the mix did seem to have more signals that communicated lower quality – things like low-authority, spammy link acquisition, aggressive keyword use, etc. – and they appeared to be ranking just because of the fact that they had an EMD.
There was no clear pattern discernible by Dr. Pete's data, and thus most SEOs were forced to assume that multiple factors not identified publicly by Google were being weighed by them.
EMD Update Case Studies
In August 2016, Mark Preston published a case study that tracked the effectiveness of exact match domains and local SEO. The study was inconclusive, but results seemed to point towards at least some effectiveness of exact match domains remaining today.
This case study in late 2014 examined the effectiveness of exact match domains.
Result: It is the quality that matters. If you use an exact match domain, make sure to build out the site with quality content and quality link acquisition. Focus on the major sustainable quality factors that will help you build a successful site, and you should not incur a penalty or other negative action as a result of your efforts. These factors are: quality, uniqueness, authority, relevance, and trust.
Updates From Google Since 2012
Do Exact Match Domains Help or Hurt Google Rankings? John Mueller Weighs In.
Lingering Myths & Misconceptions About the EMD Update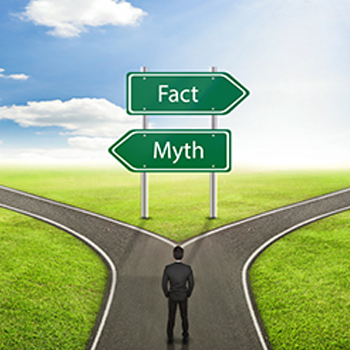 Despite Google's public stance about the EMD update closing the exact match domain name optimization loophole, some misconceptions remain that buying exact match domains actually works.
Well, it does, to a point.
When purchasing an exact match domain, most webmasters today have good intentions. They have higher quality standards when it comes to building websites. They've learned from their mistakes, and there won't always be situations where these sites are built just for the sake of the EMD.
This author believes that the situation where you have a real gray hat SEO going after exact match domains with gusto is something that is extremely rare nowadays. The filter has been in place, (almost) everyone learned from their mistakes, and most (if not all) webmasters want to stay on Google's good side. This author thinks that there is less of a misconception nowadays than there used to be.
The biggest misconception back then was that Google was going after all exact match domains. They had in fact stated they were going after low-quality exact match domains, so not all exact match domains were affected negatively by this update. It is important to define the distinction here, because this misconception still continues to linger.
How Did the EMD Update Change SEO?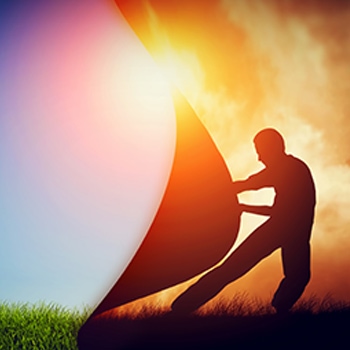 Even back in 2012, using exact match domains was never a valid technique per Google's webmaster guidelines. It was considered gray hat, because you were technically manipulating the search results even though it was never clearly black hat.
Because of the prevalence of the technique at that time, Google felt it was necessary to close this loophole.
There were many issues that Panda attempted to solve when it came to sites with low quality content. But, when it came to exact match domains, Panda was not doing much of a great job.
The arrival of the EMD update meant that SEOs could not just purchase a site with exact-match domains, build out some low quality content, and let it sit there and call it a day.
This update meant that SEO was about to get more complex, not quite as easy, and everyone knew that easy ranking wins for clients were over. Now, it would be necessary to plan out everything: on-page SEO, content marketing, link acquisition, everything. It would not be as simple as building out a site instantly and seeing almost immediate rankings benefits.
In the end, this did bode well for better SEO, because webmasters complained back then that there was an unfair advantage given to exact match domains. Thankfully, in this case, Google listened, and SEO as a whole is better for it. It means that webmasters will be less inclined to build low quality sites purely for the ranking benefit.
---
Resources & Further Reading on Google's EMD Update