I have posted many times on ways to use Google advanced search operators. This time I have compiled a list of tools that can make using Google advanced search an easier task and that will also offer you new operators and search queries to use.
Some of these tools really add nothing new while there are also a few that can really speed up the search process and are bookmark-worthy.
1. GoogleTutor Simply Advanced Google Search offers a very well organized interface combining most widely used Google advanced search options (country and language) and some essential SEO advanced operators(allintitle, allinurl, allintext, allinanchor).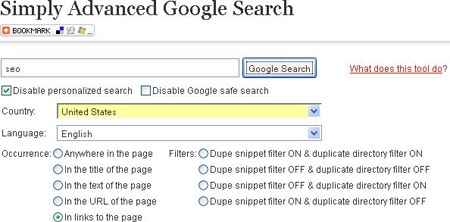 Note: surprisingly the tool inserts a space between a keyword and an operator.
2. SoloSEO Link Search (or similar ones: Webconfs Link Builder, SEOBook Link Suggest) offer you more ways and ideas on how to search Google for backlink opportunities. Use it when you are stuck for link building inspiration and more ideas.
3. FaganFinder Ultimate Google Interface is nothing more than just all Google advanced search on one page and designed in a handy way. The tool offers a few more additional features: compact mode (Google SERP without search snippets) and a list of non-English characters.

4. ResearchBuzz GooFresh (or similar ones: Google Date Search, Spific) tool offers an easy access to Google advanced date range search. You can choose to search for any term mentions indexed this day, the previous day, during past week or past month.
5. SEODesignSolutions Ultimate Linkbuilding Toolkit offers you a simple way to use site: operator for multiple domains at a time: just add one domain per line and a search term and you will see all Google results pages on one page: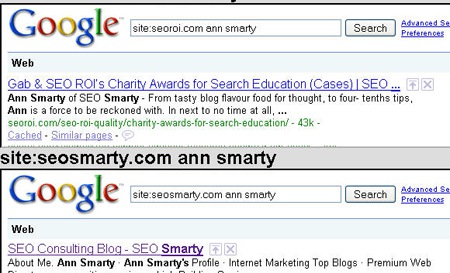 + (just for fun) Let me google that for you creates a direct link to the specified Google search results which you can send to your friends. Before redirecting to the actual results, the tool "demonstrates" how to perform the search. So let me google [SEO] for you 🙂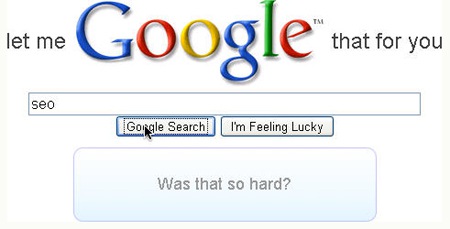 The last one is not for advanced searching but is still worth looking at: GooglUpon lets you search Google and save results in a cart for further reference. Each time you save the result into temporary folder GooglUpon will re-run the query taking in to account folder content and bring you more targeted results.