Google Ads is letting advertisers run an experimental ad format specifically for promoting Black Friday and Cyber Monday deals.
From now until November 27th can serve a special Black Friday promotion extension targeting specific keywords.
There are three types of keywords included in this experiment:
"black friday deals"
"black friday <product name> deals"

"black friday <company name> deals"

And variants of the above (including "cyber monday" as well)
The ad will show at the top of search results and be included as part of the ads that have promotion extensions.
Promotion extensions show special offers as an extension to the main ad, without needing to create new ads.
In other words, a Black Friday promotion extension can be easily appended to an existing ad.
Here is an example of how it will look: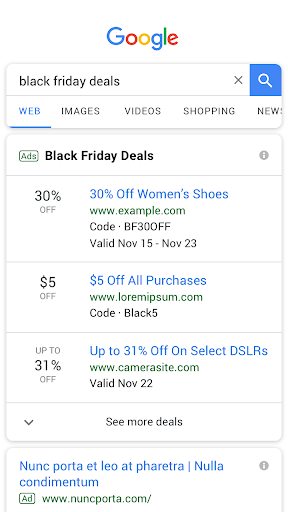 Google stresses that now is the right time to get these deals in front of customers.
In an email statement, a Google spokesperson revealed:
"100% of searches for "Black Friday" last year happened between November 19-25.

And research shows that 61% of shoppers are open to buying from new retailers during the holiday season, and in the 2017 holiday season, almost half of them did."
Advertisers can run this limited-time ad format by following the steps below:
Add promotion extensions under Black Friday and Cyber Monday labels.
Create ad groups targeting Black Friday or Cyber Monday keywords with relevant creatives.
This experiment is open to all English-speaking advertisers.