Google has added a new tool to its search results to help people who may be suffering from depression.
Searching for keywords like "depression" or "clinical depression" on a mobile device will now return a Knowledge Panel with the option to "check if you're clinically depressed."
Selecting the option will direct users to a clinically validated screening questionnaire, called PHQ-9, designed to test what a person's level of depression might be.
Previously, when searching for depression-related keywords, Google would return a Knowledge Panel with general information such as symptoms and treatments.
All of that information is still there, but now the first thing you'll see is an option to take the PHQ-9 screening test.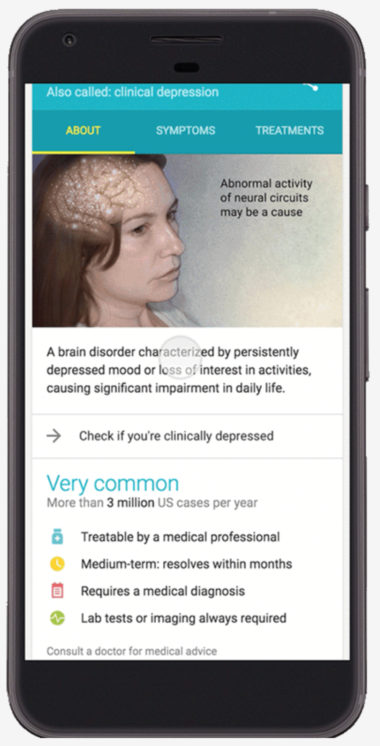 Google has partnered with the National Alliance on Mental Illness to ensure the PHQ-9 is as accurate and useful as possible.
The National Alliance on Metal Illness reminds everyone that depression is more common than you may think:
"Clinical depression is a very common condition—in fact, approximately one in five Americans experience an episode in their lifetime."
Since only about 50% of people with depression go on to seek treatment, the PHQ-9 questionnaire was added to Google to raise awareness and encourage more people to seek help if needed.
Of course, the PHQ-9 is not the be-all end-all of depression screening, but it is a starting point toward getting a proper diagnosis.
Side note: Have you noticed that Google's new additions to search results have all been mobile-only as of late? Desktop search sure is becoming more of an afterthought which each passing day.