Popups.
Those annoying, intrusive interstitials that won't leave you alone as you casually browse a website.
(We're talking full-screen, takeover, "do you need marketing? yes, I'd like to be a genius / no, I don't want to be a genius" type of ad. Simply put, the a-fricking-nnoying ones.)
Back in the late 1990s, when third-party popup ads first became a 'thing', it didn't take long for people to voice their displeasure. That's why popup blockers were being installed left and right in an effort to improve the user experience and make internet browsing bearable.
But then, in the late 2000s, something inexplicable happened.
They started making a comeback.
Bloggers like Darren Rowse, of Problogger, started using opt-in popup ads like this: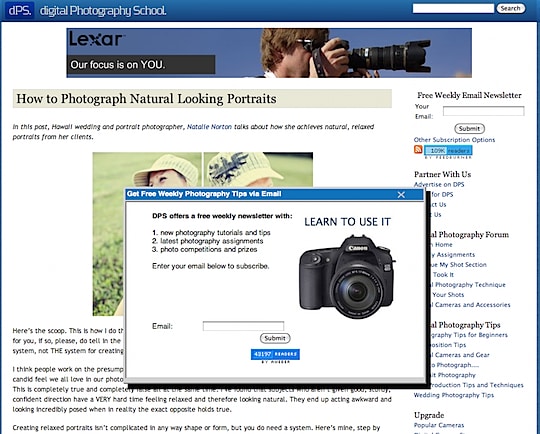 Doing so increased his email subscribers from 40 per day to 350+ per day.
And he wasn't the only one seeing massive success from opt-in popups.
Other websites reported seeing conversion rate increases of up to 1,000 percent.
This didn't make sense. How were popups working this well? Aren't they supposed to be annoying and intrusive?
Turns out, they weren't working as well as everyone thought. Many of these "new subscribers" were simply producing fake names and emails to get the popups to go away.
In the end, the popups were just as annoying as they'd always been.
Fortunately, in an effort to end them for good, Google stepped in to make sure the resurrection of popups was short lived.
How Google Tried to Kill Popups
In August of 2016, Google released news on their official blog reaffirming that their goal is:
"…help users QUICKLY find the best answers to their questions, regardless of the device they're using."
After realizing that intrusive interstitials were, "providing a poorer experience to users than other pages where content is immediately accessible," they decided that change was needed.
So, as of January 2017, they let the world know that they were going to begin penalizing websites that participated in any of the following: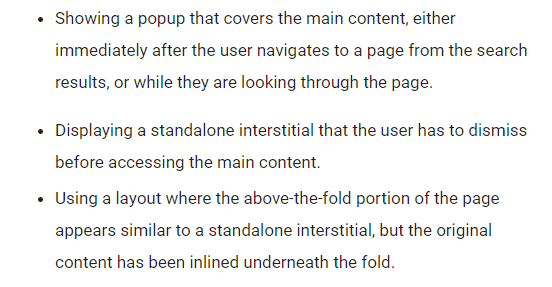 With this announcement, Google reiterated their stance that user experience, and providing useful results for users as quickly as possible, was their main priority.
And, by sending that message, they're sending popups to the graveyard where they belong.
Conversion Rate Versus Trust & Engagement
One of the main arguments for popups is that the data shows they work.
But conversion rates don't tell the whole story.
As Grasshopper contributor Emma Siemasko says,
"Popups are a marketing trick, not a real strategy. They may work for a little while, but in the long run they're bad for your name, bad for your brand, bad for whatever you're trying to sell."
She goes on to say that there are many things that conversion rates don't tell us, such as: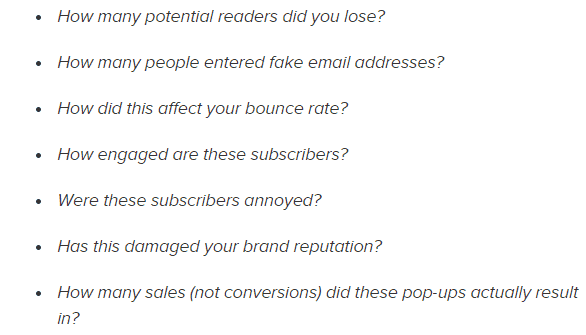 This is an important point:
Popups may increase conversion rates for the short term, but you're sacrificing trust and engagement when you decide to use them.
For example, this screenshot from Unbounce shows us that the engagement level for email subscribers who opt-in via popups is considerably lacking.
As RapidWebLaunch owner Patrick Antinozzi puts it,
"Having 100 engaged followers will always be far more valuable than 10,000 followers who just don't care."
It's really that simple. If your subscribers aren't engaged, they aren't helping you.
So hopefully, between the Google penalties and the loss of trust and engagement, you're convinced that popups are not the way to go if you want to win over subscribers.
So how can you win them over?
4 Ways to Get More Subscribers Without Popups
If you're going to generate a list of engaged subscribers, there are a few ways that you can go about it.
You can:
1. Create Incredibly Good, Useful, 10x Content
If you want to earn a list of engaged subscribers, there is nothing more important than creating amazing content consistently.
When you write and optimize great content on a consistent basis, you maximize your potential to earn the engaged subscribers you want and need.
If you aren't willing to commit to creating top notch content, you're wasting your time.
As KissMetrics Marketing Director Sean Work mentions in his post outlining the Nine Ingredients That Make Great Content,
"Writing great content is a choice. You can choose to put in the time and work required to create great content and build a prosperous brand. Or you can choose to take the easy path and write poor content – a path that will ultimately get you nowhere. It will only result in a waste of time, energy, and resources."
2. Use Content Upgrades
A "content upgrade" is essentially a bonus resource that is unique to each blog post and offers additional information that's relevant and useful to the reader.
A great example of a "content upgrade" can be found in a post by BuzzBlogger founder Kim Roach, 10 Best Fiverr Gigs of 2014.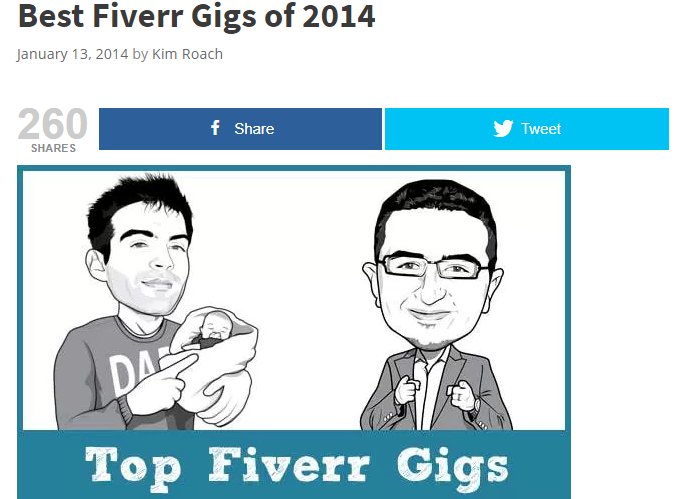 After going through the article, readers were then prompted to download a guide that built on the 10 Fiverr gigs that were already outlined.

Backlinko's Brian Dean applied this concept to his article on Google's 200 ranking factors, which was generating a massive amount of shares, but only converting at about .54 percent.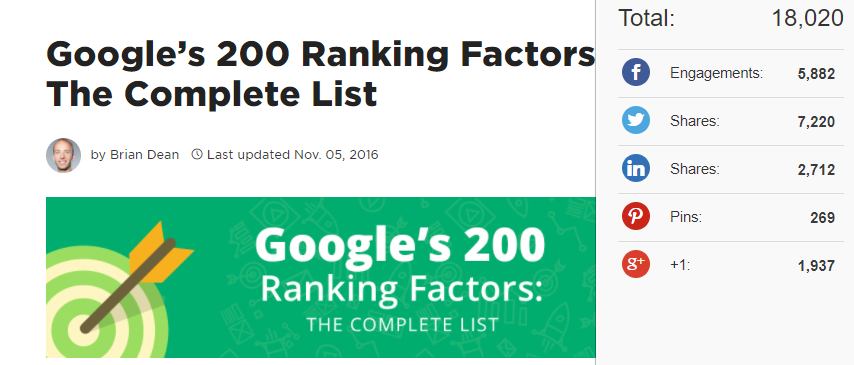 Dean created and offered a downloadable checklist outlining the 10 most important Google ranking factors.

The result? The page began converting at 4.82 percent. That's almost an 800 percent conversion rate increase with just one simple change.
That's the power of the content upgrade.
3. Optimize Call-to-Actions
Optimizing your CTAs is another good way to get more subscribers.
The problem for many, however, is determining where to place their CTAs.
With mobile viewing overtaking desktop viewing, and that trend expected to continue, sidebar opt-ins are becoming obsolete.
So, where can you place CTAs to get results?
Well, it's always a good idea to place them at the end of your content. If someone is reading your entire blog post, they're obviously interested in what you have to say.
By creating CTAs that align with the content that they've just read, you can naturally increase conversion rates.
In addition, a recent study by Google on viewability shows that including call-to-actions within your content can also help with conversions.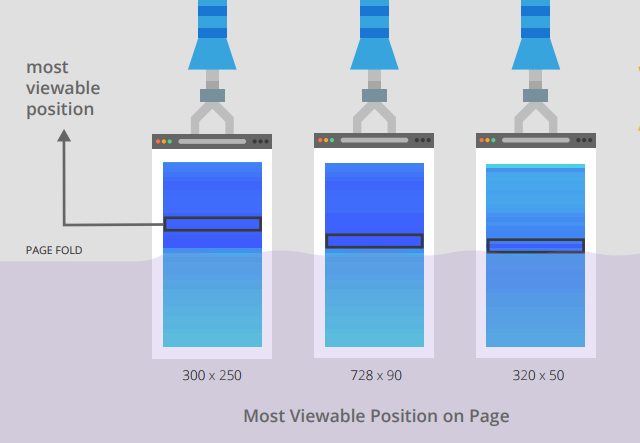 As you can see, the most viewable positions on a page are the areas just slightly above the page fold.
By creating strong CTAs and placing them in those positions, you can set yourself up to win over more subscribers.
4. Implement Hello Bar
Hello Bar is a free tool created to help website owners easily convert visitors.
This tool has successfully helped sites like Buffer generate more email subscribers. HelloBar is responsible for generating 33 percent of Buffer's email signups.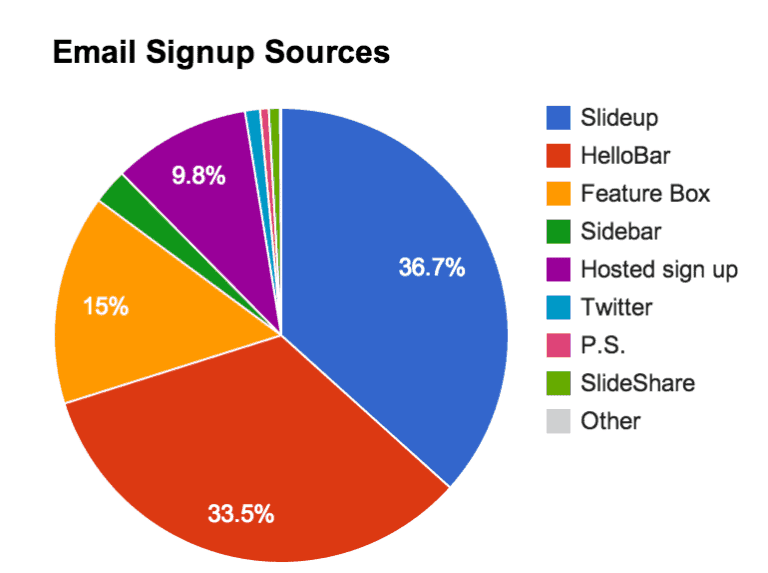 While it does have similarities to a popup, Google has said that they will not penalize website owners that use interstitials responsibly.
Here's a look at some examples of interstitials that Google deems to be acceptable: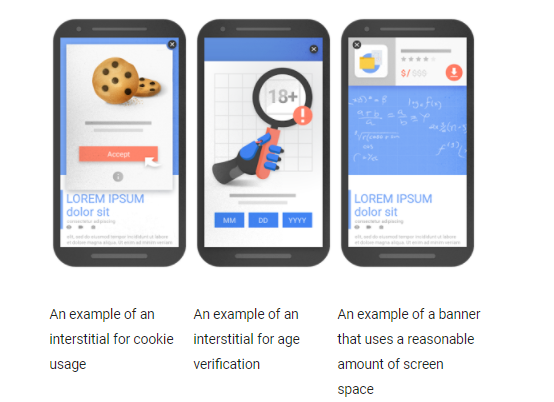 HelloBar is similar to the banner example on the right of the above image and can actually be customized to your unique goals.
For example, Neil Patel uses a banner on his blog that looks like this:

When an interested reader clicks 'yes', they're guided to a landing page that captures their name and email address in exchange for a webinar seat.
Buffer, on the other hand, customized their HelloBar to capture emails without users having to leave the page.

While their conversion rates leave something to be desired, they do earn 350+ signups per week from the free tool.
Stop Using Popups & Focus on Your Readers
If you want to maintain trust and engagement among your readers, stop using annoying popups.
With the strategies listed above, you can easily win over subscribers that trust and love what you have to offer.
---
Image Credits:
Featured image (c) Express Writers
Unbounce chart from Unbounce blog,
Google Interstitials image from the Google Webmaster blog
Screenshots taken by author, August 2017.