I have already overviewed some ways to get more organized with Google calendar, and I am now planning to start the series reviewing advanced free productivity tools from time to time.
The first tool in the productivity series is RememberTheMilk – a multi-feature productivity tool.
1. Sorting options
Store your to-do lists in folders: Study, Work, Personal, Inbox, All Tasks.

Filter tasks: Due Today, Due Tomorrow, Overdue, All.
Sort tasks by priority, date or name.
2. Notes
The service enables you to add notes to each task. Those notes are searchable and can contain any information you wish.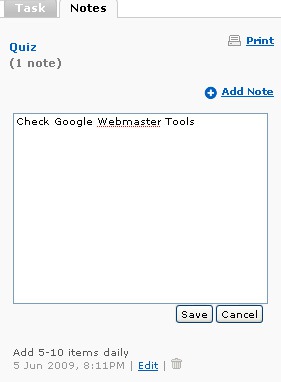 3. Collaboration
The service allows to invite groups and invite people to watch or edit your tasks.
4. Task Properties
Time you plan to spend on the task;
Repeat task every day, week, month, every 2 months, etc;
The date when the task is due;
Tags;
URL;
History (how many times it was postponed);
People you shared it with;
Notes.
5. Search:
Search tasks by tag;
Advanced search: search by priority, status, word, location, etc.:

6. More features:
Set multi-level priorities;
Learn multiple shortcuts;
Check handy overview of daily tasks, tags, notes and messages;
Go in offline mode;
Set email notifications;
Create public lists;
Subscribe to the updates by RSS;
Integrate the tool with Gmail;
Integrate with Google Calendar.
Seems like a useful tool, huh? Please share your thoughts!
The tool was reviewed under SEJ policy.