As one of the most popular online news sources in the webaverse, Mashable is a force to be reckoned with. Getting a post on Mashable is like hitting an online hole-in-one, and many marketers dream of earning a coveted link from this social news powerhouse. Why? It gives you access to thousands of referred visitors as illustrated below:
Mashable publishes a lot of content, and not all of it is awe-inspiring. Despite writing about everything from hamsters enjoying mini burritos to tricking babies with laser pointers, getting your business featured on Mashable is no trip to Disneyland.
So how is it done? I've managed to get Mashable to post about WordStream on a dozen occasions in the last few years, and today I'm sharing my secrets!
Get An In With Infographics
Infographics are content marketing dynamite – they drive traffic, are super sharable, and are probably the easiest way to get featured on Mashable.
Nearly all of the articles Mashable has published about WordStream are in conjunction with our infographic releases. The only exception was one post detailing the AdWords Grader, our free AdWords analysis tool that everyone went nuts over.
You could make a sophisticated tool like the AdWords Grader, which took several months of research and manpower. However, creating an infographic is much easier. Not only are infographics more likely to get picked up by Mashable, they also get you tons of other links from industry notables. We always have a ton of success and earn lots of attention with our infographic efforts. Try to pick BIG newsworthy trending topics that are at the intersection of social media, technology and business – like this one on Google killing off Google Reader, shown here: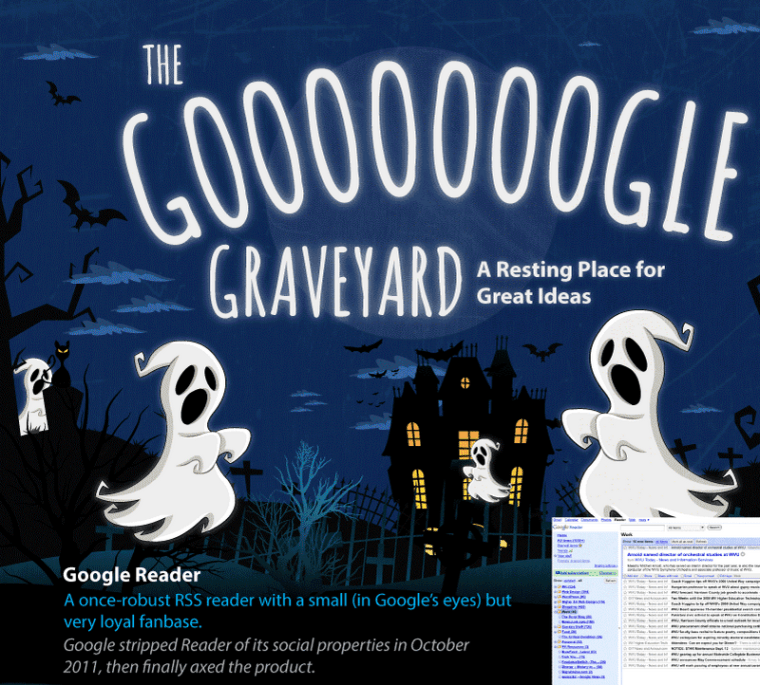 It also helps to have professional looking infographics – I've done all of my projects with Brian Wallace at NowSourcing.
Build Yourself Into An Industry Leader
As your company becomes an increasingly more important player in your industry, your word becomes worth more. We've gotten a few shout outs from Mashable simply for commenting on hot industry news or being used as a quoted source on something the Mashable is psyched about.
Getting content placed within Mashable is a huge win – but an even bigger win is building up your relationships with Mashable reporters so you become a trusted, credible source. Once you've got a relationship with one or more Mashable reporters, getting featured in subsequent stories just gets easier and easier.
(Note: This applies for all news outlets, not just Mashable.)
Write for Publications That Are Syndicated by Mashable
There's a pretty sneaky way to get content included in Mashable – it's to write for publications that get syndicated by Mashable: Businessweek, American Express Open Forum, etc.
It's pretty hard to be a columnist for Mashable, but there are other ways to crack this nut. The way to do this is to search Mashable for content related to your business and find out who wrote it. Was it from a Mashable reporter or from a content syndication partner? If it's the latter, then consider pitching stories there, too.
Pitch Perfect on Twitter
Journalists often get swarmed with email pitches every day. Your email just becomes one of many, often going straight to the trash bin before your contact even has their second cup of coffee.
Give yourself an edge by reaching out to specific Mashable journalists via Twitter. Make sure you've done your research – only reach out to writers who have published articles about your industry or about related topics in the past 6 months or so.
You can do this pretty easily using a Google advanced search. Type:
site:mashable.com + your keyword or topic
Then click the "Search tools" option under the search bar, click the "Any time" dropdown, and choose your desired date range. To look at what's been posted in the past 6 months, you'll have to choose the custom range.
It also doesn't hurt to pet writers' egos a bit on Twitter by first retweeting past articles they've written, calling them out on a job well done, etc. If you work on building a relationship with specific writers weeks or even months prior to pitching, your chances of getting a positive reception will greatly increase.
Now that you're armed with this info, you can be the next Mashable master!
Image Credits
Featured Image: Gil C via Shutterstock
Image #1: Screenshot taken January 2015
Image #2: Infographic via Wordstream. Used with permission.