Despite common misconception, Reddit is not a social bookmarking website and submitting links to Reddit should not be a part of your "link building" strategy. In fact, actively trying to use Reddit for link building will probably result in a ban.
So how can you use Reddit for marketing and, in particular, SEO? There are many ethical SEO benefits that Reddit offers:
Facts about Reddit and SEO
One common question about Reddit and SEO is whether or not external links are nofollow or dofollow. If you search this question on google, you will find various opinions, so I decided to take a look at the links myself to see how it works.
After checking a handful of links, all links submitted to Reddit start out as nofollow links. Links on Reddit become "dofollow" links after they receive a score of two or greater (score = upvotes – downvotes). So a random link submitted to Reddit provides no direct SEO value as a link unless other users upvote it.
So Reddit can give you dofollow links, but the tiny SEO bump from a Reddit link is not going to be worth the time spent submitting links and dealing with your account being banned (if you submit enough links, it will happen).
The only way to receive SEO benefits from Reddit is to focus on the fundamentals of ethical Reddit marketing. When you engage Reddit the right way, SEO will be just one of the many benefits you receive.
The Fundamentals of Ethical Reddit Marketing
When content does well on Reddit, it is good for SEO. Redditors post the content they discover on Reddit to their social media accounts, blogs, YouTube channels, etc. If the post is a text post on Reddit, it can also rank high in search engines, which leads to referral traffic.
So if you want your content to do well on Reddit, follow these fundamental principles to create content that Redditors will love.
1. Contribute Value
When you contribute valuable content on Reddit it will be upvoted and shared. You can contribute value by solving a problem or offering an opportunity. On Reddit, this could be an in-depth blog post about a highly debated topic or an AMA that gives the community the chance to pose a question to an in-demand person they care about. Whatever you do, contribute as much value as you can. High-value posts are often "stickied" to the top of the community for long periods of time or linked in the sidebar of the community indefinitely.
To find opportunities to contribute value on Reddit, you will need to become an active member of the communities related to your business (this link goes to an article on my site about finding niche subreddits). By visiting Reddit communities on a regular basis, you will see the common problems and pain points that can be solved with content.
Bonus Tip: When sharing a blog post with a Reddit community, share the full text as a "text post" on Reddit and include a link back to the original source at the end of the post. Redditors are much more likely to upvote a text post and, if they like the post, they will visit your website for more content.
2. Be Honest
Many businesses we talk to want to submit links to Reddit from an anonymous username. They are afraid (and rightly so) that Reddit will not accept their valueless promotions.
The better approach is to be upfront and honest about who you are when sharing content on Reddit. Redditors will appreciate your honesty and you are much less likely to contribute a low-value post when submitting under your brand's name.
Being honest starts with choosing a username that represents your brand and the person that is posting to Reddit. A combination of your brand name and the first name of the brand representative works well (e.g. SEJ_Dave).
When sharing content on Reddit that could be considered promotional, include a disclaimer in the body of the post that explains who you are and your role at the company. Most Reddit communities will appreciate your honesty and upvote your content if it is valuable to them.
3. Be Accessible
If you are contributing value to Reddit under your name, the next step is to stick around and engage the community. If you are in-demand or have a special expertise, Redditors will ask you questions or debate the content that you posted. By making yourself accessible to the community, you contribute even more value and make it more likely for Redditors to upvote your post.
The Fundamentals in Action
The above was posted to /r/Marketing by a marketing manager. It was a top post in the community and generated a great discussion, so it is clear he found a way to contribute value to the community.
If you click through, you'll see he posted the full text directly to Reddit and included a link to his LinkedIn page at the bottom of his post. By owning the content and revealing his identity, he put the community at ease by making his motives clear.
He then stuck around to respond to comments. Engaging in the comments section gives you the opportunity to create a deeper connection with the community and potentially reveal opportunities for your brand. For example, one Redditor suggested another Reddit community that would love his post.
Indirect Ways to Leverage Reddit for SEO
Posting valuable content, under your name, and sticking around to respond to comments is the best way to achieve SEO benefits from Reddit. Below are some ways that you can utilize Reddit to indirectly improve SEO.
Use Reddit to Create Better Content
A Reddit community is a representation of the larger target market that you are serving. The valuable content that you create for a Reddit community will also be valuable to users that are searching the same topic on Google. So if a post does well on Reddit, take that content and create an amazing blog post out of it. Give the post a great headline, add some well-designed graphics, and share it on social media. This post will be shared around your niche and could eventually generate serious organic search traffic.
For a brand in the iPhone space, this Reddit thread could easily be turned into a blog post that would do well on social media. The thread produced over 500 comments of users recommending various alternative apps. A possible blog post that could be created from this thread is "The Best Alternatives to Stock iPhone Apps".
Hold a Reddit AMA
If you have the expertise and demand for an AMA, this is a great way to create an indexed piece of content that will be viewed and shared around the web. AMAs can include links to your website, social media, or a landing page.
Not only are great AMAs going to be shared around the web, they are a great opportunity to learn more about your target market.
My friend Jen Briney is a great example of how an AMA can be huge for your brand and SEO. Her AMA reached the front page of Reddit and brought her podcast out of relative obscurity. Now, if you search her name on Google, her Reddit AMA is the third result which gives users a great opportunity to learn more about her and her podcast.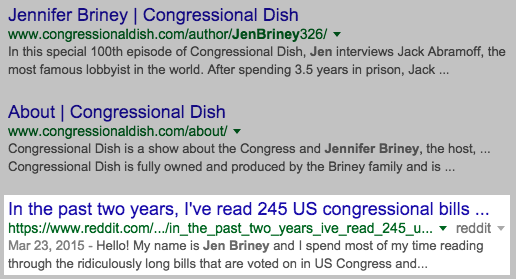 Conclusion
Reddit is not just another social bookmarking website. Submitting links without providing any value could result in your account being banned (and your post likely removed). Links on Reddit can become "dofollow" links if they receive enough upvotes, but the real SEO value of Reddit comes when you follow the fundamental principles of ethical Reddit marketing.
Your number one goal should be to create valuable content that resonates with a specific Reddit community. You can also use Reddit communities to identify content gaps. That content will be upvoted and shared outside of Reddit via social media, blogs, YouTube, and other media outlets. What could be better for SEO than that?
Image Credits
Featured Image: Gil C/Shutterstock.com
All screenshots by David DiGiovanni. Taken September 2015.