Microsoft recently acquired LinkedIn for $26.2 billion, which made it one of the largest acquisitions the company's history. Initially, the acquisition was a bit of a head-scratcher for me, but Microsoft and LinkedIn are a pretty good fit for each other.
This is because the bulk of LinkedIn's user base is Microsoft's primary audience. That gives them access to a tremendous amount of data and direct connections to the people they want to transform into long-term customers.
While these are just some of the reasons why you should also incorporate the B2B social network into your marketing strategy, there are several other benefits you can access with LinkedIn.
Discover Customer Relationships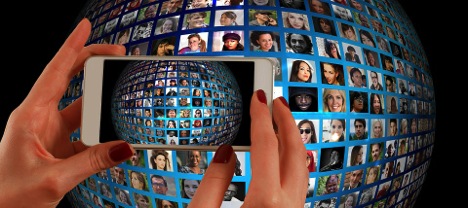 To help you conduct research on your audience, LinkedIn offers the ability to look into the relationships of your current customers, prospects, and other contacts they have, including their vendor and supplier networks.
How: Go through your list of connections and examine the people they're connected to. Review their profiles for interests and pay close attention to the groups they're a part of. Make note of the most relevant groups and start joining
Why: Viewing connections through their profiles provides insight into better methods of engagement while revealing other lead opportunities in the groups and people they connect to. By jumping into more groups, you'll gain access to more channels for engaging prospective audience segments, and you'll have additional places to share the content you create.
Get Your Content Seen
LinkedIn Sponsored Updates are some of the best ways to position content in front of a highly-targeted audience. If you want to build credibility among your prospects and existing connections, you can use the Sponsored Updates tool to target a very narrow audience, much like the way you layer targeting on Facebook's ad platform.

How: After you've created high-value content for your blog or other channel (like a guest post), share that content within your LinkedIn feed and promote those posts though LinkedIn's ad platform. Don't stop at paid promotion; share that content into any relevant LinkedIn groups where you've been building engagement with your audience.
Why: The layered targeting available in LinkedIn makes it easy to connect to the right audience, and the analytics provided within LinkedIn offer an impressive amount of depth to help you track the effectiveness of your sponsored content.
This includes:
Impressions
Cost per click
Click-through rate
Social actions (broken down by specific campaign)
Demographics (also broken down by campaign)
On your Company Page, you can compare the results of your paid campaigns to those of non-sponsored posts to see how they stack up against one another. With this information, you'll know what content your audience on LinkedIn prefers so you can adjust your strategy going forward to improve engagement.
You'll see the most reach from your content when you're promoting it across multiple channels, including LinkedIn.
Flesh Out Audience Research
LinkedIn isn't just a tool to connect to other B2B prospects. The professionals you're targeting are on the social network every day engaging one another, sharing pain points, talking about solutions, asking questions, and providing valuable insight that you can leverage.
How: Connect with prospects and review the content of prospects' pages and Company Pages, as well as the content they're sharing in posts, in groups, and in discussions, they're having with other members.
Why: While it takes a certain time commitment, you'll uncover little-known points of interest and pain points, which can make conversation easier both on and offline. Understanding the audience better also helps you improve the value in your content to improve lead nurturing.
There's also the benefit of a more personalized approach which can delight your prospects when they feel you're genuinely trying to be helpful. Lead nurturing is a critical part of your marketing strategy, and I consider a funnel to be broken when it's not incorporated.
Almost 80% of leads never convert, specifically due to a lack of lead nurturing, and this is why the next bit is so important…
Maintaining Relationships
When you or sales team engage customers and prospects through LinkedIn, you'll find it much easier to maintain relationships and engagement. Rather than going back and forth on long email threads or trying to pin someone down over the phone, use LinkedIn to maintain personal contact, share content, answer questions, and participate in group discussions where your customers and prospects spend their time.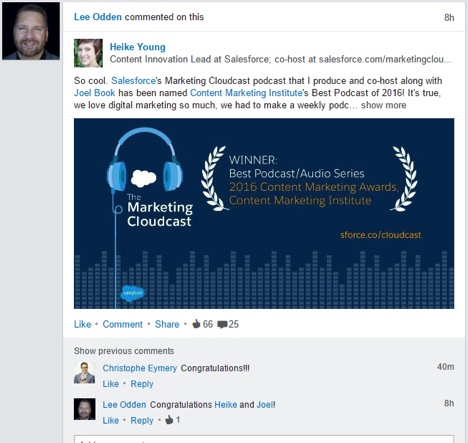 How: This is where I like to identify the most valuable people in my network, find out what's important to them, and then find ways to be genuinely helpful. I make concerted efforts not only to engage my connections but also help them connect with people I know when there is value that can flow both ways in a new relationship.
Why: LinkedIn is very advantageous when it comes to maintaining relationships because it's easier to build rapport among your audience and it also lends to the overall visibility of the brand. Thought-provoking discussions and targeted content sharing (especially content from your team) can position you and your representatives as experts in your particular industry.
Adding that human touch is crucial for standing out among other people who are just blasting out content and screaming to be heard without any real engagement.
Build Additional Lead Sources
Your website is the perfect publishing platform for your content and will be a big source of organic traffic as you produce more content and promote it. You don't have to limit your efforts to your site though – there are plenty of other places to publish content, like LinkedIn's publishing platform, LinkedIn Pulse.
How: LinkedIn Pulse is open to anyone with a LinkedIn account. It's a simple interface with a WYSIWYG editor, much like posting in WordPress. You can create unique content or repurpose some of your best content to the platform.
If you have blog posts, webinars, podcasts or videos that have done particularly well you can repurpose any of that content into a new post (short or long) to be published directly on LinkedIn.
Why: Publishing to LinkedIn Pulse puts your content directly in front of your established connections as well as new, unique readers. It positions you as an expert and a thought leader, while providing solutions and valuable ideas that can pull new prospects into your funnel who otherwise may have never caught wind of your brand.
Build on Recommendations
I've come across so many professionals that have done amazing things with clients and offered tremendous value, yet they have no recommendations or testimonials within their LinkedIn profiles. They're missing out on a great opportunity to leverage the opinions of others to grow their businesses. Part of your strategy should involve working with your connections to gain recommendations and turn them into ambassadors for you.
How: People aren't as likely to drop you a recommendation on their own. Reach out to your closest connects first and ask them if they could leave an honest recommendation or testimonial on your LinkedIn Page.
At the same time, make sure you're regularly engaging your connections and providing a lot of value. This keeps you at the front of their mind, so they're more likely to mention you in conversation with others, or refer back to content you've shared with them.
Why: Receiving recommendations from your network can help close deals with new prospects because peer reviews are significant trust signals. One Nielsen study found that more than 90% of consumers trust peer reviews more than any other form of advertising. As you make connections with new prospects, they'll see your recommendations. Those trust signals will make them a lot more comfortable with the idea of doing business with you and your team.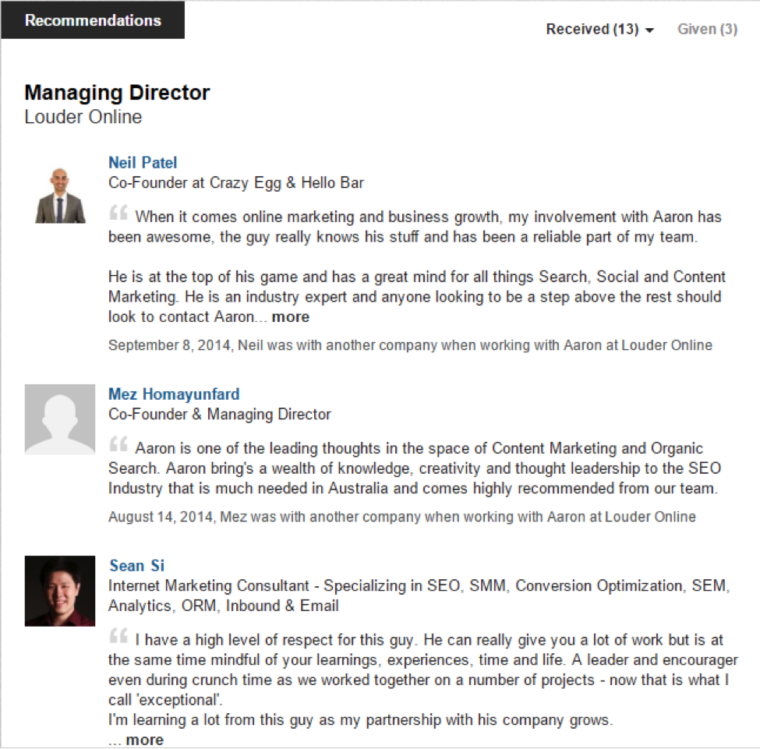 Optimize for Visibility and Conversions
Profiles on LinkedIn are indexed by Google, so the profiles of you and your team, as well as your Company Page, can be optimized to improve organic visibility. Including the right keywords on these pages can allow you to control additional real estate in the SERPs for brand queries and long tail phrases.
In addition to search optimization methods, you can tell a better story about your brand by improving the structure of your LinkedIn pages.
How: Optimizing your LinkedIn pages goes beyond inserting keywords in hopes that your audience will find you. I highly recommend adding rich, engaging (visual) content such as:
High-quality photos (focus on photos that tell a story)
Videos
Linked articles with relevant images
Case studies and white papers
Infographics
SlideShare presentations.
Why: Optimizing your personal and Company Page with rich content can support both your authoritative expertise and the value proposition of your brand. There are a surprising number of individuals and brands who aren't optimizing their pages to this extent, which means it's a great way to stand out among competitors.
When prospects move into your funnel after visiting your LinkedIn pages, they become much warmer leads with higher chances of converting thanks to the content you've embedded in your pages.
Speculation on the Future of LinkedIn Marketing
There are a lot of theories on how Microsoft will leverage their acquisition of LinkedIn and tie the data into their products. As part of the announcement, Microsoft's Chief Executive Satya Nadella shared a few ideas with The Wall Street Journal on how Microsoft may monetize the investment, including:
Giving representatives the ability to analyze user profiles and other valuable information at their sales meetings
Getting a feed of experts from LinkedIn whenever Office notices you're working on relevant tasks
Integrating data with Microsoft's CRM software to identify and better track sales leads
LinkedIn already has its own CRM platform (LinkedIn Sales Navigator), and it's loaded with data and user reach that any CRM platform would love to get their hands on. That data and the benefit of the human connection is something I think you should take advantage of as well.
Do you use LinkedIn as part of your marketing and sales strategies? Share your success and tips with me in the comments below:
Image Credits
Featured Image: dolphfynlow/DepositPhotos.com
In-post Photo: geralt/Pixabay.com
All screenshots by Aaron Agius. Taken August 2016.