The address bar is where you see the full URL of the current page. This is the only bar in FireFox I always have in front of my eyes (I may have some of the bars hidden when I need more space but this one is always active).
It is therefore obvious I want to enhance its functionality, and here are a few awesome tips to share:
1. Search from the address bar:
This is one of my favorite FireFox About:Config hacks:
By default FireFox searches Google if you type any word in the address bar and hit "Enter". You can change it to any other search engine (your favorite site, keyword suggestion tool, other):
In the address bar type about:config;
In the filter type keyword.URL
Click twice and enter search string, e.g. let it be Google trends: http://www.google.com/trends?q=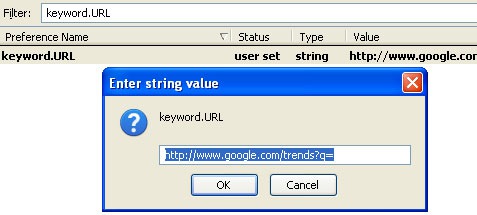 You can also use smart keywords search as well as Cyber Search addon to search from the address bar.
2. Send Tweets right from the Address Bar:
InstantTweets turns your browser address bar into a cool, space-saving Twitter client: instantly send pages, pictures and tweets to Twitter by just typing them in the address bar and hitting "Enter":
3. Turn your Address Bar into a social bookmarking tool:
There are a number of powerful FireFox addons uniting multiple social bookmarking services, ShareAHolic being my personal favorite. It adds a tiny icon right to your address bar allowing to share current URL in all of your often-used sites. Of course, you can add and delete any of the sites to make sure it lists only your favorite ones: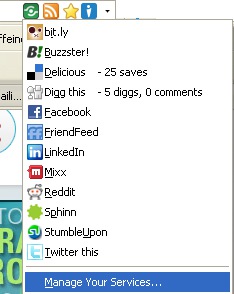 4. Turn your browser address bar into the progress bar
Fission combines address bar and progress bar (Safari style). This makes the progress bar more visible and allows for a nice visual effect.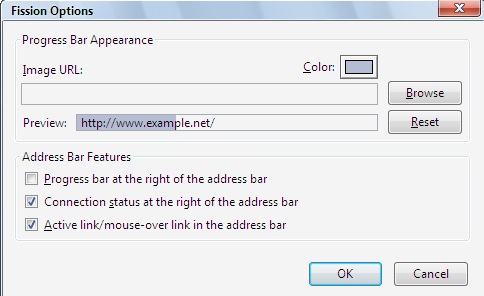 5. Instantly see each page server location:
FlagFox displays a country flag representing the location of the current website's server and provides quick access to detailed location and web server information.
Here are also 5 ways to make the most of your browser navigation bar.