The first day of spring is less than a week away. That means people will soon be thinking about, planning, and searching for family-friendly vacation deals.
How can you influence consumers at this important time of the year? You'll need to know who's searching, what people will be searching for, and how they're searching.
Some new research from Bing Ads has you covered.
Here are six big family vacation search trends that marketers need to know for 2017.
1. Who Is Searching for Family Vacations

Women are more likely than men to search for family vacation ideas (68 percent vs. 32 percent), according to Bing's data. Also, women conduct more general travel-related searches than men (59 percent vs. 41 percent).
Which age group is most likely to plan family travel? Those between the ages of 35-49 (this group accounts for 41 percent of searches), 50-64 (31 percent), and 25-34 (16 percent).
2. What Vacation Ideas People Are Searching For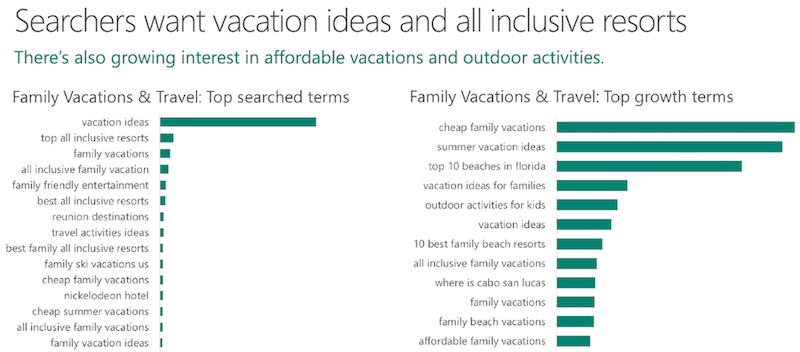 People are searching for all kinds of vacation ideas. The biggest search trends for this year include all-inclusive resorts, family-friendly vacations, cheap vacations, but check out the graphic above for more top searches.
3. Where People Want To Go
The most popular family vacations include taking a road trip, going to a national, state, or amusement/theme park, visiting an international destination, and going on a cruise.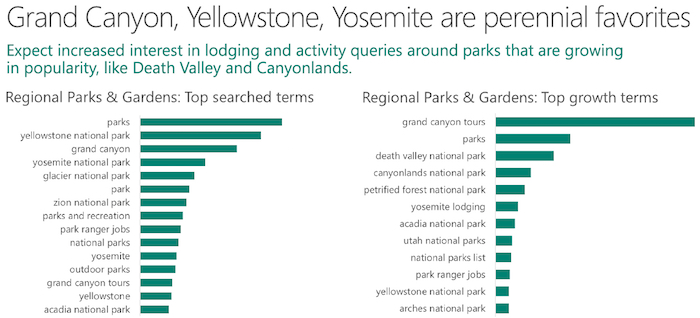 The most searched for national parks were Yellowstone, Grand Canyon, Yosemite and Glacier. Meanwhile, search demand is growing for less popular parks, like Death Valley, Canyonlands, and Petrified Forest, according to Bing.
4. When Families Are Searching For Travel Inspiration
Want to reach people who are searching for vacation ideas? Spring is the right time, with searches peaking in April, according to Bing.
Here are some additional details from Bing:
Cruises: Searches peak in January
Beaches: People visit beaches all year long, but searches are highest starting in the winter through spring.
Theme parks: Searches are strong during the winter and peak around July.
National and state parks: Search demand grows during the spring and peaks around June.
5. How People Are Searching For Vacations
Search volume for family vacation ideas is higher on mobile than desktop. So use mobile ad copy and content to inspire consumers and generate demand that you can later harvest on desktop and tablets.
Search volume for travel destinations is higher on desktop and tablets. So desktop and tablet searchers, having done their search on mobile, are now seriously evaluating their options or ready to make their reservations.
6. Why You Should Focus on Branded Queries
Branded searches are huge in theme parks. Eighty-nine percent of searches and 96 percent of clicks were on branded queries for theme parks and their attractions.
Disney World, Walt Disney World and Disneyland were the most popular theme parks, beating out other parks like Universal Studios, Six Flags, and Legoland.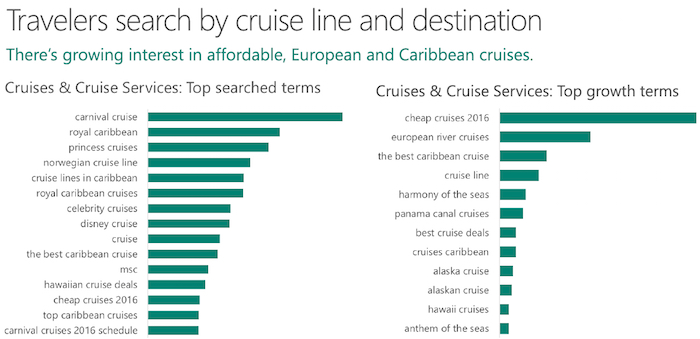 Branded searches are also a big deal for cruise lines. Half of searches and 71 percent of clicks were on branded queries for cruises and cruise services.
Carnival Cruise, Royal Caribbean and Princess Cruises were the most searched for cruise lines. Searches are also growing for cheap cruises, European river cruises, and Caribbean cruises.
Why focus on branded terms? Because you can see a 44 percent lift in incremental paid and organic clicks when you bid on your own brand terms, according to Bing Ads research.
You can get even more insights in Bing's Family Travel Insights for Digital Marketers report on SlideShare.
Image Credits:
Featured Image: Deposiphotos
Article Images: Bing Ads