Facebook was quick to offer support for 360-degree photos and video, now it's going a step further by allowing users to capture 360-degree photos within mobile app.
The ability to capture 360-degree photos is available on both iOS and Android.
Capturing 360-Degree Photos
At the top of the screen where you update your status, you should now see an option for '360 Photo.'
After selecting the option, long-press the blue button and follow the on-screen path until you have rotated in a complete circle.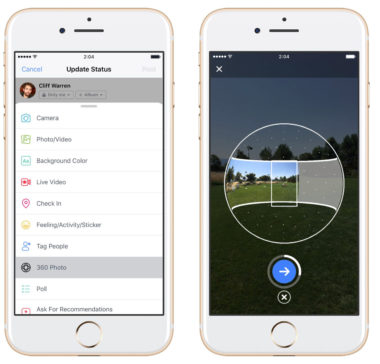 Facebook will then automatically stitch the photo together and allow you to upload it. You can even adjust the starting point of the photo.
Using 360-Degree Photos
360-degree photos are just like any other photos on Facebook. You can post them to your timeline, add them to albums, tag friends, and so on.
You can also use a 360-degree photo as your cover photo. That's fairly significant since it marks the first major change to cover photos since they were introduced.
Now it's easier than ever to create and share 360-degree photos, opening up a whole host of new marketing opportunities.