Facebook's advertising revenue skyrocketed to $6.2 billion, an amazing 63 percent increase compared to the same quarter last year, the company reported today. Facebook's total Q2 2016 revenue hit $6.44 billion.
Mobile was the biggest driver of Facebook's advertising revenue, accounting for about 84 percent of that $6.2 billion. Last year, mobile ads accounted for 76 percent of its ad revenue.
Elsewhere, Facebook announced that it now has 1.7 billion monthly active users, an increase over 15 percent over last year. Mobile monthly active users reached 1.57 billion, up 20 percent year-over-year.
Daily active users also grew – to 1.13 billion, an increase of 17 percent. Mobile daily active users reached 1.03 billion, 22 percent higher than last year.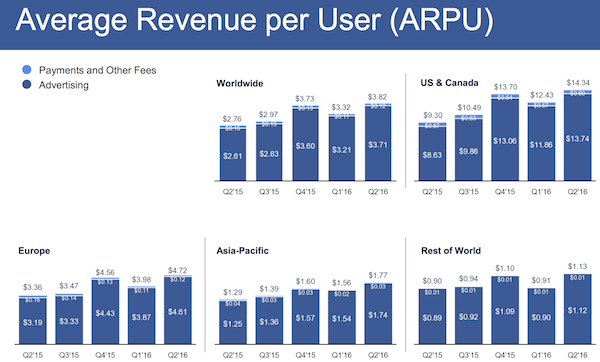 Facebook is also making more revenue per user than at any point in its history. Worldwide in Q2, Facebook brought in $3.82 per user through adverting, a 38 percent increase over Q2 of 2015; in the U.S. and Canada, that amount was $13.74.
In the ultimate humblebrag, Facebook CEO Mark Zuckerberg called it a "good quarter." Yeah. Actually, it was Facebook's best quarter ever.
Zuckerberg also said he's pleased with Facebook's progress with video. However, the social network provided no specific numbers on video revenue.
On Facebook's earning call, COO Sheryl Sandberg said advertiser demand is increasing all around, especially from brand marketers.
This is in stark comparison to just a day earlier when Twitter reported weak advertising demand, thanks to Facebook and growing social networks like Snapchat (which now has 150 million daily active users) and Instagram (which now has 500 million users).
Image Credits: Facebook