Facebook had another good quarter, according to CEO Mark Zuckerberg, raking in $7 billion in revenue and continuing to attract new users to the platform.
The social network has released its full financial results for Q3 2016. Here are five things marketers need to know.
1. Facebook Made $6.8 Billion in Advertising
Facebook's advertising revenue once again showed impressive growth, reaching $6.8 billion in the third quarter. Revenue was up 59 percent compared to the same quarter last year ($4.2 billion).
Mobile advertising accounted for 84 percent of Facebook's advertising revenue (or roughly $3.5 billion) during Q3 of this year. In 2015, mobile accounted for 78 percent of Facebook's advertising revenue.
2. Facebook Has 1.79 Billion Monthly Users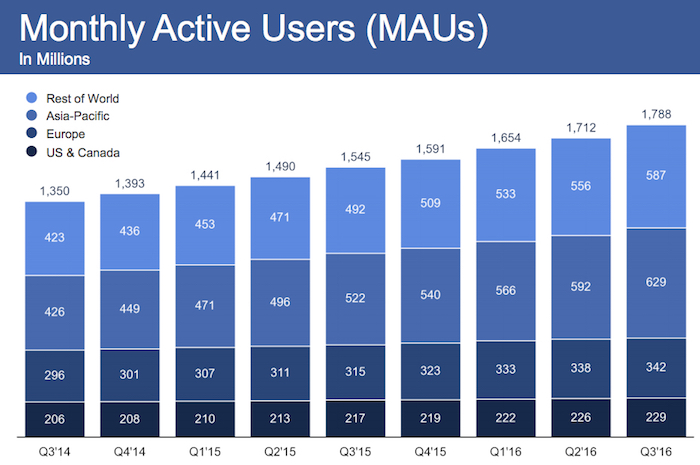 Facebook now has 1.79 billion active monthly users, a 16 increase compared to last year. In Q2, Facebook reported it had amassed 1.7 billion users.
Also, Facebook announced that 1.66 billion users are active on mobile every month. This figure is up 20 percent from Q3 2015.
3. Facebook Has 1.18 Billion Daily Users
More than a billion (1.18 to be precise) users are on Facebook every day. This is a 17 increase year-over-year. In Q2, Facebook reported it had reached 1.13 billion daily active users.
Just on mobile, Facebook has 1.09 billion daily users. This is a 22 percent increase versus the same quarter last year.
4. Facebook Ad Growth Will Slow
In Q3, ad load increased, including by 18 percent just on the desktop. Desktop ad revenue surpassed $1 billion for the first time in a couple years.
Ad prices increased 6 percent on average and ad impressions (in the News Feed and on Instragram) increased by 50 percent.
Although advertising demand has remained strong, CFO David Wehner said advertising growth rates will slow "meaningfully" in 2017. This is because Facebook doesn't want to put off users with too many ads.
5. Video Only News Feed
During the earnings call, Zuckerberg revealed that a video-only news feed might be rolling out widely "soon."
Here's what the test looked like, according to a report in The Verge:
"On Facebook's iPhone app, it'll appear as the middle of the five tabs on the bottom of the screen, replacing Messenger; though it'll be vertical like the traditional News Feed, you'll be scrolling past carousels of videos shared by your friends and the pages you follow."
The video-only feed has been in testing in only a "few markets" over the past year.
Image Credits: Facebook