Online marketing surveys are notorious for being ignored.
Consider that the average email open rate is 20.81 percent.
And then, ask people to do something for you on top of that.
Pile on spam filters, awkward UX, and anonymized data…
Are you still scratching your head, wondering why we aren't getting far with emailed surveys?
I'm going somewhere with this!
There's a better way to conduct marketing surveys:
Surveys on Facebook Messenger.
What's a Facebook Messenger Survey?
Surveys distributed via Facebook Messenger chatbots:
Have a higher engagement rate.
Are quick and easy to fill out.
Are always mobile friendly.
Reduce abandonment with a conversational interface.
Save survey data to customer profiles.
Allow for follow-up.
It's a win-win-win-win-winnn…
How to Do a Survey in Facebook Messenger
Want to see a quick Facebook Messenger survey in real life? Check it out here.
It took about 10 minutes to put that survey together using a Facebook Messenger marketing platform rather than a survey platform like SurveyMonkey.
Here's how to get better survey response rates in Messenger in five steps.
1. Create a Survey Chatbot
The first step to creating a Messenger survey is building a chatbot that asks the questions.
I'm using MobileMonkey here. (Disclosure: I work for MobileMonkey.) It's a free, no-coding-required platform for building chatbots. You should be able to do this with any chatbot builder.
When building your chatbot, keep your workspace tidy. Use groups to organize chat pages, just like the folder structure of a website.
So this group is "Quick Survey". In the group we created the invite (or welcome) page, a page for each question, and the thank you page: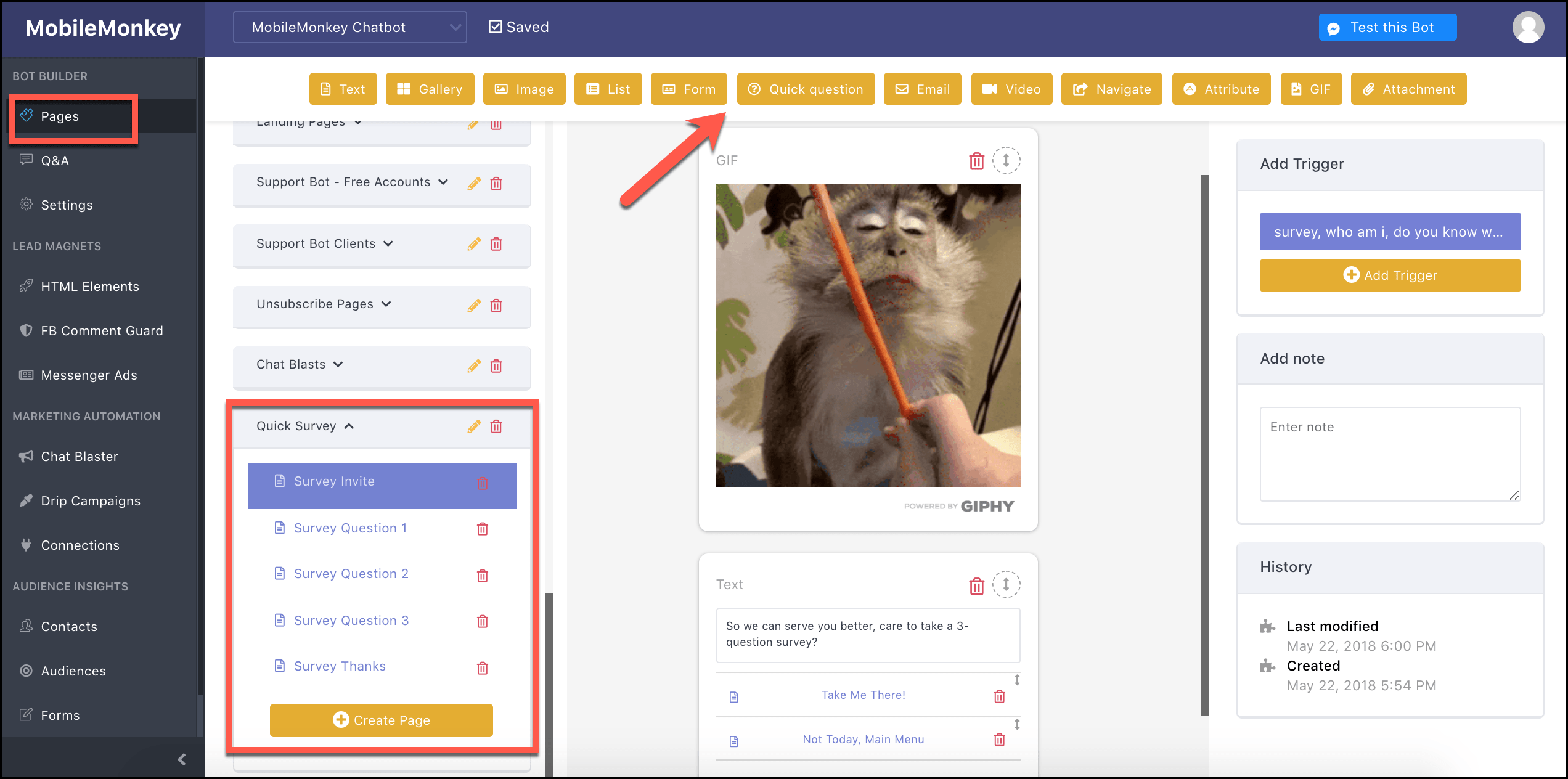 The yellow buttons along the top of the screen are widgets. With widgets, you can add content to the page – like text, images, quick questions, forms, GIFs – at the tap of a button.
For those who had a chance to try the survey out, you'll see each page is made up of the following widgets:
Survey Invite: GIF and text
Survey Questions 1 to 3: Quick questions
Survey Thanks: Text
A note about using the Quick Question widget: start by typing out a question and adding answers as multiple choice selections or as a text input field.
If you want the most responses and the least amount of friction in your survey, multiple choice buttons are quick and easy for the user: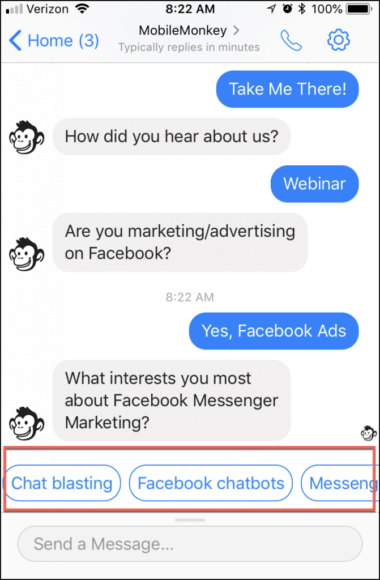 In fact, all survey best practices apply to building a survey chatbot:
Have a well-defined objective for your survey.
Only ask one thing per question.
Fewer questions lead to more completed surveys.
Rating on a scale or multiple choice answers are easier for the user than open-ended questions.
2. Save Response Data to Customer Profiles
The quick question widget has this awesome feature: you can save answers to customer profiles.
Check out "Save to" here: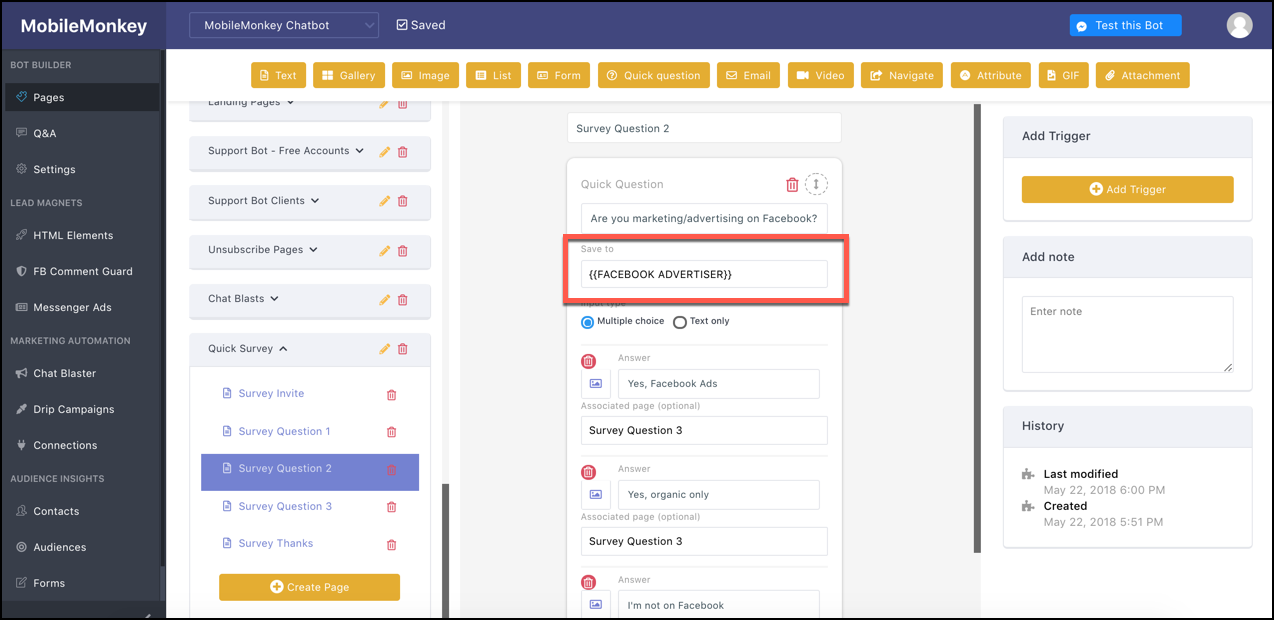 Name the variable something descriptive. The user's response to the question will be saved as an attribute within their customer profile. Later, you can create a custom audience of everyone with that attribute.
So here, we're saving "Yes, Facebook Ads" to contacts who answer such. In step 5, we'll create a custom audience of all these respondents to follow-up with targeted Facebook advertising content.
For this survey, we collected values for:
Facebook Advertiser
Facebook Messenger Marketing Interests
Referred By
3. Distribute Your Facebook Messenger Survey
With your survey ready to go, it's time to get it out there.
You can get a link to your Facebook Messenger survey like so:
From HTML Elements, create a "Link to Messenger".
Name it something descriptive.
Choose the chat page you're linking to from the drop-down menu.
Hit the "Copy" button and you've got your link.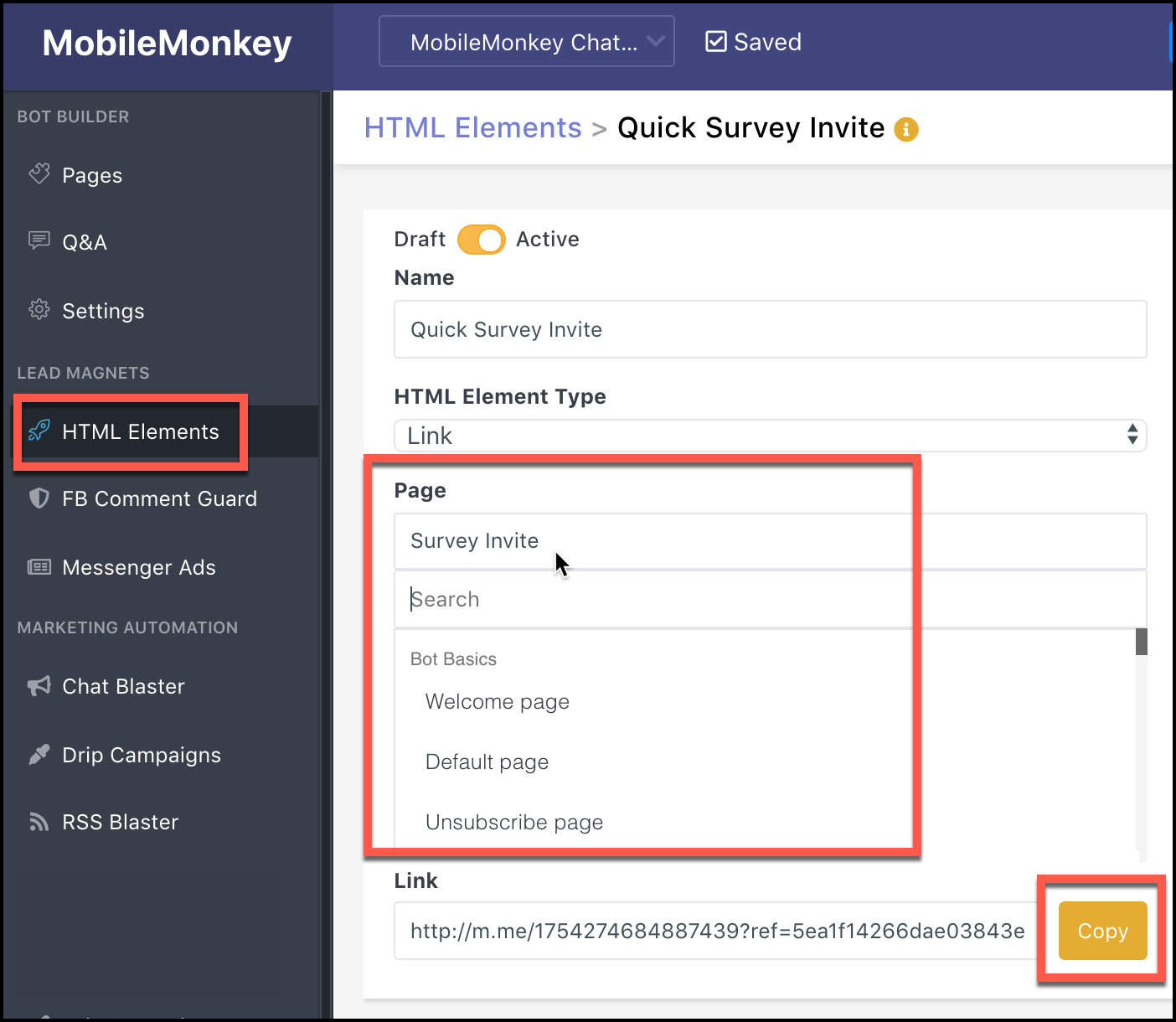 You can distribute the link in:
Blog posts.
Social media posts.
Chat blasts (average 70 percent open rate).
Email.
Share and promote it to collect loads of helpful data.
4. Export Survey Responses to Analyze
To review and analyze the survey data, do an export in the Contacts tab to download your report as a .csv file.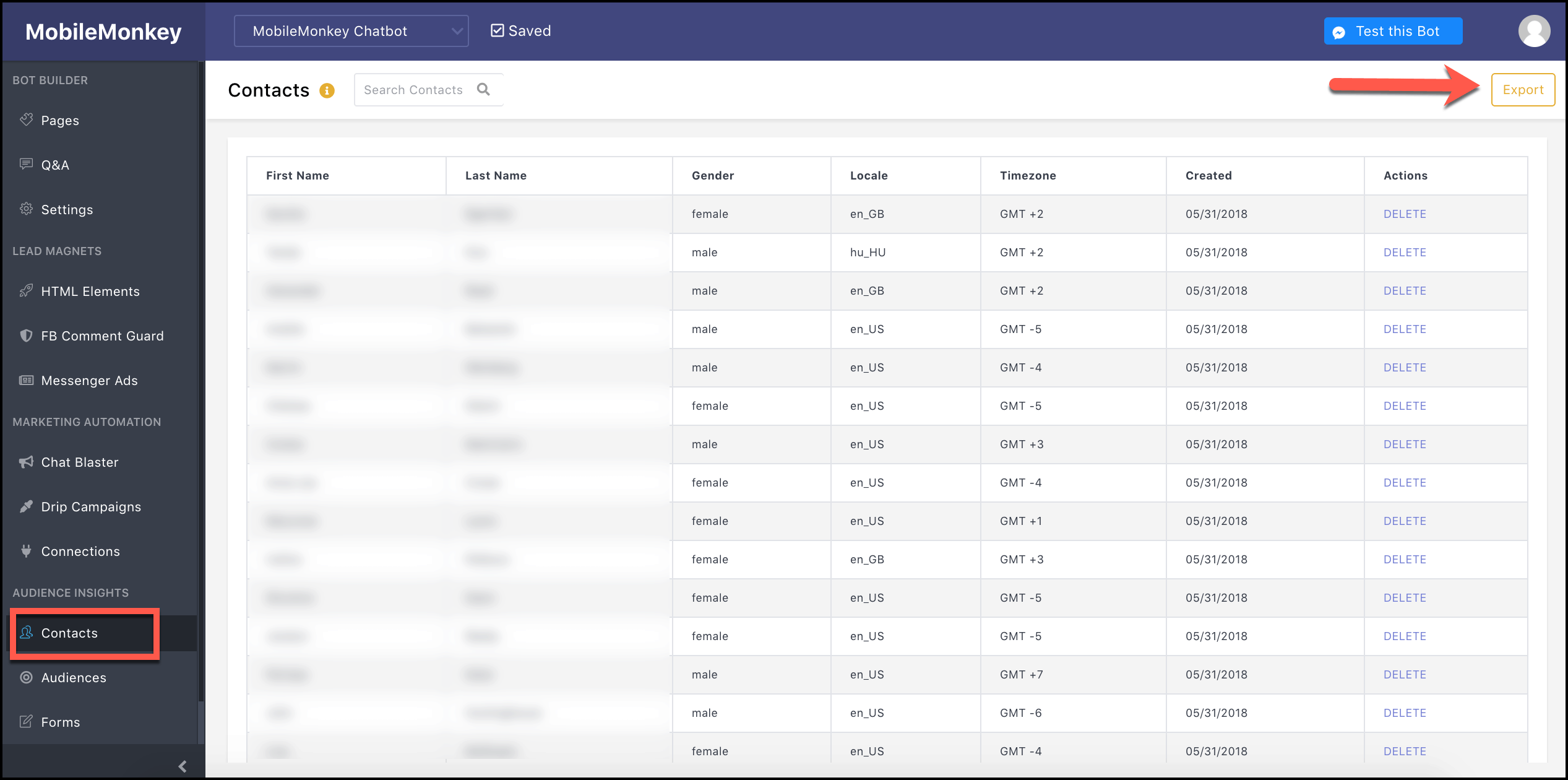 When you open the report in Excel you'll see contact information and answers to your survey.
5. Only with Messenger: Send Follow-Up Content with Chat Blasts
Another advantage of Facebook Messenger surveys over email surveys: the ability to follow up.
Instead of anonymous email surveys, you know who responded.
And you can create audiences based on the attributes you collected earlier.
Go to Audience Insights > Audiences, then click "Create audience".
Add a filter, selecting the attribute from a drop-down and the value from auto-populated suggestions.
Here's how to create an audience of Facebook advertisers from people who took the survey: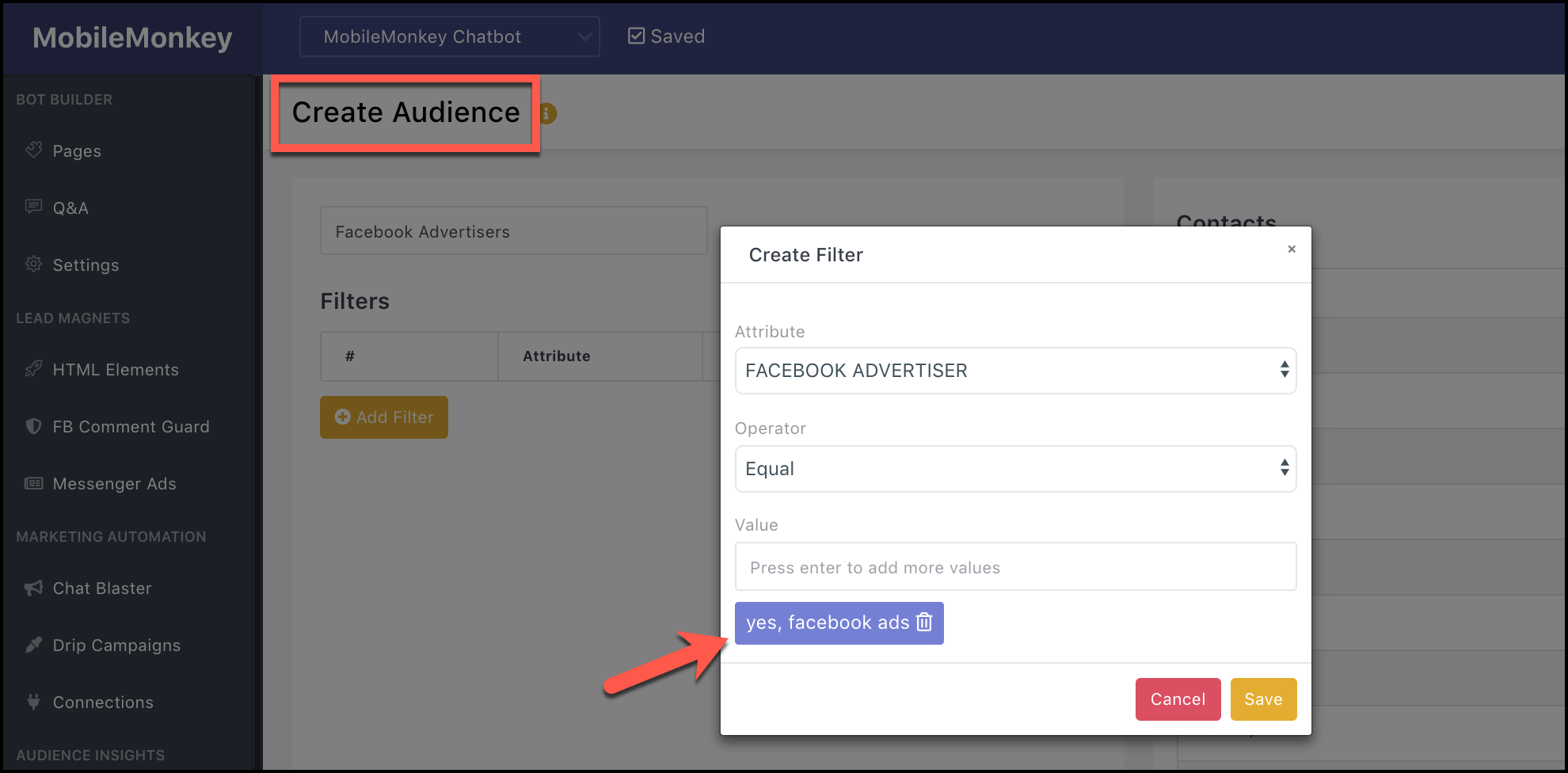 From here, I'd create content to nurture the audience and chat blast away!
The Bottom Line
Every marketer loves valuable survey data. It's just that email distribution leaves much to be desired.
Facebook Messenger surveys, on the other hand, help increase your survey engagement rate.
You're also able to:
Build customer profiles.
Follow up with new audience segments.
And take the next step of providing them with content that matters to them.
With more data — and more actionable data — you can nurture your customer relationships.
Try it for yourself!
More Facebook Messenger Marketing Resources: