People who read your Facebook Instant Articles will now be able to Like your page or sign up for your email newsletter from within your article.
That's because Facebook announced it has given all publishers access to two new call-to-action units.
1. Email Sign-Up CTA
The first type of call-to-action unit encourages the people who read your Instant Articles to sign up for your email newsletters. Anyone who submits their email address through this unit is agreeing to receive your updates via email.
Facebook said you can create and customize the design and messaging of this CTA unit in the style and tone of your brand.
The image at the top of this post illustrates how The Huffington Post set up their email sign-up CTA within Facebook Instant Articles.
Both The Huffington Post and Slate reported big success. The Email Sign-Up CTA helped Slate grow its list by 41 percent and generated 29 percent of the sign-ups for Huffington Post's newsletter.
2. Page Like CTA
The second type of CTA unit encourages people who read your Instant Articles to Like your Facebook page. After people tap on the blue Like button, they will begin to see updates and posts from your Page in their News Feed.
Here's an example of what Facebook's Page Like CTA unit looks like in Instant Articles: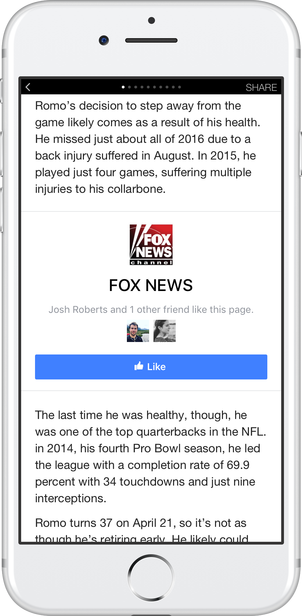 Ready to create your CTA unit? You can learn how to do so here.
Facebook Is Testing More CTAs
Facebook also shared a couple of CTA units that are in testing now.
The first, which is being tested with a small group of publishers, is a free trial CTA unit, which Facebook called a "a quick and easy way for people to sign up for a free trial to a publisher's digital subscription."
The other is a mobile app install CTA unit, which Facebook is testing with a "handful of partners" to see if it drives adoption of their mobile apps.
Image Credits: Facebook