Select Google AdWords advertisers are able to see which ad campaigns drive people to physical locations, such as retail stores, restaurants, and hotels. At the recent Google Performance Summit a few weeks ago, Google revealed they had measured more than a billion store visits since store visit conversions were introduced.
The importance of bridging the digital and physical worlds makes this is an extremely important metric for marketers, especially considering that 90 percent of sales still happen in physical stores.
Facebook Store Visit Conversions
Now Facebook is set to launch its own version of store visit conversions in its Ads Reporting tool. This will give Facebook advertisers the opportunity to analyze and optimize their creative, targeting, and ad spend.
As with Google, Facebook's estimated data will be anonymous and aggregated for privacy reasons. That means you won't be able to tie individual people or local awareness ad clicks to an in-store visit.
Facebook gets this data simply by looking at users' location history (as long as they have opted in). Advertisers can see whether someone saw an ad and then visited the business location within one day, seven days, or 28 days.
Facebook Store Locator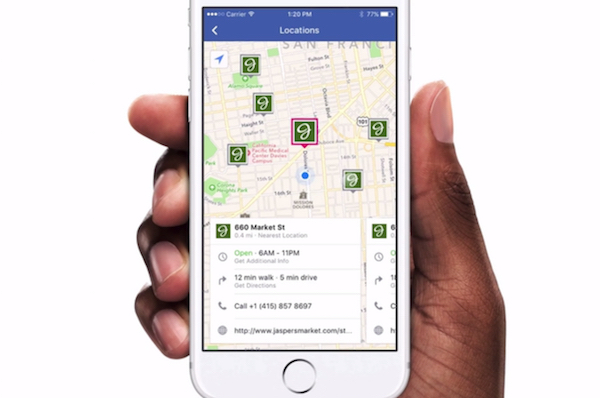 Another feature local businesses can now take advantage of is a Store Locator map. This pop-up feature for local awareness ads will allow retailers to provide important store details consumers want quick access to and drive more in-store traffic, such as:
Hours
Phone Number
Address
Directions (using the built-in maps tools of Apple or Android devices)
Website
Offline Conversions API
Another tool Facebook is testing is offline conversions API that is designed to provide real-time insights about transactions that take place in-store or by phone. It matches up the customer data a business has collected (e.g., email addresses) to determine whether Facebook ads ultimately led to a purchase.
To get set up, retailers can either work with Facebook or any of their approved vendors (IBM, Index, Invoca, Lightspeed, LiveRamp, Marketo and Square).
Image Credits
All images courtesy of Facebook