Google announced a slate of major updates and new products for AdWords advertisers in its Google Performance Summit today. Their largest advertisers and partners had a sneak peek at the announcement yesterday, and I'm excited to bring you the details on what's new!
The updates were revealed by Sridhar Ramaswamy, Senior Vice President of Ads & Commerce and Jerry Dischler, Vice President of Product Management, AdWords. Here's what they had to say about exciting changes coming to AdWords:
Crazy New AdWords Stats
Google AdWords is more effective than ever and driving massive economic activity, according to Google. Among the statistics they shared in their presentation:
Google's search and advertising tools drove $165 billion of economic activity for over 1 million businesses, website publishers, and nonprofits across the United States in 2015.
There are now trillions of searches on Google.com and over half of those searches happen on smartphones.
Nearly one third of all mobile searches on Google are related to location. In fact, location-related searches are growing 50% faster than other mobile queries.
Since AdWords store visits were introduced two years ago, advertisers have measured over 1 billion store visits worldwide.
AdWords Redesign & New Features
In the announcement, Ramaswamy writes: "To help marketers succeed in this mobile-first world, we have redesigned AdWords — from the ground-up — and re-thought everything from creatives and bidding, to workflow and measurement."
He added that Google has realized that accounting for mobile and actually designing for mobile-first are two very different things, which had resulted in their completely changing how they think about and build AdWords.
First, they created Universal App Campaigns, which have driven more than 2 billion app downloads since they came out. Now, Google is launching some amazing new products:
Expanded Text Ads
Responsive Ads for Display
Individual Bid Adjustments for Device Types
Local Search Ads for Google.com & Google Maps
NEW! Expanded Text Ads in AdWords
Did you think Google would EVER change its ad text limits? The announcement revealed that taking away right sidebar ads was part of the preparation for this new product, Expanded Text Ads.
Now, you'll have more room to sell your wares on the SERPs, with two 30-character headlines, 80 characters for description, and an auto-extracted URL with customizable domain path.
This is AMAZING and is going to make Quality Score even more important, as those top spots are going to take up more prime real estate. This is going to make anything below #2 or #3 even more useless.
Expanded text ads are optimized for the screen sizes of the most popular smartphones. Google reports that early advertising tests show up to 20% increases in CTR. Expanded Text Ads will roll out later this year.
Responsive Ads for Display
New responsive ads for display adapt to the content on the site on which they appear. Google promises, "They also unlock new native inventory so you can engage consumers with ads that match the look and feel of the content they're browsing."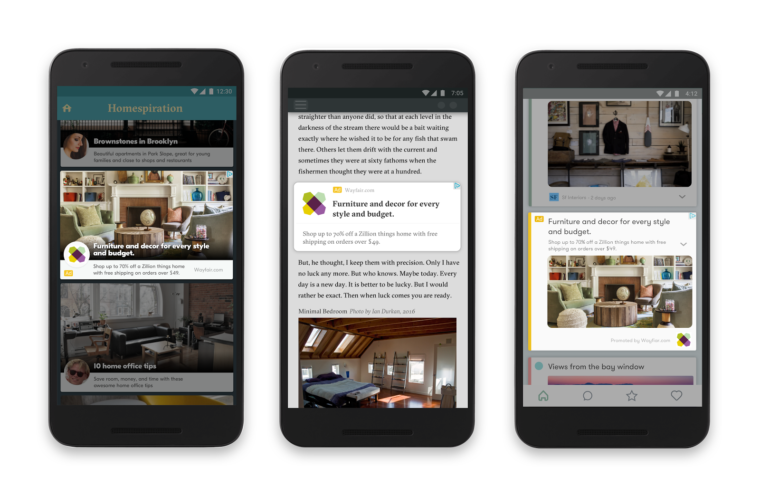 Advertisers just need to provide a headline, description, image and URL. Google will do the rest.
Individual Bid Adjustments for Device Types
Bid adjustments are a super important tool for controlling how much you pay and where you appear according to different parameters. You can adjust your mobile bids, for example, by setting a percentage you're willing to pay (more or less) against desktop.
Now, Google is also letting you set individual bid adjustments by device type, so you can choose to bid more or less for mobile, desktop or tablets. They widened the adjustment range, too, allowing up to 900% variation.
Local Search Ads for Google.com & Google Maps
Almost a third of mobile searches have local intent, Google said. Their new local search ads for Google.com and Google Maps give advertisers using location extensions more real estate on searches for specific products or services in that geographic area.
Searchers will be able to see special offers or browse available inventory right from the Google Maps ad.
Check out the full announcement on the Inside AdWords blog!
Screenshots and photos taken by author May 2016.