GinzaMetrics, one of the more comprehensive Enterprise SEO dashboards out there, has undergone a a pretty large feature makeover, adding new features along with improved usability and speed.
In a another sign that the SEO industry is becoming more and more about content, digital and social media marketing, GinzaMetrics made the changes with an eye toward not only delivering recommendations for site structure improvements and the like, but for optimizing content marketing too. This comes a week after Moz changed their name and started focusing on analytics.
"The search and content marketing landscape is evolving quickly, and a healthy mix of data and creativity are required if you want to thrive," said Ray Grieselhuber, CEO of GinzaMetrics. "We are thrilled to be a part of this revolution by helping our customers and agency partners discover the best content to create and optimize."
The newly designed dashboard provides faster access to SEO and content recommendations. Users can spot the keywords that their content is ranking best for, as well as the content that is performing best or worst in search. This helps users make better decisions and reach a maximum target audience. It's kind of a "to-do" list for web optimization.
"This new release includes a number of updates based on user feedback, and it's aimed at making the consumer experience more enjoyable with the brands they engage," Grieselhuber said.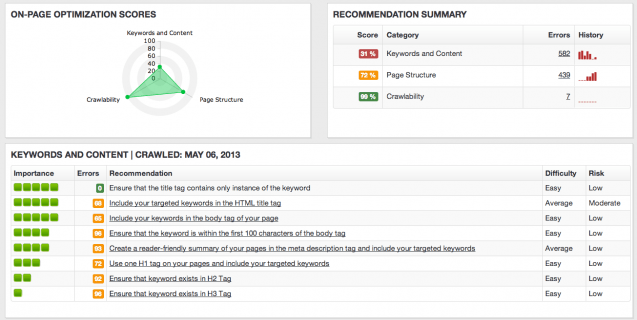 One new feature helps users see problems in the internal structure of their sites. "Page Indexing and Internal Links Insights" provides recommendations across large websites and builds up graphs of internal links. The tool helps users see which pages have optimized links and which sections need improvements, such as HTTP errors, improper redirects and duplicate page titles.

"The ability to crawl a new site and quickly find duplicate page titles, HTTP errors, redirects and other issues in a prioritized, logical way, has long been a missing feature in enterprise level, cloud-based SEO platforms," said Erin Robbins O'Brien, GinzaMetrics COO. "It will reduce the need to rely on additional platforms to access this relevant information, helping users save time and money."
GinzaMetrics is one in a competitive field of SEO and content marketing analytics companies that continue to find users and raise millions of dollars. Some of Ginza's top rivals include Brightedge and Conductor.
GinzaMetrics also offers competitor analysis so users can see how their keywords and social signals stack up with the competition. It lets users see shifts in their rivals' search and content strategies. GinzaMetrics is also the only platform that crawls this information daily from search engines including Google, Bing, Yahoo, Yandex , Baidu, Sogou, and others. Those last two were added in April. The platform lets you customize stats by date range, search engine(s), keywords and more. You can also white-label the reports and the dashboard itself.
GinzaMetrics was founded in 2010 by Grieselhuber. Shortly after the company attracted seed funding from both Y Combinator and 500 Startups, a somewhat rare occurrence. The tool provides its features in more than 120 countries and 55 languages around the world.