Conductor, a leader in Search Engine Optimization (SEO) technology, today announced that it has secured $20 million in financing led by Investor Growth Capital, marking the largest investment to date in natural search technology. The company will use the funding to scale operations internationally and invest in product development of Conductor Searchlight™, the first and most widely adopted, cloud-based SEO platform.
"Conductor created the SEO technology market and has become the industry's benchmark for excellence," said Noah Walley, Managing Director at Investor Growth Capital. "The Searchlight platform is a staple inside many of the world's most revered brands. The company's superior technology offering and demonstrated market demand embody what we look for in our portfolio companies as they move from an early stage company into the expansion stage, ready to scale operations and enter new markets."

Driving more than half of all traffic across the Web, natural search is the most important source of inbound marketing. Yet, many organizations fail to realize the full potential natural search provides because marketers are paralyzed by the rapidly changing search landscape, causing them not to set goals or instrument their SEO initiatives properly. With Conductor Searchlight, marketers can measure the return on investment of their SEO efforts, drive executive visibility and buy-in for natural search programs, and create a predictable model for natural search revenue growth.
"Showing up in search engine results is more important than ever before – with Google making changes every day, it's getting harder for companies to stay at the top of the search results," said Seth Besmertnik, CEO of Conductor. "Marketers want to ensure page-one results, while also being able to run their SEO programs with the same level of accountability and predictability as paid search. Conductor Searchlight has risen to the occasion, becoming the must-have technology for businesses that rely on the Internet to acquire customers."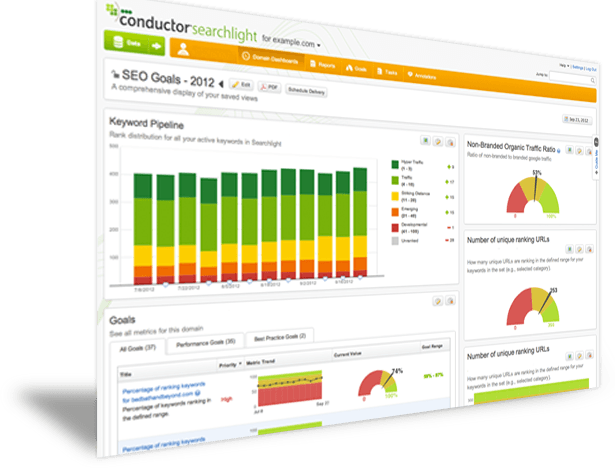 I had an opportunity to get a tour of Searchlight from Conductor's Director of Customer Strategy, Stephan Bajaio, during SMX East in New York earlier this month. Seachlight's flexibility even provides digital marketing teams the ability to see how social context affects their search relevance. Conductor's focus will always be on SEO, but they are ready to support and help businesses integrate social signals into the search strategy.