Ephemeral content is rich media, primarily images and videos, that are only accessible for a brief period.
As a marketing strategy, it is temporary content that takes advantage of the fear of missing out (FOMO) and is designed to elicit an immediate response from the user.
Ephemeral content is nothing new.
Temporary material – and the brief appearance and disappearance of content – is what sustains the traffic of most social media platforms.
Online social platforms are ephemeral in one of two senses.
Either the content itself appears briefly and then disappears, as is the case with Facebook and Instagram Stories or Snapchat – or, our attention to it is ephemeral. We watch content; laugh, cry, or complain – then move on, never to return.
The Goal of Ephemeral Content
There are two primary marketing goals when it comes to ephemeral content.
Elicit an Immediate Response
Perhaps the most obvious goal is to elicit an immediate response from the user or viewer.
The immediate goal may be for the user to make a quick purchasing decision or quick signup.
It may also be for the user to make the content viral through liking, sharing, or reacting in some other way that is accessible and viewable by others.
The short-term nature of ephemeral content creates a sense of urgency that's fueled by the fear of missing out (FOMO).
Increase User Engagement
Ephemeral content not only allows for the business to impress its product or service upon the user but also allows the user to engage in the brand on a more personal level.
Ephemeral content as a content marketing strategy also encourages user-generated content (UGC).
Whether it's the ability to edit and manipulate images, or an invitation to create a brand-related image or story, ephemeral marketing strategies invite the user to act on a brand's behalf.
The Benefits of Ephemeral Content
Reach Wider Audiences
Everyday users are interacting with stories from Snapchat, Facebook, and Instagram.
With Instagram alone, you have more than 200 million people engaging in its stories platform each month.
Consider the potential here for a much wider audience who could be engaging with you or your client.
Instagram stories is a little over a year old and are already attracting an additional 50 million users over and above that of Snapchat per month.
Actively posting single story items on Instagram, Snapchat, or Facebook stories is likely to increase your overall reach – especially if they are user-generated stories.
This style of ephemeral content is incredibly popular with the millennial demographic.
Increase Content Volume
A well-crafted ephemeral content strategy will enable you to create a greater amount of content with less effort and lower overheads (depending on the size of your company and your campaign).
Using images and rich media such as video, you can get your story in front of your audience quickly.
Facebook stories, for example, enable you to engage with your audience as part of an unbroken narrative.
Stories are treated as a distinct channel or platform from your profile and feed. And so you're able to share a continuous stream of visual media without interfering with your newsfeed.
Once you develop a visual concept for your ephemeral content strategy, preparing and creating the material as well as the time of distribution become streamlined and enable you to create a lot more content that you would if you were just posting informative articles from week to week.
Boost Loyalty
Your client's target market expect transparency. In order for your client to maintain it's brand likeability and visibility, it needs to build a solid reputation.
One of the ways you can boost brand loyalty with ephemeral content is by inviting them in, through audio and video, to the inner workings of your business.
An ephemeral content campaign can be developed in such a way as to allow your audience greater insight into your client's company culture via social media stories.
Through images and video, you can increase loyalty by allowing your target market to see the everyday social, commercial business interactions and processes that are going on in your client's company.
Your target audience is savvy. They demand transparency and expect to see it – especially through social media channels.
Allowing your audience to witness the culture of your company is a great way to boost brand loyalty and commitment.
Instagram and Facebook stories are the perfect way to show off the folks who work behind the scenes and make the magic happens in your business or share a live event.
Ephemeral Content Formats That Work Best
Want to dive in and start creating your content?
Here are a few things to keep in mind regarding the format of your content and it's delivery.
Make sure you have a story to tell in mind before you begin. You don't want to guess where you might go next. Have it all mapped out.
Storytelling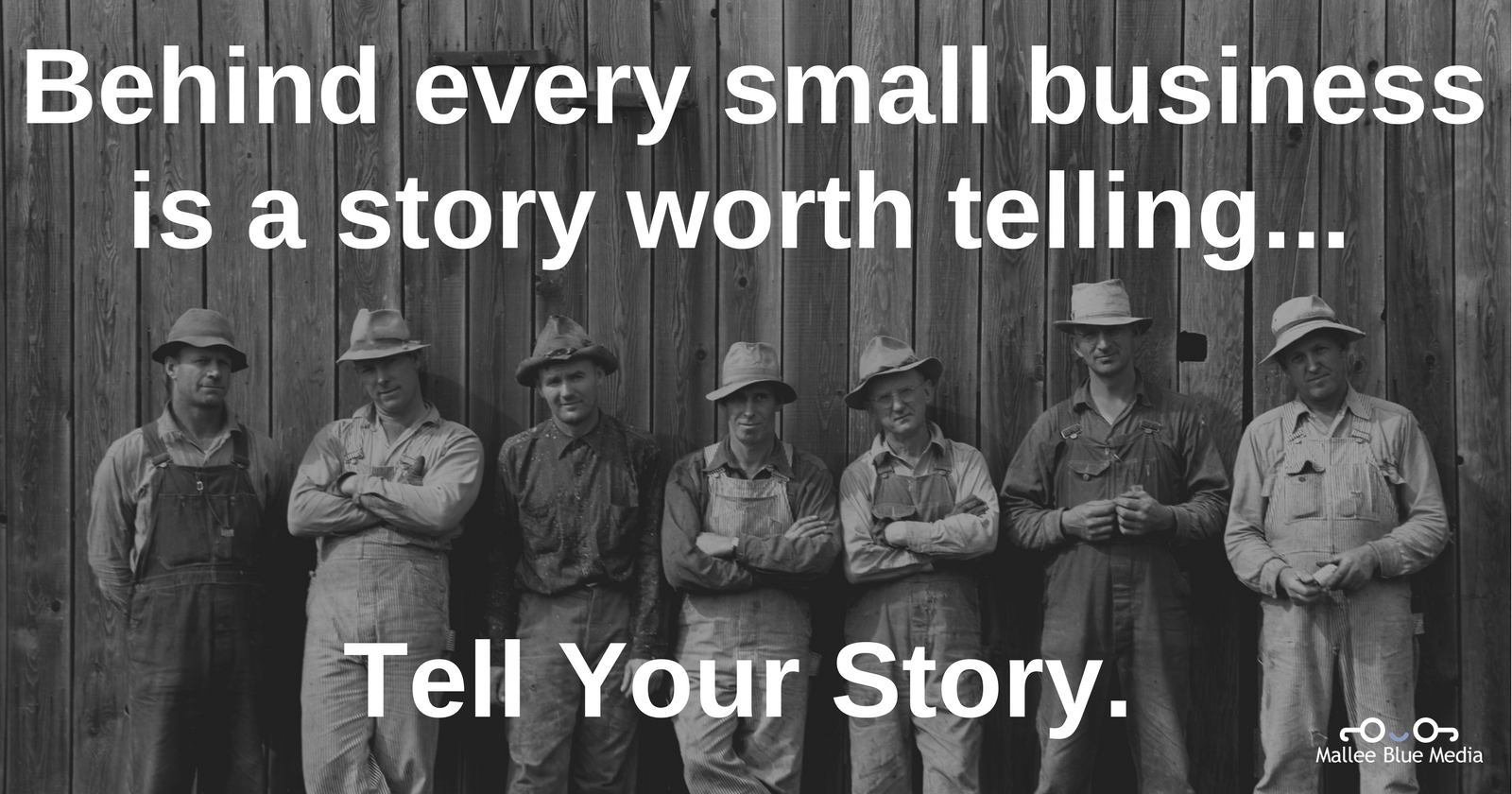 Know the story that you want to tell and at least have it scripted regarding content.
Decide on Your Format – Video, Stills, or Memes
If you plan to include user-generated content, then you will need to be able to give your audience all the details they need to produce the content you want.
This will include the style and format you expect the contact to be in.
As you script your story, keep in mind how long each piece of video content needs to be – or how many images you plan to use to tell your story.
For video, HubSpot recommends anywhere between 30 seconds and 2 minutes of video, depending on where you plan to place your content.
Ephemeral content that works the best has clear call to action.
Decide beforehand what action you're hoping your audience will take when they've user content.
Platforms You Can Use for Ephemeral Content
The major players in the ephemeral content space right now are:
Instagram Stories
Facebook Stories
Snapchat
Other players making headway in ephemeral content distribution and marketing are The Daily Mail, Mashable, Esquire, Refinery29, and MTV.
3 Companies Using Ephemeral Content Right Now
Men's Health Australia
Men's Health Magazine Australia is utilizing a simple ephemeral strategy in order to increase traffic to the content on its website.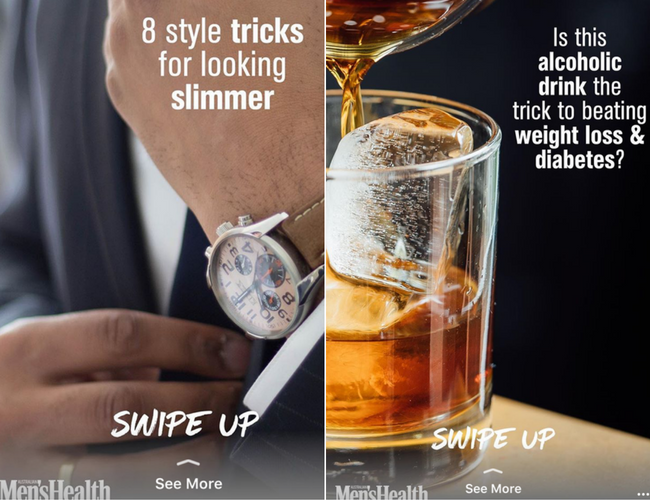 Simple teaser headlines and engaging images captured the imagination of viewers and invite them to find out more and engage with the long form content on its parent website.
Katy Perry
The marketing brains behind Katy Perry used intimacy as a key marketing strategy in the promotion and launch of her new album.
For 72 hours, fans were given behind the scenes access that enabled viewers to share in the personal experiences of the artist.
The live stream links were promoted via the ephemeral platform provided by Instagram Stories.
Hello, Can You Hear Me…..
Perhaps one of the best, and most satisfying examples of ephemeral content marketing was the release of Adele's album, "25", in 2015.
In the UK on October 18, during a commercial break in "The X Factor", viewers were teased with a 30-second clip of "Hello". Neither the voice, the song nor the purpose of the commercial was revealed to the viewer.
Of course, people instantly recognized Adele's voice. But the mystery and anticipation surrounding this brief anonymous appearance, without explanation on a major television station led to a frenzy of online activity.
This was followed three days later with Adele announcing that after three years she was about to release her third studio album, entitled simply, "25".
The ensuing commotion and potency of that simple ad, and the equally brief (though very personal) followup announcement on social media, was nothing short of phenomenal.
3 Keys to Developing Effective Ephemeral Content
Tell Your Story
Adopt a storytelling approach and narrate the story in a manner and language that your audiences understand best.
While Snapchat is still important, we see Instagram Stories taking even more of its audience this year.
Engage Influencers
When we talk about reaching out to influences, we often think we have to shoot for the stars.
Because we either don't have the means (or the vocabulary) to communicate with them effectively, we shy away from the ideal together.
That's a mistake.
Start incrementally when reaching out to influencers.
Reach out to those who are just one or two steps ahead of you.
Look for those brands or individuals who are just a little ahead of you in the game and ask them to give a shout out to your brand or your story.
Equally good: include a mention of them in the campaign in the hope that they will happily share a story about themselves.
Another way you can engage influences is by looking at those who are not competitive but in parallel industries to your own.
For example, you may decide if you are a hair salon, to collaborate with a limousine service. Perhaps you can give a shout out to each other in order to increase your audience and reach.
Keep it Coming
Posting content that fades quickly inevitably requires more content to be posted.
You need to develop a strategy with content can be produced quickly and easily so that it can be produced en masse.
There is a risk that in creating and delivering content at high volume, you may end up posting irrelevant content to your overall aim.
Every piece of content you create needs to pass the "purpose test."
What was the goal or target you had in mind when you started the campaign?
Does this new piece of content contribute to the development fulfillment of those goals?
Every piece of ephemeral content you create needs to answer these two questions.
The most effective ephemeral content strategies are those with a narrow focus and clearly defined purpose.
Ephemeral Content Pros & Cons
Ephemeral content won't be right for every business.
It may not be right all of the time either.
You need to weigh the following advantages and disadvantages.
Disadvantages of Ephemeral Content
Easy come, easy go.
Content that comes and goes quickly is forgotten quickly.
There is a reason that more people are familiar with back then they are familiar with Charlene Marilynn D'Angelo Duncan Oliver.
In order to keep up with this form of marketing you need to keep producing engaging content – often on a daily basis.
That requires:
A budget.
A clear long-term strategy.
The skills and technical resources.
I don't recall the thousands of funny videos, and hilarious or colorful memes I have read and seen. But I do recall, and still engage with, those brands that provide a steady stream of serious and in-depth content and information that I find valuable.
And that's the question you need to ask yourself when you embark on these kinds of ephemeral content campaigns with your client.
Do you want to generate the sense of long-term value? Or is it enough for you to gain short-term notoriety?
Viral content may build short-term momentum, but will it build brand loyalty over the long haul?
These are questions of depth and shallows that cannot be easily answered without a lot of thought.
Advantages of Ephemeral Content
Ephemeral content can bring quick results if you have some genuine news.
The example of Adele above is a great illustration of how ephemeral content can be used without sacrificing depth.
The strategy used for Adele's album would have led to considerable sales figures by people who are now continually and will, long-term, treasure the product that was on offer.
Ephemeral content can be a great way for a startup to introduce a new service or product in a way that captures the imagination of a wider audience – an audience that might otherwise have been overlooked.
Conclusion
Like all marketing strategies, ephemeral content will have limitations as well as advantages.
It isn't enough to simply pick up the strategy and run.
You need to know how you're going to execute that strategy in your client's niche – and how you are going to maintain the momentum that such marketing campaigns can build.
More Content & Social Media Marketing Resources:
---
Image Credits
Featured Image & In-Post Photos: Created by David Trounce using Pixabay, Pexels CC0 License, Wiki Commons and Canva, February 2018