There's so much happening in marketing; search is upside down with generative AI, and social media platforms have algorithms that want to retain users.
With all this, email marketing remains one of the most effective and trusted marketing channels because it builds a direct relationship between you and your customer.
But are email marketers always happy with their open, click, and conversion rates?
If not, it might be due to mistakes that are hindering the success of your email marketing.
While working with many B2B, SaaS, tech, and ecommerce companies, we have identified a few things that could be improved with their email marketing.
So, I thought I'd list them here to help email marketers identify if they're making any of these mistakes and preventing themselves from driving better open, clicking, and conversion rates.
Disclaimer: These mistakes are purely based on my experiences, and examples are just for inspiration and learning purposes.
19 Email Marketing Mistakes That Cost You Big Time Today
1. Missing Out On The Email Purpose
One of the biggest email marketing mistakes is not defining the "why" of the email.
If you don't know what you want to achieve with your email, you're efforts are likely in vain.
You need to answer this: Why are you looking to send this email? Some examples might be:
Attract the right audience.
Get leads.
More sign-ups.
Drive audience interaction.
Once you have this answer, every other aspect of the email can fall into place – such as how the email copy should be, what the CTA would be, and more!

Copy this email marketing calendar template with reporting by Missive Digital. (Disclaimer: I'm the founder of Missive Digital.)
2. Failing To Define The Success Metrics
I've purposefully mentioned this email marketing mistake early on. Just like the purpose of your email, you cannot skip defining success metrics.
What do I mean by the success metrics of email marketing? They are:
Conversions.
Traffic.
Open rate.
Unique opens.
Click-through rate.
Unique clicks.
Conversion rate.
Unsubscribes.
Number of soft and hard bounces.
Spam rate.
And more, depending on the industry you're in.
But why is not defining these email marketing key performance indicators (KPIs) a mistake? Because every email is not for traffic and conversions.
Sometimes it might be for:
Increase the open rate by 30%.
Add more unique opens by 33%.
Reduce the unsubscribes by 10%.
Increase unique clicks by 80%.
Etc.
For example, the first KPI metric you measure might be ensuring that people open your welcome email.
You might make variations in subject lines and test among different new subscribers.
With that new welcome email, the agenda is not getting conversions, as the challenge you're trying to solve is the open rates.
So, as mentioned above, any email you send has a different purpose, and every goal has different KPIs to measure.
Until and unless you define such success metrics beforehand, you won't craft the email copy accordingly and hence, you won't see results.
3. Not Upgrading The Subscribers' Tags/Segments
Is it a new subscriber you're speaking to? Or have they become a subscriber after unsubscribing?
Did a subscriber attend your webinar? If yes, how many times?
Does a customer make a repeat purchase every season?
In email marketing, keeping track of and updating the subscribers' tags becomes mandatory. When you track a subscriber's engagement, you can send them more relevant messages.
For example, you can send a special discount to a loyal audience member. Retail brands still do it during festive seasons for their customers.
You can email them with an exclusive offer and make sure they visit the store to avail of the discounts. That's how you can make your customers feel special.
The same can also happen in the B2B or SaaS industry. You can upgrade the subscribers' tags every time a person progresses in the customer journey – like attending webinars, downloading whitepapers/ebooks, etc.
For example, AllEvents.in is an event publishing and discovery platform which used to send me one email every week based on the event interactions that I had with its platform or emails.
I was following Serpzilla's Ahmedabad event on the platform as I was a speaker.
So, this event platform also emailed me about another event by the same organizer, but in Bangalore.
Most email automation tools have this functionality to add tags in email workflows. We must identify when a subscriber is moving forward or backward in the customer journey.
As this is a tedious and time-consuming task, and sometimes the database is quite large in which to identify their journey and update the tags, some email marketers skip this.
Doing this would negatively impact your ROI, so you shouldn't make this mistake.
Instead, gradually refine your customer journey stages within your email workflows.
4. Failing To Plan In Advance
With this email marketing mistake, I'm not just talking about planning the drip campaigns but even the customer journey before setting up the email automation.
Setting up workflows on email marketing platforms becomes highly challenging when you don't have a documented customer journey.
At what stage will you consider a subscriber coming closer to the sales cycle, or will it be too early to pitch sales? If these things are not decided, you may lose the opportunity to convert a Marketing Qualified Lead (MQL) into a Sales Qualified Lead (SQL).
Note: This mistake is not for community-serving newsletters.
As shown in the above point, you can set up a calendar for the newsletter series and create workflows for customer journey emails.
We create an entire email workflow on the Lucid app and then take it to any email automation tool. Then, based on the user interactions, we enhance the audience's email journey with us.
Here is how we did for one of our IT clients for an ebook download:
5. Planning Only Sales-focused Emails
Planning only sales-focused emails is considered a huge mistake for email marketers, especially when you've just started.
When a subscriber joins you, you must welcome them. Try grabbing their attention by educating them slowly and gradually, and then when they show some interest or become an MQL for you, that's where pitching the sales would make more sense.
With the Tragofone VoIP softphone brand, we planned the newsletters with details about our conferences, features, blogs, industry-specific announcements, and more.
After every two to three feature update emails, we tried broaching different topics, such as:
Become a Tragofone partner.
Who uses a softphone?
Free Trial.
Build Your Own Softphone.
If you start by sharing your offers with people before winning their trust (especially for non-ecommerce), this mistake might result in lost subscribers or low engagement.
6. Skipping The "Who" While Writing Emails
The person writing the email needs to know who they are writing for and the psychology of their audience.
We all have multiple personas whom we target as our potential customers and their influencers.
In my BrightonSEO talk on Remarketing SEO, I mentioned that we have two different types of audiences: prospects or key decision-makers and the people who influence their buying decision.
If you don't consider which persona you're targeting for an email, you may provide the information they least care about, or your marketing message might go wrong.
In any of these cases, you're losing the results you might have expected.
I would call this an email marketing blunder instead of a mistake here.
For example, an SEO tool like SE Ranking may target three audiences: agencies, in-house SEO pros (freelancers/consultants), and business owners.
Here the messaging would differ, even if the company wants to promote the same product features to all three.
Agencies – It would discuss efficiency, scalability, performance optimization, collaboration, white-label reporting, and more.
SEO – It would talk about how its automation saves time for tech, on-page, link-building, local SEO, performance tracking, customer support, and more.
Business Owners – It would discuss enhanced online visibility, comprehensive competitive analysis, user-friendly interface, conversion optimization, and more.
How can you write a targeted marketing message if you don't know who you're speaking to? Ensure you avoid this mistake by putting your audience on your calendar.
7. Not Playing Smart With Subject Lines
If your subject lines don't work, forget about the marketing message and the result.
This graph by HubSpot showcases how the number of monthly email campaigns can impact the open rates.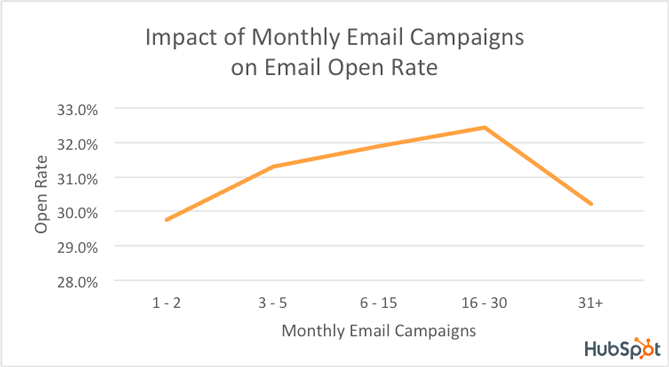 Yes, sometimes, the number of emails does impact the open rates, but it also depends on their subject lines.
A lot of articles have been written on email subject line hacks. Many marketing professionals share their experiences with subject lines and suggest invoking scarcity, using FOMO, personalization, etc.
But you need to be extra careful while using those hacks. They can backfire and affect your email marketing return on investment (ROI).
For example, if you use the FOMO-styled subject line, but the copy doesn't resonate with your audience, the next FOMO-based email you send might have a lesser impact.
A/B testing can be a quick solution for seeing which email subject line works for your audience.
After all, marketing is all about experimenting and then developing conclusions.
8. Having Emails "Entirely" Written By Outsiders
By outsiders, I mean freelancers or writers from agencies.
There's no harm in hiring them. The mistake is only providing them with an email title and the number of words to be written.
When I wrote the 21 content writing mistakes, I mentioned that not giving enough information about your business to the writers can cost you big time, as they're not the subject-matter experts for your business.
You know your business more than others.
That's why, even if you hire email writers, you need to provide them with the following information:
For whom they need to write – business owners, marketers, CTOs, etc.
What you expect to achieve with this email – sign-ups, replies, etc.
What you want them to include in the email copy – features, case studies, etc?
What the audience should get from this email – education, lead magnet, etc.
The links you want in your email – should include sign-up, Calendly, etc.
And any other information that they would need to write the email better.
Then you can do the final editing and publish it.
After all, marketing needs a collaborative approach, including SEO.
9. Writing Ultra-Formal, Sales-Heavy Language
When I see emails not in the first or second-person language, they feel ultra-formal.
You can use "we" or "you" in your email copy even if you represent an organization or brand. It doesn't need to be bland.
Your current audience might not care, but the new reading generation would.
I understand that with a large audience, it is challenging to add personalization, but you can at least curate two lines for each of these topics for your audience to drive more CTRs.
Even the prime purpose of reading AppSumo emails is to find new tools, it would explain what each tool is all about; this makes it easier to drive more clicks.
On top of this, marketers try to make sales through email (as I mentioned above). That comes out as a weird combination; most of the time, it frustrates subscribers.
So, use creativity to make the most out of your emails.
10. Not Invoking Subscribers To Interact
I don't mean chatting is interaction.
Interactions in email marketing mean opening emails, clicking links or buttons, replying or forwarding, unsubscribing, downloading the lead magnet, signing up for the webinar, and more.
This doesn't happen overnight; optimizing using the data is a long process.
The following things can boost your subscriber interactions apart from the subject lines and segmentation:
Add personalization to tailor your emails based on subscriber data such as their name, purchase history, or preferences.
Include a clear and prominent CTA in your emails to make them visually appealing, use action-oriented language, and provide a compelling reason for subscribers to click.
I personalized the subject line by Taylor Holiday from Common Thread Collective, which talks to you like your colleague or peer.
When you're talking about learning, the BlueArray SEO team knows what CTA to put:
Incorporate interactive elements within your emails to increase engagement, such as embedded videos, quizzes, surveys, polls, or interactive images.
This below survey by Growth Hackers is a great example of using a survey to increase interactiveness. If you can't do a survey or quiz, there are other methods to choose from.
Encourage subscribers to interact by asking questions, seeking feedback, or prompting replies.
A brilliant feedback-seeking element that I found in an email by Search Engine Journal:

In short, every element of your email should work to invoke interactions; otherwise, your email would just be another email in a list of unread emails.
11. Failing To Put Curated Opt-in Offers
We all have opt-in offers for our audience.
We use the ebook we have created, the webinar we have, the conference we are sponsoring, and so much more as lead magnets to promote to our email subscribers.
But how much effort do you put into creating a lead magnet specifically based on audience interactions?
For example, those who signed up for an ebook on conducting a content audit might also need a content audit checklist to use internally across their content team.
Such curated opt-in offers can take your email subscribers closer to the conversion stage.
12. Stacking Too Many CTAs In Every Email
I recommended adding calls-to-action (CTAs) to invoke interactions, but that doesn't mean we should go wild with them.
How many is too many?
I saw this survey by Databox, where 43% of the interviewed marketers said they use only one CTA per email, while 30% use two CTAs.
The number of CTAs in an email depends on various factors, including the purpose of the email, the content being promoted, the length of the email, the email type, and the preferences of your target audience.
Conduct A/B testing to assess the impact of different CTA strategies on your specific audience and email goals.
Test emails with different numbers and placements of CTAs to determine what resonates best with your subscribers and drives higher interaction rates.
Not all your emails should have a bunch of CTAs, and not all should have only one CTA. Balance it out.
13. Not Having Conversational CTAs
Despite so many expert marketers explaining how to create a compelling CTA on your landing page or email, we still see those cliche CTA button texts in the email:
Buy Now.
Order Now.
Call Now.
Free Trial.
Request a free demo.
And so on.
CTAs not only invoke interactions, but it is the relationship bridge between you and your audience.
How you craft your CTA will define whether you've built trust via this email. Conversational CTAs help foster a sense of trust, authenticity, and rapport with your audience.
They create a conversational tone that encourages recipients to engage with your brand on a deeper level.
A study by HubSpot says personalized CTAs convert 202% better than basic CTAs.
So think of a personalized or eye-catchy CTA before you press that send button.
14. Sending A Typical, Cliche Welcome Email
Another mistake with email marketing beginners is when every form filled generates a standard welcome email with minor text and design modifications.
Whether it's your drip campaign for a lead magnet or the thank you email for contacting you, you need to make sure your email builds a solid first impression and is unique enough that will someone remember you.
Welcome emails have an average open rate of 63.91%, making them a crucial part of your email marketing efforts.
So don't underestimate the power of sending one welcome email instead of three random marketing emails.
Instead of just thanking your audience, give them a reason to open your next email by crafting a compelling welcome email.
15. Sending Too Many Emails Daily/Weekly
This reminds me of a thought leader who used to write a lot of high-valuable content on large publishing sites.
I wanted to save time opening different websites to view their content, so I subscribed to their email lists – and I started getting one to two emails almost daily.
It frustrated me so much that not only did I unsubscribe, but I stopped reading their content.
This is my personal experience, and that's why we have ensured that all our clients do not share more than one email weekly.
After all, we are not just one in their inbox; there are many. So we need to value their time (and space).
Again, this depends on your business type, industry, target audience, and expectations from you.
If it's a free trial sign-up, you can send them one email every day to remind them about using your product or send them guide-like emails the way Jasper (and many other tools) does.
But you need to ensure that when someone is on a free trial, you need to send only those emails and no other promotional emails, as that will distract or frustrate them.
16. Neglecting A Layered Proofreading
One of the biggest email marketing mistakes is focusing only on strict proofreading, not layered.
Let me explain to you what is strict proofreading vs. a layered one.
Strict Proofreading
In strict proofreading for emails, the main focus is ensuring the email is free from grammatical, spelling, punctuation, and formatting inconsistencies.
You carefully review the email line by line, paying attention to each word, sentence, and paragraph. You verify that the language and mechanics are accurate and error-free.
This includes checking for proper capitalization, punctuation, and correct spelling.
Strict proofreading is essential for professional emails where accuracy and attention to detail are crucial.
Layered Proofreading
Layered proofreading for emails involves a more comprehensive review beyond just language accuracy. In addition to checking for grammar and spelling errors, you analyze the overall effectiveness and impact of the email.
You improve clarity, coherence, and tone to ensure the email achieves its intended purpose.
You consider the organization of information, logical progression of ideas, and appropriateness of language for the recipient.
Layered proofreading may also involve refining the subject line, adjusting the tone to match the recipient's expectations, and ensuring the email's structure and formatting are visually appealing and easy to read.
So, most email marketers have strict proofreading where they check everything – text, graphics, and links.
With layered proofreading, you can validate if it's created as per the purpose and expectations.
17. Not Being Ready In Advance
I'm talking about the weekly or monthly promotional emails you send when you want to promote new content, announce an event, or promote product features.
When you know you send your emails either every Tuesday, Wednesday, or Friday (these are our preferred days as per our clients' target audience), you need to schedule your email two days in advance.
Before even doing that, you should do all of these things:
Plan the email concept for the next week – its purpose and expectations.
Create the email copy.
Get it designed.
Layered proofread it.
Do the test mails.
Schedule the mail.
But most of the time, the testing is done on the day the email has to be sent. So let me tell you what will happen if you're not ready in advance:
If there are any last-minute adjustments or changes, you might have to delay or postpone it. Due to this, your email didn't reach your intended recipients at the desired time.
If you send out emails in a rush, you might make embarrassing mistakes, miss important details, or share broken links that negatively impact the promotion's success.
18. Ignoring A/B Testing For Everything
Most email marketers are too busy cleaning up the database, updating it, setting up their segmentations, coming up with email context ideas, writing the email, monitoring their performances, and restrategizing to ensure every email they send performs.
Technically, the email marketing team should include the strategist, copywriter, designer, optimizer (done mainly by the strategist), and developer/QA, depending on the need.
But, most organizations have only one person who does everything – strategizing, writing, set-up, QA, and scheduling. The designer is involved but not any other team members.
Many email marketers don't have time to develop email variants to see what works best for the audience.
Now that you have the above chart, get team members to allocate the respective tasks, and continue with setting up A/B testing for:
Subject lines.
Email length.
Email flow.
Content.
Personalization.
Media.
Templates.
Buttons or text links.
CTAs.
Start with one and see how it goes. Repeat until you start seeing ROI.
19. Ignoring Email Audience Behavior On The Website
The worst and most prominent of all email marketing mistakes is not understanding the audience's behavior on the website.
Email marketers need to know whether your audience gets what they expected when requested to click.
So, for example, if the audience is interacting with infographics, next time, you can share such infographics in the email to invoke more click rates.
By paying attention to email audience behavior on the website, email marketers can personalize content, segment audiences, leverage retargeting opportunities, optimize campaigns through A/B testing, and track the customer journey.
This data-driven approach enhances the effectiveness and relevance of email marketing efforts, leading to better engagement, conversions, and overall campaign success.
Turn Email Marketing Mistakes Into Opportunities For Better Results
I've purposefully left the following mistakes out of this article, as we have seen that people eventually improve upon them:
Poor designs.
Mobile optimization.
Monitoring the performance.
Violating terms & conditions of email marketing platforms.
While you're likely not making all of the mistakes I listed above, it's helpful to be aware of what could hinder your email marketing success so you can cross-check in case any of these are affecting you and your team.
Work on them to continuously improve your email marketing efforts and enhance your results.
More resources:
---
Featured Image: fizkes/Shutterstock