Presidential campaigns are massive marketing phenomena. An inevitable bit of fallout from every national election is the publication of hundreds or thousands of blog posts entitled "Lessons from the Election." Whether they are discussions of how Obama embraced social media this time around, or how Nate Silver's statistical method set a new standard for prediction, you'll see them all.
Although this post may seem to jump on the same bandwagon, I want to pay special attention to some details. What connects elections and the process of making a website popular is the key factor in both these endeavors: people.
If we maintain a broad understanding of the process while exploring the intricate details, the election can teach us plenty about effective social media campaigns and search optimization efforts.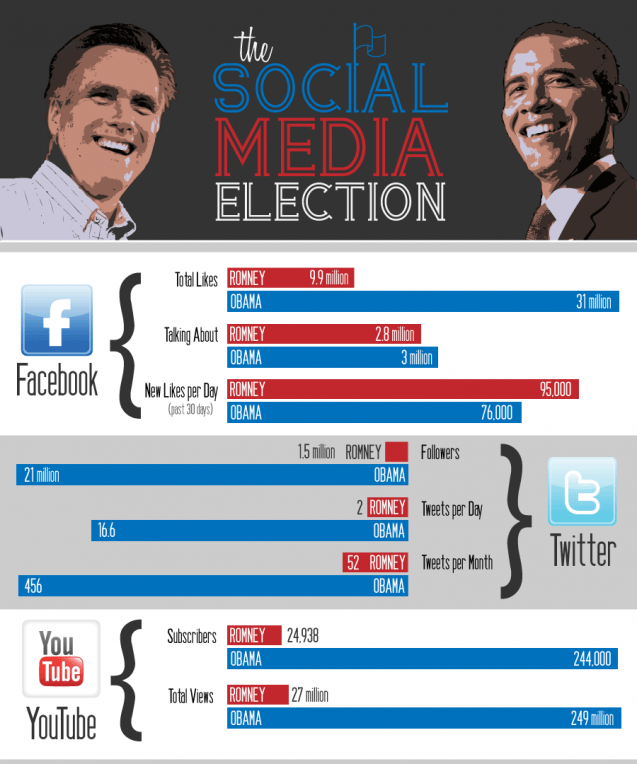 (c) http://wallaroomedia.com/obama-verse-romney-the-2012-social-media-election/
1. Embrace Social Media
It's not just that Obama used Twitter for his election campaign; the President and his team had been using Twitter ever since the 2008 election. They knew that tweeting only when you have uploaded a new post on your blog or sharing a cool link on Facebook/Google+ once in a while do not amount to a full embracement of social media.
A comprehensive strategy includes:
creating and managing fan pages, company pages, and profile pages
sharing interesting material on a consistent basis
creating a social media calendar to track the results
connecting personally with followers and fans
2. Repeat
Repetition is a key element in everything you do. Much of what the candidates say is redundant, but they present it in a way that makes it appear different or unique. It's a game of repeatedly planting statistics, data, and opinions in the minds of the populace until they stick.
Repetition is a key element in website marketing too. You can repeat:
tweets or shares of important posts from your website and blog
re-written or re-arranged content that you use elsewhere
social media efforts to plant your brand in others' minds for familiarity and trust
3. Be Local
Without gearing their messages toward the local mindset, political campaigners would have achieved nothing. In the real world, being local-centric enables campaigners to appeal to the emotions and needs of folks at the ground level.
In the virtual world, local SEO helps websites rank higher and faster for keywords that are geo-based. Local SEO has increase in importance as maps data are used to aid Google results in geo-based searches. Local SEO involves:
getting citations through relevant websites
getting reviewed locally by users on websites like Yelp
creating and listing your website as a local business on Google with appropriate Maps data
4. Watch Your Step / Analytics
All along the way, campaigners rely on a team of statisticians and analysts to gather plenty of data. Data are used before the campaign to create an effective strategy, and analyzed during it to predict the likelihood of victory. With websites, data are key to plenty of insights.
Watching your step involves:
analyzing keywords, and tracking results of on-page optimizations
being careful about your content and methods of social media management
tracking the results of every little effort you put into off-page SEO, social media, and more
identifying the most successful and productive methods and repeating them
5. Personalize
Election campaigning always involves a lot of feel-good moments. The candidates look for opportunities to become personal in their words and actions. "Personal" is good: it appeals to the emotional quotient of the voters and it connects quickly.
On your website, getting personal can be challenging. If your content strategy is generic, you attempt to appeal slightly to a large cross section of your visitors. On the other hand, if you take the time to address a very specific slice of your visitors and solve their problems or help them get ahead through your website, you appeal enormously. The conversions can be huge.
By "personalize" in the SEO context, I mean:
creating content strategies that are specifically targeted at a select portion of your visitors
being passionately committed when you address this small section
communicating excitement and knowledge regarding issues that appeal strongly to that minor selection of visitors
6. Go Global
While local SEO sounds delicious, a global reach is what counts when it comes to expanding your website. Presidential candidates don't just talk about problems in a particular state (i.e., local appeal); they talk about how they plan to put the country ahead in the global market. Their global vision can be likened to your having a long-term goal for your website.
Going global on SEO and social media strategy entails:
optimizing your content and social media marketing to reach a global audience
connecting with websites and businesses in your industry from other parts of the world
appealing to users from around the globe
7. Compete Directly
There's no way to compete online but to attack the competition where it fails and provide solutions that respond to problems. The whole point of debates for Presidential candidates is to let voters know how the candidates measure up against each other in terms of their values and proposals for action.
Competition is key for websites that want to connect with a committed and devoted following. You can play the gentleman and still compete directly without getting sued or falling into a trap. Companies like Apple and Samsung have successfully accomplished this trick for a long time.
Competing directly means:
identifying where the competition fails or falters (in content strategy, in social media marketing, in keyword research, in usability, etc.)
devising and implementing solutions quickly
bringing to your visitors' notice why you're better than your competition
8. Empathize with Your Users
One of the pillars of a solid reputation is an ability to empathize. This is another subtle, subconscious virtue that has helped candidates win votes. Similarly, it can enable websites to score subscribers and followers.
Communicating empathy to an online audience can be difficult unless you are passionate about what you do or the market you cater to. In the web context, empathy is all about being passionately involved in your market. Empathy translates into:
generation of valuable content that helps people address their issues
carefully curated references that get shared via posts/tweets/shares
participation in discussions across relevant forums/boards/websites
9. Care about People
Ultimately, it has to be about people. You can do everything you want, technically, but if your efforts cannot be boiled down to helping people, nothing you do will stick for long. If there's one essential lesson you can learn from the elections and the exercise of democracy in general, it's the idea that you have to concentrate your energy on enriching and creating value for the people.
Whatever you do, it should be aimed to providing value / information, such as:
content strategies
social shares
keyword research and optimization
content distribution
email campaigns
media: audio, images, video, etc.
10. Be a Leader
Nobody is likely to listen to you until you speak from a position of leadership. It doesn't matter whether you're truly a leader or just one more guy in the race; if you display leadership capability, people will sit up and take notice. At the start of the presidential election season, a pack of candidates join the race and compete until only two remain.
If you run a website or a blog, you've got to develop an aura of authority straight out of the gate. People come looking for information that is credible, useful, and authoritative. This means you'll have to:
research well
cite excellent references
produce high-value content
speak from a position of authority on social channels
Social lessons from elections are not just about the technical aspects or the little, generic details that are self-evident. It takes a lot of time and effort to apply these lessons consistently to generate excellent results.
But the results can be worth the time and effort.