Yahoo's order of battle for today must b "re-engineering" its neglected property. Aside from the enhancements to Flickr's search result page, Yahoo is also revitalizing another one of its most used web property – Delicious. The social bookmarking site is living up to the sign of the times (read: Twitter) by adding fresh bookmarks based on the buzz these bookmarks are getting from Twitter.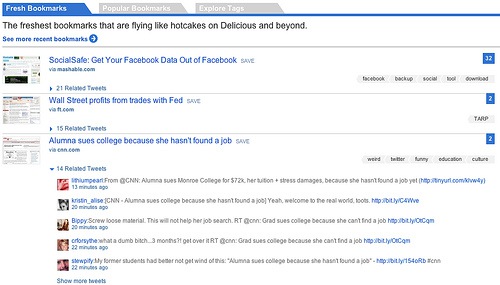 The Fresh Bookmark tab appears at the top of Delicious page and clicking on these tab will bring up the latest bookmarks that are referenced on the Twitter public timeline. Currently these Fresh Bookmarks cover discussions on Technology, Politics, Web and Media.
In addition to the Fresh Bookmarks, Delicious has also made it easier to share bookmarks via Twitter. This can be done on the Save Bookmark page where user can send the saved bookmark directly by entering the recipient's Twitter name in the send field.
Again, not the most innovative and ground breaking feature but still worth while to note and a good move on the part of Delicious. Leveraging on Twitter's popularity might revitalize Delicious waning popularity and relevance to the social media market.