I have previously shared the guide on how Raven tools' Link Manager helps you organize link building campaign. Today's post details how all your current and pursued links are managed through Website Directory.
The Website Directory contains all of the websites that have ever been added to a link record across all your account profiles. The best thing about the tool is that it makes your link building records searchable – which make it becomes much easier to refer to your previously built connections.
For example, if you start building links to a new website that is similar to other websites you've managed, you can use the directory to find links and relationships that may relate to the new website – making your initial link building efforts much easier and more efficient.
Website Directory – Basic Search
To access the tool, hover over LINKS menu and click the "Website Directory" link.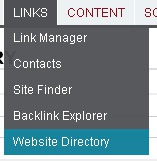 You can now search all your previously built links:
Across all website profiles;
Within one of the selected profiles:
Search results will be compiled in a table containing the linking site URL, the associated website profile, the link status (how many active backlinks were recorded for each domain), paid links number (if there were any), the site quality score (based the quality analyzer), the home page PageRank: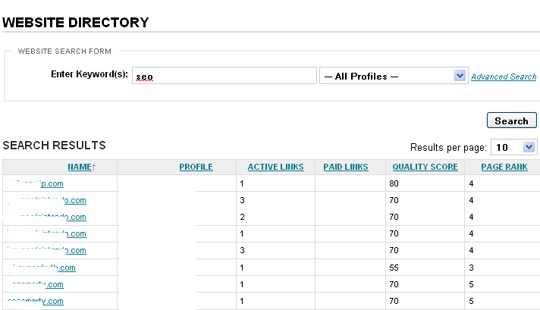 Website Directory – Advanced Search
If you need more specific search results, you will find the advanced search very helpful. With it, you can search for websites based on
The PageRank,
Quality Analyzer Score,
Active Links,
Whether or not they Sell Links.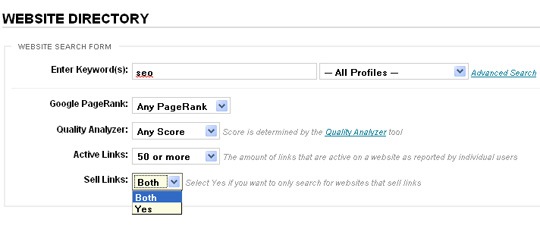 Each website record has a thumbnail of the website's home page as well as attributes, like the Quality Score, PageRank, Alexa Rank, Active Links, whether or not they accept Paid Links, Index data from search engines, and Domain Creation and Expiration dates:

The Website Directory adheres to the access rights specified by the Admin. So if a sub-user doesn't have access to a particular profile, websites associated with that profile will not be available to them in the directory.