[pullquote]Disclosure: This is a sponsored post by AdClarity GeoSurf.
In preparing to check out AdClarity GeoSurf, I'll readily admit I've only used a proxy a few times. When I was, I was looking to recruit international affiliates and at that point I would have loved to have this program. So I'm going to write as if I was using this in the advertising network arena, because that is where I can see the most benefit.
[youtube https://www.youtube.com/watch?v=aSzHCxDqHCw&w=560&h=315]
I realize there are a few groups this will appeal to: those who currently use free proxies, those who have not yet seen the potential of a proxy, and those who use pay proxies.
So my goal is not only to give you a fair and straight forward review of AdClarity GeoSurf, but to share with you some of the possibilities and benefits of using a premium proxy.
So What is AdClarity GeoSurf?
AdClarity GeoSurf is a premium proxy service that is used as a toolbar on your browser. With a click of a button, you can view any geo-targeted website from the country of your choice.
Why Use a Premium Proxy?
A Compliance Team Dream Tool
If you deal at all with international offers and affiliates, this tool is extremely useful. Imagine being able to see your affiliates' ads in the country they are running them in. You can do that quickly by choosing the country from the drop down menu.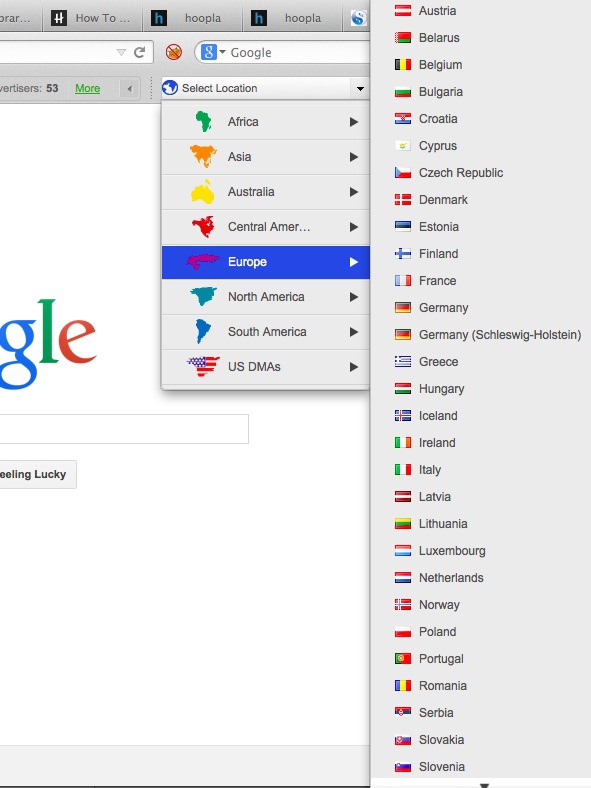 For instance, say you are an affiliate network in the States and have campaigns for the UK and elsewhere. How are you monitoring landing pages for compliance? You need to trust the affiliate to send you the landing pages or simply trust everything is compliant. By using a tool like Adclarity, you can see the actual landing pages like you were in that country.
Later I'll show you how you can use AdClarity GeoSurf to take a screen shot of the entire landing page.
Check to See if Your Ads and Pages Display Correctly
If you are doing any media buys in an international country, you should want to know if you ads are displaying correctly. AdClarity GeoSurf can help you see your ads in the local browser and will help you monitor them.
This is a huge advantage, and can ultimately save you money: if you have ads that are not rendering properly or not even showing up, AdClarity GeoSurf allows you to remedy that situation.
As a publisher, using AdClarity GeoSurf allows you to actually see your ads in the country you are running them in. You'll be able to see if your page functions as it should, not only in any country but in any browser and on any mobile device.
Recruiting International Affiliates

If you have an affiliate network dealing with any international campaigns, then this is a must have tool for you. Yet, even without AdClarity showing you what campaigns and advertisers are on a particular page, you can still see publisher ads on the page itself.
Local SEO Setup and Recon
AdClarity GeoSurf also gives you quite a few proxies in the States as well. I can see this being a huge help when you want to check out the local competition for certain keywords or phrases.
Benefits of Using a Premium Proxy
Speed
I am really amazed by how fast AdClarity GeoSurf works. One moment, I'm browsing in Argentina, and in the next I'm in Australia in a click of a button. There is no going back and forth in inserting an IP, refreshing and hoping the IP works. This is a click of a button, the page automatically refreshes and you are browsing in another country within seconds.
Ease of Use
This goes along with the speed, yet it bears repeating. The ability to have a simple drop-down menu, where you can click and go, is a huge time saver. You don't have to load IPs, then refresh, and hope they work. AdClarity GeoSurf takes care of all of that for you with the benefit of the toolbar in your browser.
Accuracy of Ads
Here is where a premium proxy service really shows its strength. When you use free proxy services, they are known to inject their own ads into the browser. AdClarity GeoSurf allows you to surf like you are actually in the geographic area you've designated.
This means you'll get an accurate view of the browsers and ads in Brazil just like you were sitting on the beach.
Why is this important? Because if you want to find partners actually in the area or make sure your ads are appearing correctly, you need that accuracy. Not a ton of ads placed by the free proxy.
Campaigns and Advertiser Information
In addition, AdClarity GeoSurf is more than just a proxy service. It gives you insider information on the advertisers on a site, the campaigns they are running, and depending on the level of service you have, the ads being displayed.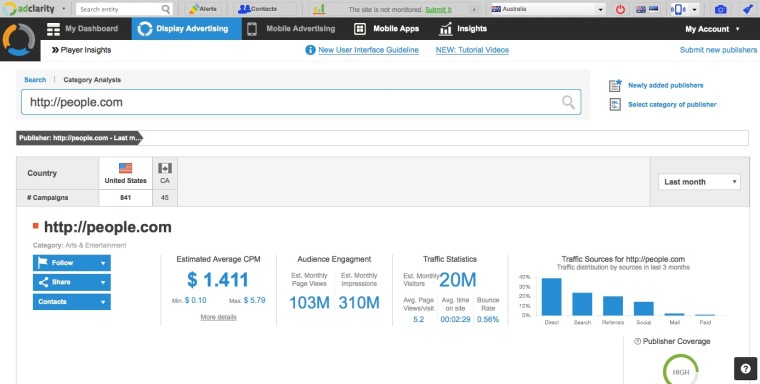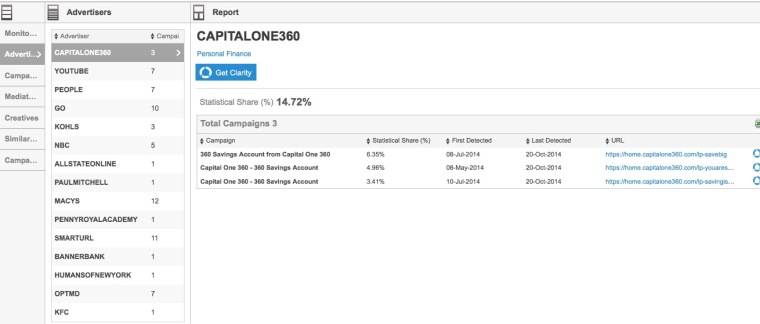 Here, you can find media buyers and even platforms that are purchasing media on sites. This would allow you to find advertising opportunities in other countries very easily.
Local Browsing in Mobile Environments
AdClarity GeoSurf takes things up a notch by also offering you the ability to see any browser on any device with the Mobile Emulation feature.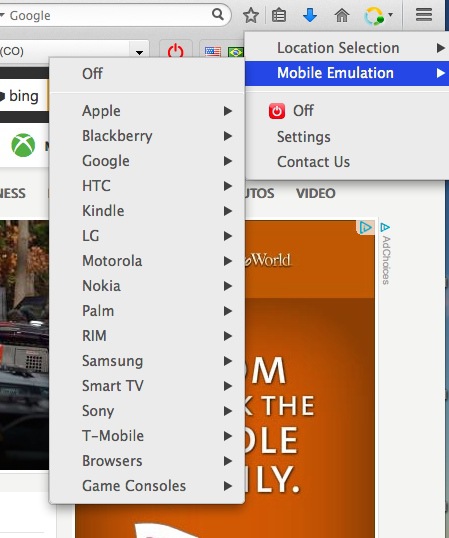 Full Page Screen Shots
I really like this feature, especially when compliance issues may be involved. AdClarity GeoSurf will take a screen shot for you that includes the entire landing page. You can also email it from there or simply save it.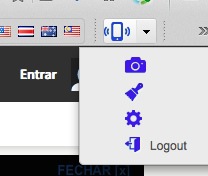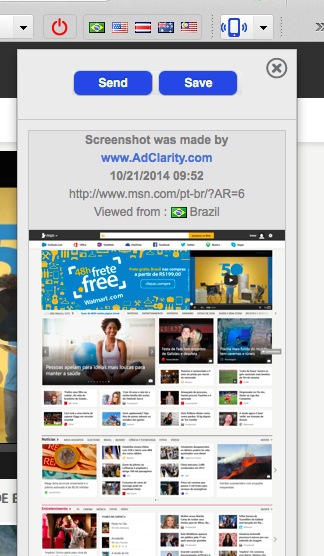 To do this, click on the camera icon from the drop down extras menu. Once this is done, AdClarity GeoSurf will show you a screen shot of the page and the country you are viewing it in.
So Why Not Simply Use a Free Proxy?
As most of us know, nothing is truly free.
Free proxy services use a ton of bandwidth to transfer the information you are looking for. To pay for this, your information is sold to third parties. Meaning, your IP history is tracked so it can be retargeted. So, if you are searching for a particular topic in a free IP, what you are searching for will be shown back to you in any country. This does not give you an accurate proxy experience, especially if you are doing compliance research for work.
A premium proxy such as AdClarity GeoSurf gives you the local browsing experience free of third party ads that have nothing to do with the actual search results or media buys you are researching.
AdClarity GeoSurf gives you many amazing features listed above. But most of all, they provide the following:
Security
Validity
Privacy
Stability
Those four attributes will give you the accuracy you need to view your campaigns from anywhere.
You can sign up for a free trial of AdClarity GeoSurf here.
Image Credits
Article Screenshots: take by Laura Cruz from the AdClarity GeoSurf platform, October 2014
Featured Image: Screenshot from AdClarity GeoSurf taken October 2014
All screenshots taken October 2014